There is no reason why Manchester cannot have a fully electric bus service in place to ensure the city-region has a greener future.
That was the message from a roadshow event showcasing more eco-friendly public transport vehicles which passed through the city this week on the road to COP26.
Energy company SSE Energy Solutions and bus company Alexander Dennis are running the Road to Renewables Tour and driving an electric bus from London to Glasgow where world leaders will meet to discuss the climate crisis.
What was the roadshow and why did it visit Manchester?
The roadshow involves an electric vehicle making its way from the capital city to Glasgow, where COP26 is going to take place.
Along the way it is visiting multiple green energy and sustainable transport projects.
The bus rolled into Manchester and stopped at The Museum of Transport as the city-region is discussing what it needs to do to become net-zero by 2038 and also to highlight the possibilities of having electric-powered public transport.
What is the future for green public transport in Manchester?
Those involved in the roadshow, which came to Manchester on Monday (25 October) said there was no reason why Manchester could not have a fleet entirely made up of electric buses in the next few years.
Kevin Welstead, sector director for electric vehicles (EV) at SSE Energy Solutions, said: "I think it is absolutely realistic for Manchester.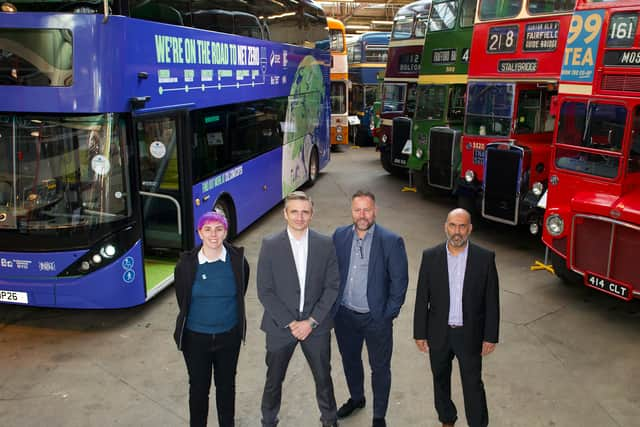 "I feel very positive about it. If it can be sustainable in London there is no reason it can't be sustainable in Manchester.
"We're firm believers that the best way of tackling this is by having a strategy and a plan.
"We're investing in infrastructure to support the electrification of buses and we are taking this bus around the UK to show it can be done with investment and collaboration."
Where are we currently up to with electrifying buses?
So far the majority of electric buses are operating in London, with around 500 already on the road and another 250 on order to be fully electrified and ready to go by April 2022.
A further 400 or so electric buses are scattered around the rest of the UK, with roughly 50 in Manchester at the moment.
Given that there are currently around 15,000 buses in operation across the country, that means there is still a lot of work to do.
Mr Welstead said: "We still probably have less than five per cent of buses across the UK electrified and if you think that's been going on since 2016 we are approaching six years now.
"If we want to hit the 2030 target we've got nine years to do 95 per cent.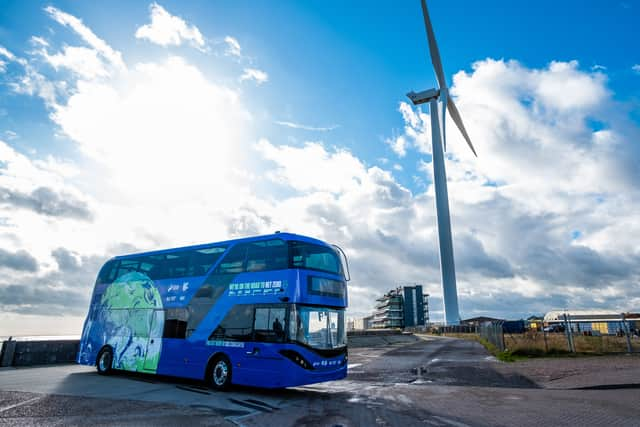 "If you look at the amount of time it has taken to deliver that five per cent you would say we will never get there, but we will because of the investment coming in from Government, devolved and local authorities and people like ourselves."
Mr Welstead said local authorities across the country have been applying for further Government funding on greener buses and are hoping to hear before Christmas if they have been successful.
He admitted that this process of allocating money has been slowed somewhat by the Covid-19 pandemic.
What else is being looked at around the electrification of buses?
One of the biggest tasks to accomplish is to get bus depots ready with charging points for fleets of electric vehicles.
SSE says it is working at the moment on ways to ensure pressure on the grid is minimised.
It is also promoting the idea of the depot as a shared charging site, which local councils or businesses could use to charge their fleets of electric vehicles during the day when buses are taking passengers around.
Mr Welstead said electrified buses will also work best as part of an integrated, community-centred public transport network which also contains within it local trains, trams, e-bikes and walking facilities.
Manchester authorities are in the process of creating the Bee Network to try to bring together the different methods of getting from A to B in the city region.
What is the impact of transport on the environment?
Roadshow organisers said transport as a whole accounts for more than a fifth of greenhouse gas emissions, but of this 55% is generated by cars, meaning it is essential to get people out of their private vehicles and onto public transport if environmental goals are to be achieved.
They also said they were pleased to be spreading their message in Manchester, given the city's history with technology and innovation.
Nathan Sanders, managing director at SSE Energy Solutions, said: "Transport currently accounts for 22% of all greenhouse gas emissions, higher than any other sector.
"Decarbonising transport is therefore essential if Manchester is to meet its ambitious net zero goals.
"As the birthplace of the industrial revolution, the city has a long history of innovation in technology and transport and the introduction of electric buses is the next stage in that journey.
"We are proud to be helping to build EV infrastructure across the UK and are keen to support Manchester as it joins us in driving the electric vehicle revolution."