Andy Burnham calls for 'failing' TransPennine Express to lose franchise and come under public control
Greater Manchester Mayor Andy Burnham says 'failing rail services' are 'dragging down the north of England' and cannot continue.
Watch more of our videos on Shots!
and live on Freeview channel 276
Visit Shots! now
At a lunchtime press conference at Manchester Central Mr Burnham slammed "failing rail services", accusing them of "dragging down the north of England" and damaging regional economies as well as people's quality of life. His comments came on a day when TPE cancelled at least 52 train services, blaming staff sickness and shortages.
Transport has been at the top of the news agenda in Greater Manchester and across the north of England for most of the wrong reasons over the past year and a bit, so it was no surprise to see the subject take centre stage at the convention. As well as Mr Burnham's intervention on a workshop at the event put the spotlight on trains, buses and other modes of getting from A to B, with speakers quoting figures showing sustained under-investment across the north and calling for bold and big spending on infrastructure projects.
What did Mr Burnham say about TransPennine Express?
Mr Burnham told the assembled press at Manchester Central that the north of England has reached a point where the north of England simply cannot continue to accept the current level of rail service. He said: "There is one thing that's bringing negativity to the north at the moment, dragging down our economies and people's lives and wellbeing, and that is the failing train services.
"We're in a position where we can't accept this any more. We can't allow them to damage our economy and people's lives day after day. Transport for Greater Manchester has done analysis looking at TransPennine Express over a five-year period. They have been five poor years in terms of the reliability of that critical rail service.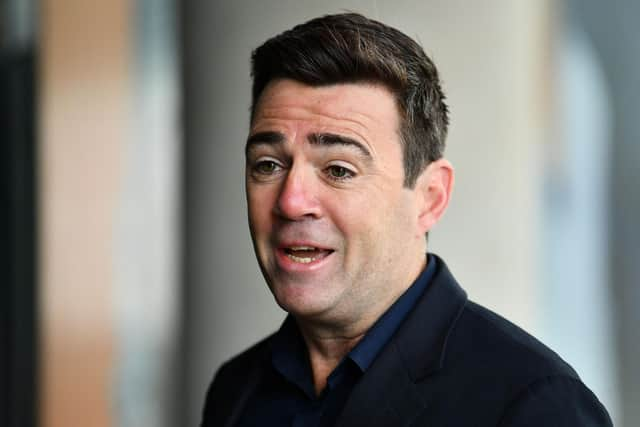 "In the last 12 months, and this is a number I had to double, triple and quadruple check, 18,000 rail services have been cancelled. A third of them were cancelled on the day, so there was a penalty, but two-thirds were not, and there was no detriment as far as I can see. That's not a way to run a railway in the north of England that is ever going to work for the public here.
"We are at the end of the line with TransPennine Express. They can't be allowed to damage people's quality of life and businesses in this city-region. We think it's time to put it under public control."
A spokesperson for TransPennine Express said: "TPE provides a hugely important service to communities across the North and Scotland. We know that the service being offered to customers is unacceptable at present and we want to assure our customers throughout the region that we are doing all we can to resolve a number of issues and deliver a train service they can rely on.
"Prolonged disruption has been caused by a combination of ongoing high levels of sickness and an unprecedented training backlog following the pandemic, coupled with increased training demands to support major route and timetable upgrades, together with the withdrawal from overtime working by ASLEF drivers which has dramatically reduced our roster flexibility."
"The biggest and most immediate positive impact for customers would be for ASLEF to allow drivers to work overtime again. Late last year we were given authority from DfT to make a new overtime offer but this was rejected by ASLEF without putting it to their members. The offer remains on the table and we encourage everyone who can influence the situation to work together to improve the situation for all."
ASLEF, the train drivers' union, in response said it is unsurprised that TPE has tried to "blame train drivers for their abject failure to provide the service that they are contracted to provide" and called the company "an utter disgrace".
The union's general secretary Mick Whelan said: "During the covid pandemic, ASLEF had agreements across rail operators that meant drivers who were 'spare' (on standby in case another driver is unavailable) could wait at home. This meant staff were not unnecessarily waiting in busy mess rooms, unable to socially distance, despite it being unlikely that they would even drive a train. ASLEF had such an agreement with TransPennine Express. They unilaterally tore it up. This was a bad faith decision that put the health and safety of our members at risk. It was this that led to the withdrawal of rest day working.
"During the pandemic, ASLEF worked closely with operators to try and ensure training and route knowledge could take place when it was safe to do so. Whilst the pandemic inevitably had an effect on training, the idea that it is solely responsible for the atrocious service offered by TransPennine Express is for the birds. The stark reality is that they simply do not employ enough drivers.
"ASLEF believes that rest day working is something that should only be relied upon in exceptional circumstances. We believe that a seven day a week railway should employ enough drivers to run it, without relying on people working on their allotted time off. ASLEF therefore agrees to rest day working when it is used for the training and recruitment of drivers. We do not believe it is right to sanction it as a less reliable alternative way to run services.
"It's time for TransPennine to be honest, face up to their failings and engage with ASLEF about the recruitment of more drivers. Or better still do the right thing and leave our industry."
What else was said about transport at the Convention of the North?
With issues including fury at mass cancellations of trains and reduced timetables slashing connectivity between major cities such as Manchester and London, transport was always going to be a hot topic at the convention. Not only was there a workshop dedicated to it but delegates in the main hall highlighted it as a key issue of major concern in the north of England.
Joanna Key from the Treasury, who was on the transport workshop panel at Manchester Central, admitted there is deep unhappiness about transport across the north of England.
She said: "There was a sharp intake of breath among colleagues when they heard I was coming to Manchester. They said they would come with me, just in case. That sets the scene for how perhaps the government position on transport in the north is perceived."
Mark Rawstron from the Lancashire Enterprise Partnership (LEP) did not hold back in pointing out where communities in the north have been shortchanged and said "a leap of faith" was required from the Treasury and politicians to sign off on spending.
He said: "Rail travel in the north has seen stronger bounce back than most other areas, but spending on transport in the north per head is currently at 40% of London levels and 75% of the UK as a whole. Northern ports handle 73% of all the goods entering the UK yet 70% of freight is moved by road because there's no suitable route to move containers east to west.
"There has been massive underinvestment compared to other regions over many decades and it's about time there was additionality put in to rectify some of that."
The panel discussed the replacement of Northern Powerhouse Rail with the Integrated Rail Plan, which had upset some northern leaders as projects such as ensuring Bradford was connected to cities across the Pennines were axed. Mr Rawstron said that while discussions about new rail routes were often discussed in terms of speeding up journeys capacity on the network was equally important as intercity trains free up space for local trains.
Chris Woodroofe, the managing director of Manchester Airport Group (MAG), said the travel hub had also been hit by the recent issues on the trains, including lengthy industrial disputes between operating companies and trade unions. He said there had been a 25% drop in people arriving at the airport by train yet the venue is committed to the idea of getting passengers out of their cars and arriving for their flights using public transport.
Ms Key, though, pointed out that while rail is seen as a key driver of economic growth it accounts for just 2% of trips and 7% of passenger miles while accouting for half of transport funding.
There was also concern that public transport needs to be run as a service based around people's needs rather than focusing solely on commuting routes and whether or not the convention had focused enough on active travel such as cycling, walking and
Asked to say which issues were thought to be most important, the room picked the devolution of bus and rail services with accountability for operators, with decarbonisation in a way that is socially inclusive and helps travellers shift the way they get about coming second.