Manchester 'citizens' watchdog' clashes with the council over climate change
An environmental group has criticised what it sees as inadequate action on climate change promises - but the city council has strongly defended its record on the issue.
Watch more of our videos on Shots!
and live on Freeview channel 276
Visit Shots! now
A Manchester climate change organisation which was founded to check closely the workings of the city's council on green issues has clashed with the town hall over progress around the issues.
Climate Emergency Manchester (CEM) has made a number of criticisms of Manchester City Council, claiming its actions since declaring a climate emergency in 2019 are inadequate.
The council, though, has vigorously rebuffed the group's suggestions and spoken of the work it is doing to make the city a more environmentally-friendly place and added it is on track to meet its targets.
What is declaring a climate emergency and why does the group exist?
In recent years local authorities have passed a raft of legislation related to acknowledging the seriousness of the current climate situation and committing them to taking action.
This came after a summer involving school strikes inspired by Swedish teenage campaigner Greta Thunberg and large-scale Extinction Rebellion (XR) demonstrations.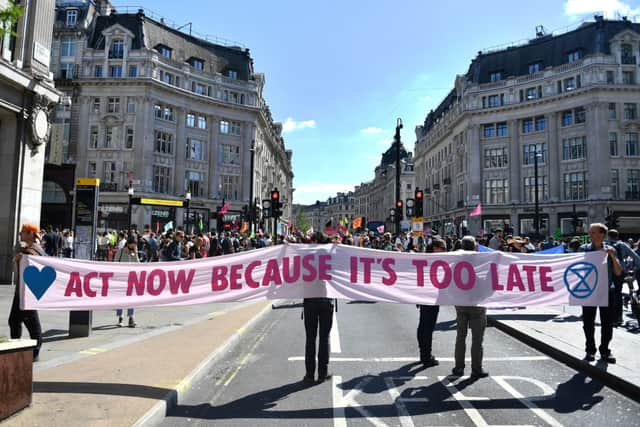 Passed unanimously in July of that year, the declaration contained 23 points about the climate situation, including measures such as becoming carbon neutral as soon as possible
CEM was founded in spring 2019, initially in an attempt to encourage the council to declare a climate emergency.
It was co-founded by academic Marc Hudson, who has been involved in climate change issues for some 30 years, and private sector worker Calum McFarlane.
They initially set up a petition on the council's website but after the July declaration the group's focus switched to ensuring the council actually delivered on its promises.
It now has a six-strong core group and has been involved in work including lobbying councillors, writing update reports on the council's climate work and attending scrutiny committees.
It also campaigned for a dedicated climate change committee to be set up, and after its petitioning was brought to a halt by the pandemic now-outgoing council leader Sir Richard Leese announced one of the scrutiny committees would be renamed to include the issue in its remit.
What are CEM's criticisms of how Manchester is doing on climate change?
One of Marc's criticisms of the council is around perceived delays around fairly simple measures to improve green knowledge around the town hall.
He gave the example of carbon literacy training, saying only just over half of elected members have had the training and the latest target to get everyone trained up has moved to 2024.
However, he says the council has been actually talking about this issue since around 2010 and is already years behind where it had initially promised to be.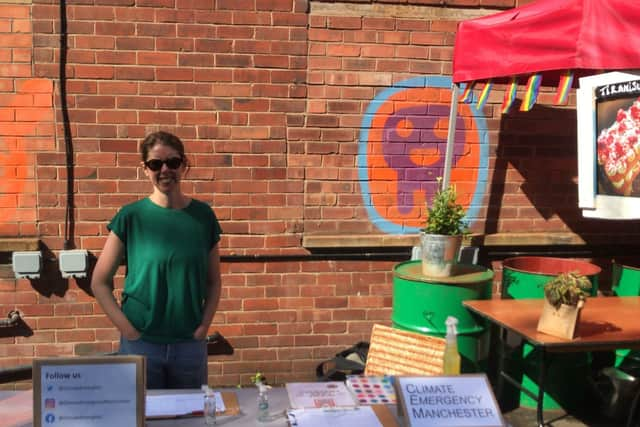 This, he reckons, casts doubt on how serious the town hall actually is about tackling the climate emergency.
He said: "If they can't even get their own elected members and staff to do something as trivial as carbon literacy training, why should anyone believe they have the appetite or the competence for the bigger, tougher decisions?"
Marc said it was also important to look at the finer print when it comes to emissions reductions.
Although emissions related to the council have come down since 2010, some of this is tangled up in the response to the Government's austerity measures and has involved buildings being sold off or other similar moves.
He is equally sceptical about the much-vaunted ambition for Greater Manchester to achieve net zero by 2038.
Marc believes the city-region has consistently failed to meet the step-by-step reductions which are needed for this plan to work, even when the Covid-19 pandemic forced major reductions in transport and energy use.
He said: "Every year the city has burnt far more carbon than its budget would allow, so the reductions for the remaining years have got bigger and bigger.
"We are now in a situation where the council has admitted that even with the pandemic it didn't hit the target and so the reduction needed year on year is 16 per cent.
"Even the Soviet Union when it collapsed didn't shrink its carbon budget at that level. In three years, it has been completely blown."
He says he also wants the council to think seriously about the contribution of aviation emissions to climate change and the stake which it, like all Greater Manchester town halls, has in Manchester Airport.
'Keep the promises that have been made'
In short, Marc claims on climate issues: "There is no leadership, no sense of emergency and no admission they have been failing repeatedly for a very long time."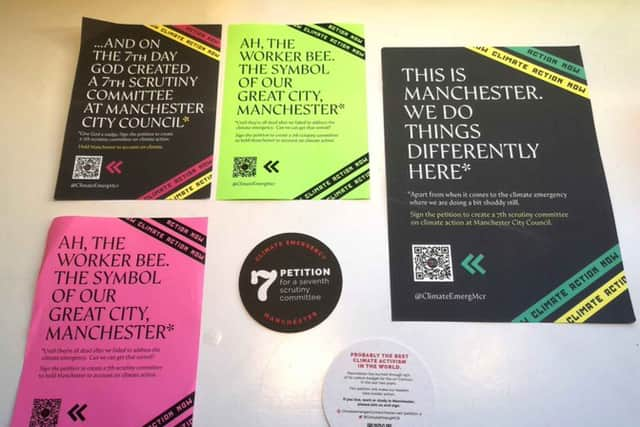 Although CEM has produced a report called Love and Rockets which was full of crowd-sourced suggestions about going green, Marc says he does not think it is necessary for the organisation to propose lots of new policies.
He said: "Councils have powers and we would like Manchester City Council to use them to simply keep the promises it has already made."
What does Manchester City Council say?
The council has comprehensively rejected Marc's negative view of its approach to tackling climate change.
It said it has received Silver accreditation from the Carbon Literacy Project and is on track to achieve Gold accreditation by 2025.
It also said it is focusing on major emissions reductions, including buying 27 electric bin lorries, completing a shared heating system, reducing emissions from buildings and working on options for energy generation.
On emissions reductions the council said it has met its target to reduce its direct emissions by 13% a year and has stayed within its carbon budget as set out in the Climate Change Action Plan 2020-25.
Overall, the town hall said it has overseen a 21% reduction in 2019-20 and 2020-21.
While it acknowledged the city is not yet decarbonising at the target rate, the council denied achieving this was impossible but said residents, businesses, community groups and others will have to play their full part alongside the town hall.
The council said other ideas being worked on include more electric vehicle infrastructure in the city and ward-level plans related to climate change.
Coun Tracey Rawlins, executive member for environment at Manchester City Council, said: "We are absolutely committed as a council to halving our own carbon emissions by 2025 and doing all we can to support the city achieving its collective target.
"There is a huge amount of time, effort and indeed investment going into this mission and I'm proud that the council is on track to achieve our organisational target.
"Of course huge challenges remain but it's Manchester's style to face such challenges head on. To do that the whole city needs to work together – every city and every organisation has a part to play."