Activists gathered outside the headquarters of fast fashion concern Boohoo in Manchester on Black Friday to highlight the environmental impact of making very cheap clothes available for sale and demand the company treats its workers better.
Environmental protestors, trade unionists and workers' rights group all gathered outside the firm's offices in the Northern Quarter on Friday (25 November). The demonstrators were opposing the huge discounts which are offered to customers on dates such as Black Friday and also called for a just transition for the fashion industry with better pay and rights for workers.
However, the company has vehemently rejected criticisms of how its staff are treated.
What have the protestors said about their action?
Green activists involved in the protest claimed fast fashion companies like Boohoo offering deals on Black Friday to lower prices further was environmentally unsustainable.
Clare Richardson, Extinction Rebellion Fashion Action activist, said: "With the world facing environmental and social disaster, extreme Black Friday discounts on Boohoo's already impossibly-low prices are a crime against our future planet and against workers' rights.
"Boohoo uploads an average of 116 new styles to its website every day, many under £5 at full price. Mass disposable fashion sales are inherently unsustainable, contributing to the estimated 92 million tonnes of textile waste disposed of yearly.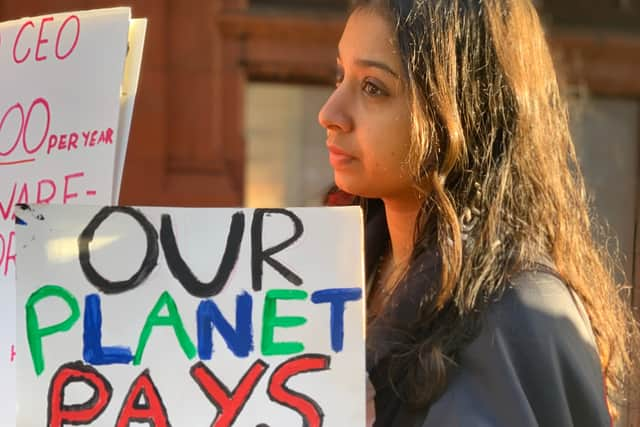 "Boohoo must change its business model. A Just Transition for the fashion industry is essential to avoid social and ecological collapse."
Workers rights' groups and trade unions are calling on Boohoo to discuss meaningful action on workers' rights and the climate, to recognise the Usdaw union which represents employees at the Manchester offices, and to pay workers in their supply chain a living wage.
The company was forced to cut ties with dozens of suppliers in Leicester in 2021 after a review found evidence of underpayments and poor working conditions at garment factories in the city as well as inadequate oversight by Boohoo. Activists say garment workers from that time are still owed substantial amounts of money by the firm.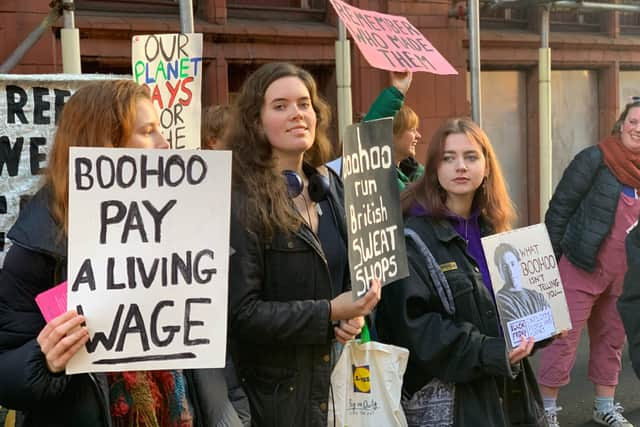 Anna Bryher, Labour Behind the Label campaigner, said: "Minimum wages in Turkey and Pakistan, although legal, still represent extreme worker exploitation, as governments have failed to set liveable minimum wage thresholds for decades. Boohoo must make a radical shift in its business model to be, in its own words, 'fit for the future'. Paying a living wage to its workers and ensuring unions are respected, is the absolute minimum."
Mike Aylward, Usdaw regional secretary said: "Regrettably, Boohoo has played fast and loose with their responses to persistent calls for the company to become an ethical trader. We again ask Boohoo to take the simple step of sitting down with Usdaw to explore how we can work together. Boohoo could go a long way towards repairing their damaged reputation by meeting with Usdaw and engaging in a positive relationship.
"The company needs to clearly demonstrate to their employees, customers and the communities they operate in, that Boohoo is serious about being an ethical trader. We are joining with Labour Behind the Label to seek fairness and respect for fashion industry workers."
What has the company said?
The company has vehemently denied claims of wrongdoing made against it and robustly defended its actions.
A Boohoo group spokesperson said: "We completely reject these claims. We respect people's right to join a trade union if they choose to do so. Indeed, we have been working constructively with trade unions in Leicester to facilitate introductions with manufacturers in our supply chain.
"We have an extensive colleague engagement programme that allows people to speak openly and honestly about their working environment. Through these forums, our people tell us they are happy and feel valued, and there is little support for unionisation. Therefore, we believe it would be unfair to impose one on them."