Badgers need more protection says wildlife group one year on from horror attack on volunteer in Bolton
Conservation enthusiasts are calling on Greater Manchester's police force and elected mayor Andy Burnham to do more for the animals.
Watch more of our videos on Shots! 
and live on Freeview channel 276
Visit Shots! now
Wildlife enthusiasts are calling on the authorities to do more for Greater Manchester's badgers a year after one of its volunteers suffered a horrific attack in Bolton.
The group claims attacks on badgers and their setts are still "rife" across the North West and require a serious response from police forces.
The call comes on the first anniversary of an incident in which one of its volunteers was brutally attacked with spades by a gang digging a sett out and suffered head injuries.
Mr Burnham said wildlife crimes was one of a number of offences which police in the city-region had previously wrongly deprioritised but said the changes being made at the force would help improve the situation.
What does the badger group say is happening to the animals and what does it want to see?
The badger group says crimes against the animals are "rife" and the North West as a whole is a "hotspot" for illegal activity involving wildlife.
The Lancashire Badger Group, which covers the northern boroughs of Greater Manchester, says it has reported to the police several incidents of the animals' setts being dug up to the police within the last month.
The South Manchester Badger Group, meanwhile, has been called to one poisoning and three examples of cubs being killed by dogs in the past month.
Conservationists say that nationally crimes against badgers have been rising since the start of the Covid-19 pandemic.
The animals face threats including sett interference, badger baiting, shooting, snaring and trapping, poisoning, hunting and lamping with dogs as well as damage to their habitats caused by land development.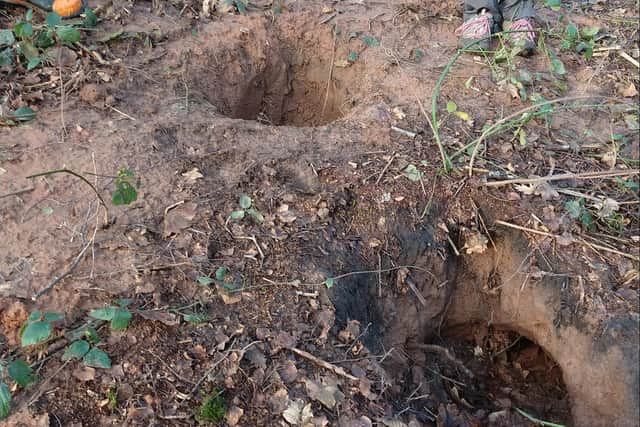 It is now calling for reform of how wildlife crime is tackled and wants to see a much stronger response to it from Greater Manchester Police (GMP), including having dedicated officers specially trained to deal with the problem deployed in all the city-region's areas.
The group is also lobbying Greater Manchester Mayor Andy Burnham to see if he will raise the issue.
They reckon that dealing with GMP and getting them to come out to and then investigate wildlife crimes can be frustrating.
Lancashire Badger Group vice-chairman Andy Hardman said: "We have found it can be very hit and miss with GMP. Sometimes you can't get through to the switchboard and sometimes we have to explain what badger crime is to them.
"They can put steps in place to get officers out to meet us on site or to deal with live incidents as they occur.
"We can also offer dedicated training for officers on what to look for at sites and what setts look like and are."
A year on from a volunteer suffering shocking injuries
The group is calling for badger crime to be made a higher priority a year after a 41-year-old volunteer suffered shocking injuries while trying to help protect badgers.
He was brutally attacked by a gang of five people wielding spaces who were digging out a sett in Bolton.
He was hospitalised, with injuries requiring plastic surgery, and still suffers from pain and neurological issues.
The group says the case has since been dropped by GMP.
Andy said this incident should serve as a warning of just how serious wildlife crime and how dangerous some of the offenders involved can be.
He said: "The Bolton incident was horrific. It was only luck that he did not suffer life-changing injuries.
"Killing badgers – baiting, lamping, fighting - is part of a regional network of criminal gang activity. There is evidence that the same gangs which organise wildlife crime also organise other crimes.
"If you see people in the act of interfering with a sett, don't approach them. Do not put yourself in danger."
What else has been said about badger crime?
Anyone who spots wildlife crime being committed is being asked to ring 999 and give as much information as possible, including an exact location and a description of the offenders as possible.
The badger groups are also encouraging anyone who sees anything suspicious related to the animals to get in touch.
Mayor of Greater Manchester, Andy Burnham, said: "In the past, Greater Manchester Police deprioritised certain issues and in our view should not have done, and that includes wildlife crime.
"This is one of the changes we're seeing with the new leadership at GMP and we are already seeing improvements of the recording of all types of crime.
"In my view, all crimes are crimes – the law of the land is there for a reason."
Greater Manchester Police have been approached for comment.