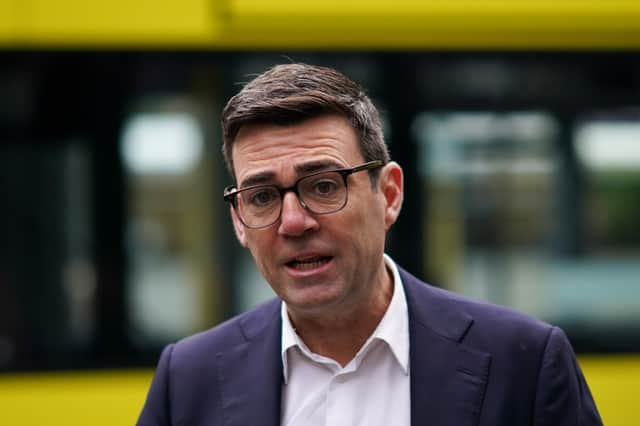 Greater Manchester mayor Andy Burnham says he believes we could see a national return to mask-wearing more widely this winter - but is adamant that there should be no repeat of local or regional lockdowns.
Mr Burnham added the local decision to make mask-wearing compulsory on Metrolink trams in Manchester had been taken to help protect NHS staff and services, but that the relaxation of rules on face coverings elsewhere made it harder to enforce.
He told ManchesterWorld: "I have to keep it under review [the tram mask policy].
"I do think when we get into the winter it's going to be likely that nationally there may be a return to masks. We'll obviously have to watch this, but I personally think that would make sense on public transport right now and I don't think the right call here has been made at national level.
"In other countries, it seems to me that masks have been very much mandated in those enclosed environments and I think we need to look at comparative data between other places. I would imagine given what we are going into (this winter) the messaging should be turning back towards more cautious messaging, rather than saying, 'It's all fine now'. It's going to be a difficult winter, not just from a Covid point of view, but from every form of respiratory virus...
"I'm conscious we need to do everything we can to support NHS staff over the coming period. It's why we took the decision we did on masks on Metrolink. It gets hard to maintain because of the wider discipline around masks - people aren't going out with them anymore so it's harder for us to enforce on one part of the transport system.
"But if you look at the cases in the UK versus the rest of Europe where they have been maintaining mask wearing, I think it tells a story that suggests we have gone too far, which is what we were saying when 'Freedom Day' came around [in July]".
What's different heading into this winter?
The latest Covid infection rate data shows rises in Trafford neighbourhoods, but a drop in parts of Manchester, Bolton, Salford and Bury.
Mr Burnham said that, despite the ongoing challenges posed by Covid-19 heading into winter and the need for caution, he would oppose any return to local lockdowns and the tier system which were previously in place last winter. Greater Manchester was put under the strictest 'tier 3' level of restrictions last autumn and over Christmas 2020, meaning hospitality venues and non-essential shops had to close during their busiest part of the year.
Mr Burnham said: "We don't want to see any return to that approach [of local lockdowns.] We said last year we thought they were unlikely to work and we had evidence from the deputy chief medical officer to back up that claim.
"When we were in the debate about tier 3, we were being told it was uncertain to work because it didn't have enough closures within it and the effect of doing a regional lockdown wouldn't be as powerful as a national lockdown, and we were then faced with what we felt was a flawed policy which wouldn't necessarily halt the virus but would cause certain damage to business. That remains our view.
"We then had a national lockdown in the autumn last year but if you look at what happened afterwards with the tier system in the Christmas period, it is clear that the tier system gave some people an incentive to travel to other areas where hospitality was open.
"You could say it was an incentive to circulate the virus, not to stop it. Our experience would say it was a very flawed policy. It might be different in a more sparsely populated country. Here it just really did not work and we would be opposed to any return to a local or regional lockdown."
What has the Government said on masks and lockdowns ahead of this winter?
Setting out plans last month for dealing with Covid this winter, Health Secretary Sajid Javid told the Commons that mask-wearing and vaccine passports for crowded or enclosed venues could be introduced if they felt the measures were necessary, alongside public health messaging around taking precautions.
Mr Javid did not mention lockdowns in that discussion but a document outlining the Government's 2021 winter plans suggests "more harmful economic and social restrictions would only be considered as a last resort."