Work has got under way on a landmark Manchester city centre memorial as part of the scheme to make Albert Square 'bigger and better'.
The town hall has now shared more details of how this major project in the city centre is going.
What is the latest progress on the Albert Square and Town Hall projects?
Manchester City Council wants businesses around Albert Square to be benefitting from a new, traffic-free environment by next year.
It is hoped this will aid their recovery from the Covid-19 pandemic.
The rest of the work in the square, which is currently behind hoardings and housing the site compound, is slated to be finished in 2024.
Meanwhile, work has now got under way on the iconic memorial to Prince Albert.
The sculpture is more than a decade older than Manchester Town Hall but has been included in the renovation project for the latter building as it has been decided it would benefit from some TLC.
Scaffolding has been put up all round the memorial and a specialist stonemasonry team has been inspecting and evaluating it so it can advise on the way forward.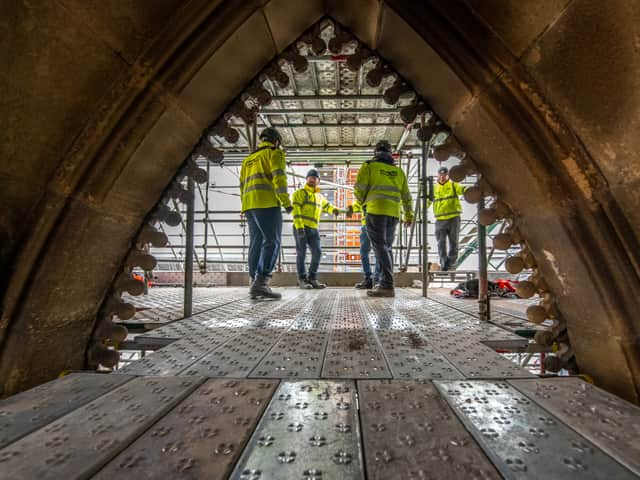 The council captured the scaffolding going up at the town hall and memorial in striking timelapse footage which is available to view above and also on YouTube.
Work is also continuing on the 19th century town hall building itself.
An archway in the Great Hall has been painted with a specialist latex solution, which - when peeled off - takes the built up dirt off, leaving the stone much cleaner without using harmful cleaning agents.
And the Bees Landing has been covered in scaffolding too.
Manchester City Council is putting a regular stream of images of the building work up for people to see on its social media channels.
Coun Bev Craig, leader of Manchester City Council, said: "As well as the work to repair, restore and safeguard the iconic town hall building, this project is transforming Albert Square into a world class events space for the city and protecting the historic Albert Memorial, which is Grade I-listed in its own right.
"While businesses around the square will ultimately benefit significantly from this transformation, I'm glad we've been able to bring forward the works around the edge of the current square to ensure some of those benefits - such as extra outdoor space - can be felt as quickly as possible.
"It's also heartening that the works to the square have enabled us to bring on board extra apprentices as part of the project's commitment to creating a lasting social value legacy for Manchester people."