Christmas 2022 is at an end and New Year 2023 celebrations are drawing to a close so many of us are taking down our decorations for another year. Packing your baubles and tinsel into the loft or garage is straightforward enough - but how do you recycle a real Christmas tree in Greater Manchester? We've got the lowdown on how to get rid of your tree responsibly in 2023 - and help the planet and even a local charity too.
When is 12th night in 2023? And when should Christmas decorations come down?
The 'twelfth night' of Christmas is traditionally when all Christmas decorations need to be taken down by - leaving them up too long is said to bring bad luck on your home! Whether you are superstitious or just fed up of looking at all the glitter, the date of the 12th night is Thursday 5 January 2023.
So what to do when you take you real tree down? First of all, if you have the boot space, you can take your real tree to any local recycling centre in Greater Manchester and recycle it for free. Check where yours is here and note you need to pre-book your trip if you are using a van or trailer.
If that's too much of a faff, then here's how else to recycle it locally.
To recycle it in your brown bin - remove all decorations, lights and the wooden base. Then chop it up so it fits inside the brown bin with the lid fully closed.
• Higher Memorial Park (car park), Joseph Street, Failsworth (open 7.30am until dusk)
• Royton Park (car park) off Bleasdale Street, Royton. (open 7.30am until dusk)
• Werneth Park (car park) off Frederick Street, Werneth (open 7.30am until dusk)
• Churchill Playing Fields (car park), Wellington Road, Greenfield. Anytime access.
George Street Playing Fields (car park), off Milnrow Road, Shaw. Anytime access.
You can take chop it up and put in your brown bin, or else your Christmas tree to your local recycling points here from Wednesday 28 December 2022 to Tuesday 10 January 2023.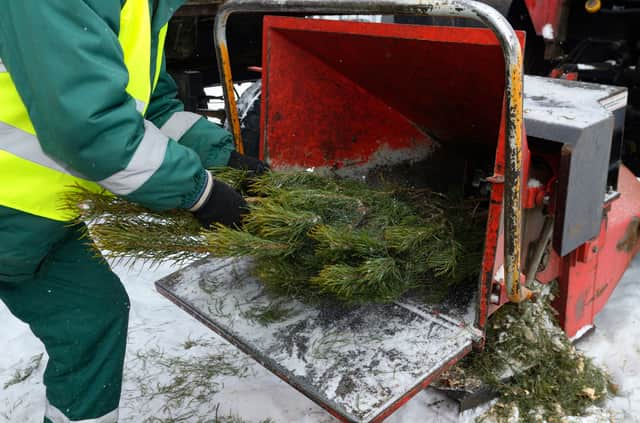 You can chop your tree into pieces and put them in your food and garden pink lidded bin. Take off the base or wooden block if your tree has one and make sure the trunk is not thicker than your wrist. Wood thicker than your wrist is too big and can't be put in your pink lidded food and garden bin.
You can recycle your Christmas tree at your local drop off points which open from Monday 2 January to Monday 16 January 2023.
You can drop your real tree at the following locations:
How to donate your Christmas tree to charity in Manchester
Register your tree with national charity JustHelping here, along with a donation towards the collection, and you can help a local hospice in your area including St Ann's Hospice. This year, districts including Manchester City Council, Salford City Council, Trafford Council and Stockport Council have partnered with the charity. If you're living in the below postcode, you are eligible to register:
Manchester: M1, M2, M3, M4, M14, M15, M16, M17, M19, M20, M21, M22, M23, M31, M38
Salford: M3, M5, M6, M27, M28, M30, M44, M50
Trafford: WA14, WA15, M32, M33, M41
Stockport: SK1, SK2, SK3, SK4, SK5, SK6, SK7, SK8
Can I repot my Christmas tree?
Only trees which came with their roots can be repotted and survive.