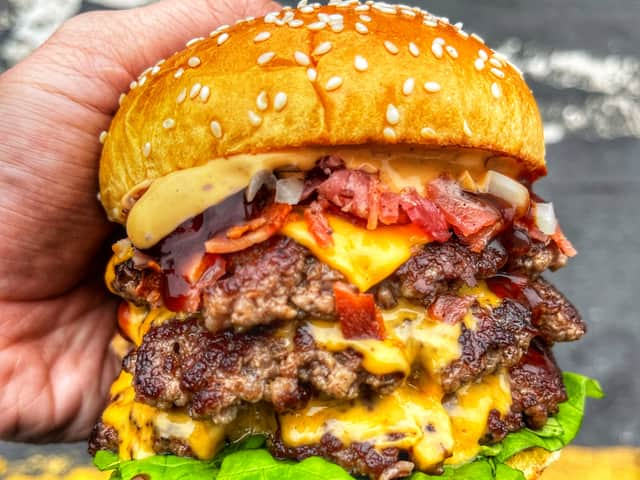 A Greater Manchester fast food business has made it through to the final of the 2022 National Burger Awards.
That Burger Place, based in Salford, will be competing in the last stage of the prestigious prize against 15 other finalists.
Chefs from across the industry - from restaurants to street food traders - will go head-to-head in a live cooking demonstration as they bid to take home the silverware.
Here's your guide to the awards final and the city-region's contender.
What has That Burger Place achieved?
The fast food concern has made it through with its California Dreaming burger as its signature creation.
Inspired by the state on the west coast of the USA, the burger bun is stuffed with double-stacked patties with American cheese, crispy bacon, red onion, lettuce, baconnaise and a special sauce.
That Burger Place will now battle it out in the final alongside other renowned eateries including former finalist MEATliquor, Bleecker and Burger & Lobster.
How does the final of the 2022 National Burger Awards work?
The final takes place on 20 April at Islington Metal Works in London.
On top of the signature round, the competing chefs will take part in a technical showdown that will see them having to create a burger from a specific selection of ingredients.
There will also be a meat-free burger round.
A panel of judges made up of big names from the food industry will then have the job of crowning Burger Chef of the Year.
What has been said about the event?
"Burgers have been a firm favourite among Brits for decades, with their popularity soaring throughout the pandemic – so much so that they have been confirmed as the nation's most-ordered lockdown dish," said Genna Ash-Brown, editor of Dine Out Magazine, which organises and runs the event.
"We were thrilled to see so many high-calibre recipes submitted for this year's National Burger Awards, though it certainly didn't make shortlisting an easy job!
"It's always a joy to see familiar faces return and just as much of a pleasure to welcome new challengers into the ring.
"We can't wait to bring these awesome businesses together and see those sizzling patties start flippin'!"