Manchester Christmas Markets: We spent £25 on opening day and were pleasantly surprised with our lunch treat
We ate our way around the Manchester Christmas Markets to find out how much you can get for £25.
Watch more of our videos on Shots! 
and live on Freeview channel 276
Visit Shots! now
Manchester Christmas markets are officially open and the crowds have already started descending on the city centre to celebrate the start of the festive season. 
Speaking to the press on the opening morning of the Christmas markets, Councillor Pat Karney, the council's official Christmas spokesperson, said that they were hoping to "break records" with attendance figures this year. And judging by the amount of people that turned up on opening morning, it seems it is already off to a flying start. 
If there is one thing the markets are known for, however – aside from mulled wine and bratwurst – it's the prices. For most people, a trip to the market is a treat and not something you can afford to visit every week – but is it really worth it?
We went to the markets on opening day to see how much you can get for the price of a meal out, around £25. Here is what we found out.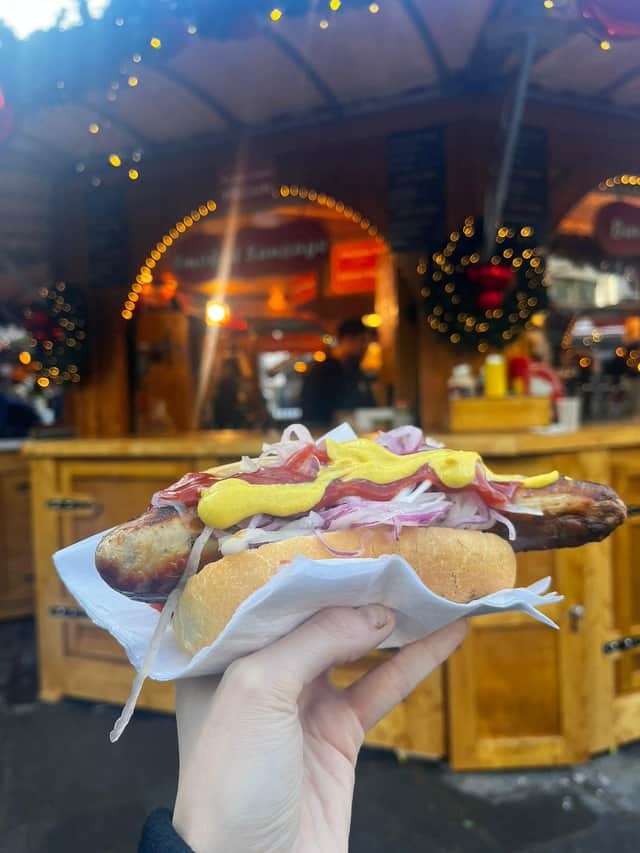 It hasn't always been this way though. Before the markets moved out of Albert Square due to the ongoing renovation work on the Town Hall and surrounding area, the markets were all about recreating the authentic German Christmas market experience and there was only one food item that people queued up for – the bratwurst, which is what we opted for. 
There are several bratwurst stalls throughout the city centre, but we went for the Swing Grill at Exchange Square. Their simple menu consists of three different kinds of bratwurst, German, smoked or cheese sausage, all priced at £8, which are cooked fresh on a large circular grill. You can add onions for no extra charge, as well as your choice of sauces. 
The bratwurst is a classic for a reason and it did not disappoint. The bread roll was crusty and fresh, the sausage was perfectly charred and juicy and the thinly sliced red onions add just the right amount of sharpness. It was slightly messy to eat, but there are plenty of places to perch for a moment or two while you eat. This was more than enough food for me, with just enough room left over for a mulled wine and dessert.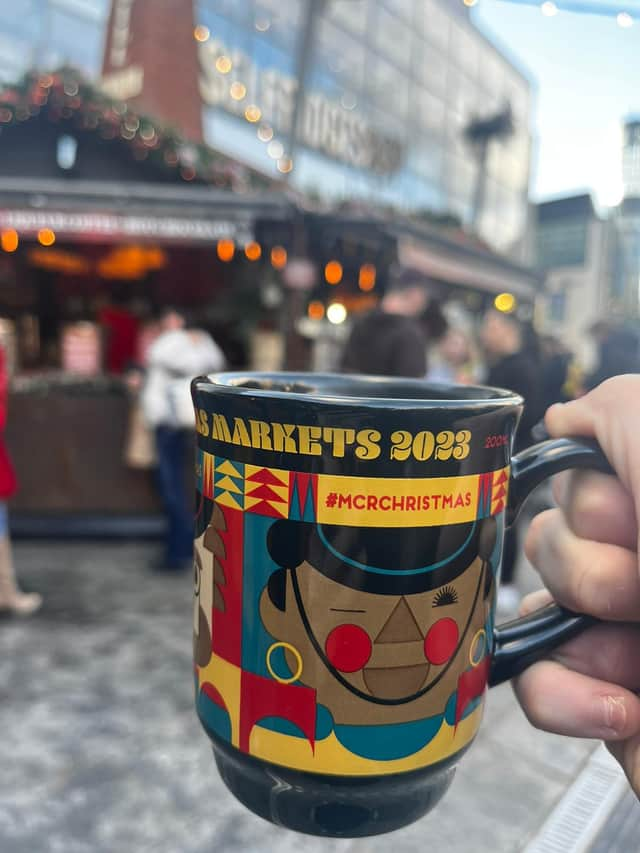 Mulled wine, or gluhwein, may not be for everybody but now there are so many different options when it comes to boozy hot drinks. This year, we decided to spice things up a bit (literally) with a mango and rum mulled wine from The Mill Exchange, also at Exchange Square. This stall offered 'Mancunian mulled wines' and they came in several flavours, including a non-alcoholic version. 
They come in two sizes, small for £6 and large for £8, and some of the other flavour combos include gin and cherry and strawberry and amaretto. Personally, a small mulled wine is more than enough as they do tend to get quite sickly, but they are a great accompaniment to the bratwurst. There is a £3.50 deposit for the mug, which you can either return for your money back or keep as a souvenir. 
Finally, we had to visit the Dutch pancake stand, which had a steady queue of customers the entire time we were there. These cost around £5 depending on which toppings you choose, but we would recommend the white chocolate. 
In total, our brief visit cost us £21, which would have left us with a bit more change left over for an extra mulled wine had we not been on our lunch break. And for a flying visit and lunchtime treat, this was definitely a reasonable price. 
A longer visit would inevitably cost more than this, especially if you also factor in browsing the wide range of craft stalls as well. However, there are certain aspects of the market you can enjoy for free – providing you can handle the crowds of people, which can be a turn-off for many.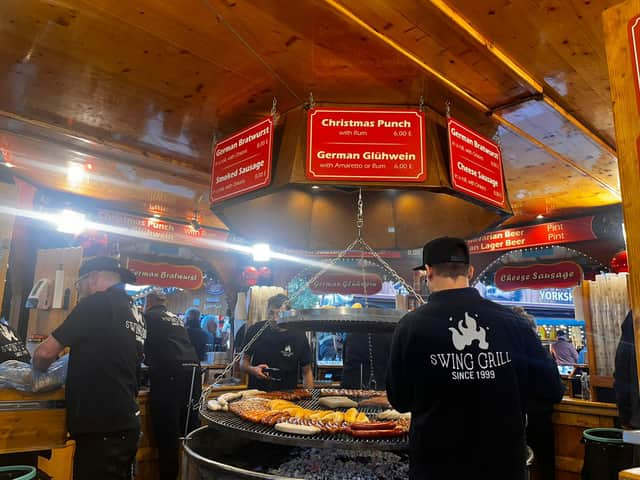 The markets definitely bring a change in atmosphere to the city centre. The smell of wood-fired grills and mulled wine certainly makes the city smell like Christmas, but there is also an undeniable buzz among the groups of people visiting, which makes even Piccadilly Gardens seem welcoming. Manchester City Council are also bringing back Festive Sundays this year, as well as the parade, so there are plenty of reasons to visit, even if you are not spending money. 
Whether you like it or not, the festive season is here – so you might as well treat yourself to a mulled wine.