Manchester Christmas Markets food and drink prices at Winter Gardens including mulled wine and beer
One of the big considerations for revellers heading to the Christmas Markets is just how much it will cost - we went along to find out.
Watch more of our videos on Shots! 
and live on Freeview channel 276
Visit Shots! now
Manchester's fantastic Christmas Markets opened on Friday - bringing with them the beginning of the festive season.
Like many we went out and took a look around on opening day to get in the spirit of things. One big thing for most punters between now and Christmas will be how much a day at the markets is going to cost - or even just if you're nipping out for lunch. So we've rounded up what things will set you back at Winter Gardens AKA Piccadilly Gardens, below.
The traders in that part of the city are mostly the same with Flat Baker, a viral bakery based in Ancoats, among the newcomers. By and large it looks like things will cost you 50p to £1 more than last year.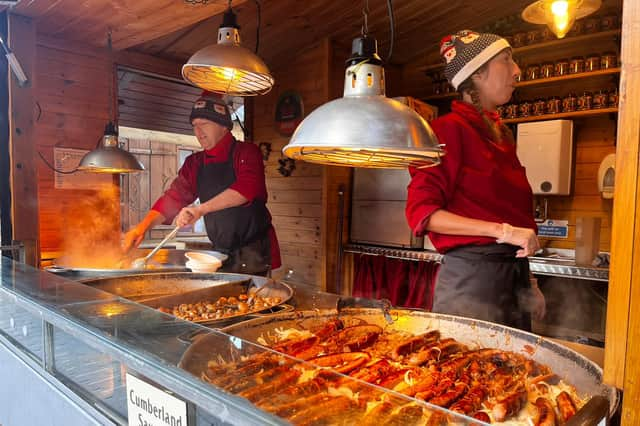 Winter Gardens Christmas Markets prices
Clowbecks Farmhouse Kitchen
Cumberland sausage, served in a bap with caramelised onions – £7
Gluten free sausage (cooked to order) – £8
Lancashire cheese potatoes, (potatoes and onions cooked in a Lancashire cheese sauce, vegetarian) – £7
Navy mushrooms, cooked in garlic and butter (vegetarian) – £7
Lager £6 (pint), £3 half
Mulled wine £5.50
Water £2
Hog roast and Pig & Barrel bar
Hot roast pork rolls (with sage and onion stuffing, apple sauce) – £9
Cans of soft drink £2
Mulled wine/hot cider – £5.50 + £3.50 mug deposit
Tea/Espresso/Macchiato – £3
All other coffees – £3.50
Hot chocolate – £4
Lager – half/pint £3/£6
Mulled wine and cider – medium/large £5/£6
Add 25ml spirit to any drink – +£2.50
Tipsy Wheels
All cocktails – £8, including Pornstar Martini, Zombie Cosmo, Espresso Martini, Bramble, Solero Colada and Apple of My Eye
They also serve 'Christmas cocktails' – Chocolate orange Espresso MArtini, White Christmas mojito, Hot Spiced Rum Punch, Hot Apple Gin-gle
Draught lager, ale, cider – £8
Prosecco – £8.50
Gin Prosecco – £8
Roverbank Vodka or Spiced Rum mixer – £7 (single), £8 double
Baileys – £5
Mulled wine – £5/£5.50 (add Baileys, Disaronno or brandy for +£2)
Glass hire – mug £3.50, glass £2, cocktail glass £3.50, stein glass
Off-piste Bar
Mug hire – £3
Glass hire – £2
Spirit single £6.50
Spirit double £8.50
Bailey's – £5
Premium spirit single £7.50
Premium spirit double £9.50
Draught lager, ale, weissbier, cider – £6
Wine – £5.50
Prosecco/Pink prosecco £6.50
Winter prosecco –£8.50
Add shimmer £1
Mulled wine – £5/£5.50
Mulled plum cider – £5/£5.50
With Disaronno, brandy – £7.50
With whiskey, cognac – £8
Spiced rum punch –£8
Hot Apple Gin-gle – £8
Tea – £2.50
Coffee – £3
Hot Chocolate, hot Vimto – £3.50
Plus spirit – +£2.50
Premium – +£3.50
Toppings £1
Christmas syrup – 50p
Chocolate orange – £8
Fireside hot chocolate – £8
Eat Greek
Chicken gyros pitta – £10
Lamb kofta pitta – £10
Halloumi outta – £10
Jackfruit – £10
Halloumi fries – £8
Greek fries – £6
Loaded fries (choice of chicken, lamb, halloumi, jackfruit) – £12
Brook's Mill
Gin and Tonic – single/double, £6.50/£8.50
Mulled wine – £5/£6
Gingerbread gin – £6/£7
Hot whiskey – £6/£7
Hot spiced cider – £5/£6
Coffees – £3.50
Add a tipple – £6.50 (Bailey's, amaretto, rum, brandy, whiskey, Malibu, Kahlua, Cointreau)
Gingerbread latte – £4
Caramel latte – £4
Tea – £2
Ghirardelli hot chocolate with shot – £6.50 (Bailey's, amaretto, rum, brandy, whiskey, Malibu, Kahlua, Cointreau)
The Dirty Chicken Co
Mad Mex (salsa, sour cream, guacamole, nacho cheese, jalapeno) – £9
Chick'n'Rasher (bacon, lettuce, tomato, mayo, bbq sauce) – £9
Katsu Chicken (katsu, slaw) – £9
Something Spicy (lettuce, tomato, mayo) – £8
Something Simple (tomato, lettuce, mayo) – £8
Strips and Fries (with or without spring onions and peppers) – £9.50
Fries and nacho cheese (with or without spring onions and peppers) – £6.50
Fries and nacho cheese, with BBQ and ranch sauce – £6.50
Seasoned fries – £4.50
All coffees – £3.50
Hot chocolate – £3.50
Tea – £3
Bottles – £2.50
Cans, water, Ribena – £2
Flat Baker
Cinnamon roll – £5
Croissant – £6
Brownie – £5
Brazilian mince – £6
Pao de queijo – £5
Garlic prawns. Small (6 pieces) – £5. Large (11 pieces) – £9
Garlic mushrooms, with garlic potatoes – £9
Garlic potatoes – £6
Chicken Basquaise – £9
Tartiflette with reblochon cheese – £9
Amsterdam loaded fries
Loaded Fries (all £10, skin-on fries)
Dutch chicken
Beef brisket
Manc Poutine (chips, cheese, gravy)
Fries and sauce (regular/large– £5.50/£7)
Dock 53
Mulled wine (traditional or cherry) – £5
Add a shot (gin, whisky, rum, vodka, Jaeger) – £7.50
Mulled Morgan's (mulled wine, Captain Morgan's dark rum, spices) – £6.50
Hot buttered rum – (butter, rum, cream, spices) – £7
Hot Vimto (with shot of Jaeger, gin or rum) – £5.50
Hot orange with shot of Jaeger, gin or rum) – £5,50
Wonky Bar Hotails – £8 (Mulled cider, Cointreau, raspberry, Mulled cider, Drambuie, mixed spice, Mulled cider, Jaeger, cinnamon, orange)
Mulled cider – half/pint, £3/£6 (Merry mixed spice, Rudolph raspberry, Santa strawberry, Cracker sour cherry, Dasher dark fruit)
Mulled gin (hot apple juice, gin, mixed spice) – £6.50
Draught cider and beers – £5-6
Wine – £5.20
Prosecco – £5.20
House pour spirits – £4.50