We visited Ashton farmers' market after it was named among 'best in UK' - but all wasn't what it seems
Ashton farmers' market was recently named among the best in the country in the Sunday Times - but visitors and traders had a different view.
Watch more of our videos on Shots! 
and live on Freeview channel 276
Visit Shots! now
The Sunday Times recently named Ashton farmers' market 'one of the best in the country' - but traders and visitors have been left somewhat baffled by the description in the article.
The newspaper's glowing write-up describes the Tameside market as one of the "north west's biggest," where you can find tables piled high with "organic honey, oven-warm meat pies and extra gooey camembert." Tameside Council's webpage for the market also says there are craft stalls, food demonstrations and face painting for children. However, as we found out last weekend, this is not entirely the case.
As a lifelong Tameside resident, I am very familiar with Ashton town centre and was surprised to see the market crop up in a list that included some of the most idyllic destination towns and cities in the UK. While there are hidden gems to be found in the centre's indoor market, the outdoor market and high street have been visibly declining over the last few years.
In other words, it's not a place I'd usually spend my Sunday mornings, which is why the farmers' market, which takes place on the last Sunday of every month, had flown under my radar. I was curious to check it out – especially after seeing a national newspaper sing its praises.
But there were a grand total of six stalls at Ashton Market on Sunday 26 March – two butchers' stalls, a honey stall, a cheese stall, a cake stall and an Asian street food stall. My confusion must have been visible as one of the stall holders immediately asked me: "Did you read the article?," referring to the Manchester Evening News' coverage of the market's inclusion on the list that had been making its way round the local community Facebook groups.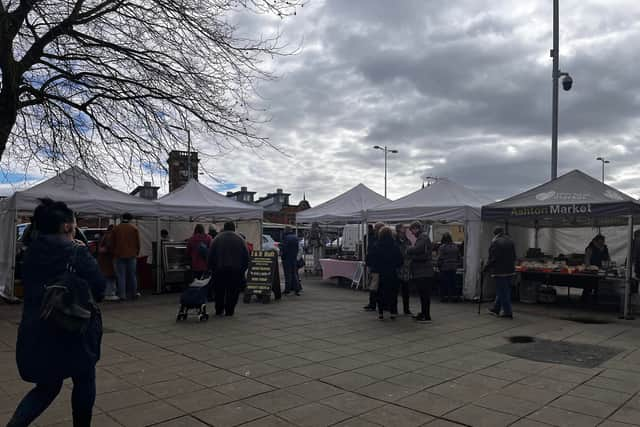 Scrolling through the comments in the groups, it became clear that other locals were also surprised to see Ashton market on the Sunday Times list. One Facebook user said: "Shocker! Probably used to be when our market town was busy, but no longer. Whoever at TMBC is responsible for our market needs to step up say they made a complete shambles of it and then step down."
Another said: "Manchester Evening News is about 5 years too late with this news. Lucky if there are 5 stalls on now for the Sunday Farmers' Market."
The stall-holders said that there had been other visitors, like me, turning up to the market expecting more. They explained that the market was once as described on the council's website, but had declined in popularity over the last few years. In the past, the traders would set up on the wooden outdoor market stalls, but now they have gazebos instead and are located near to the entrance of the Arcades shopping centre.
However, it's not all bad for the stall holders or the regular customers, who also took to Tameside Facebook groups to say that, although there are not many stalls, the produce they sell is of the highest quality.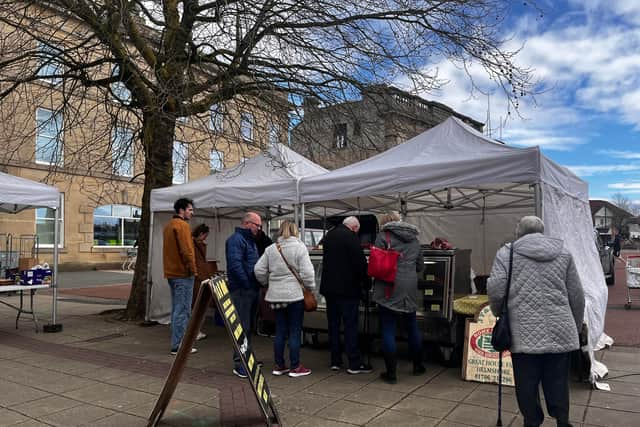 One regular posted on Facebook on Sunday afternoon, saying: "My daughter and I were there as we are every month to get our lamb, beef, honey, asian goodies, home made cakes and cheese. I know there aren't as many stalls as there used to be but still excellent produce."
A stall-holder, who wished to remain anonymous, said that they have been trading here for about a year and the location by the shopping centre brings them plenty of footfall. And at £20 per stall, it's much cheaper to trade here compared to the city centre. She added: "I think the market just needs more stall holders and it could be buzzing again. Main thing I'd say is it's a small market but plenty of purchasing customers, it just needs extra traders! For us we do a lot of markets and this one is by far the most successful in terms of turnover for us.
"I was surprised about the article being written in recent times but I have heard from other traders the market used to be huge so assumed that was the reason. But I was glad to see the article since it actually brought a really large amount of new customers to the market which hopefully continues."
And there could soon be more stall holders interested in pitching up at Ashton farmer's market. The town has received £19.87million from the government's Levelling Up fund, to be spent on three different aspects of the town centre –  the restoration of Ashton Town Hall, the redevelopment of the former interchange site, and improvements to walking and cycle infrastructure, which will include improvements to the market square.
Public consultation on the plans for the town centre was completed in December 2022. The draft proposal for the market square refurbishment would see the existing kiosks removed from the square and a large canopy constructed instead, with "flexible units" for traders.
So while Ashton's farmers' market may not be the event it once was, or was recently described in the Sunday Times, you can still get quality products from a small number of dedicated traders. And if the refurbishment proposals go ahead as planned, it has potential to restore and even surpass its former glory. Just don't pitch up and expect lots of craft stalls and food demos just yet.