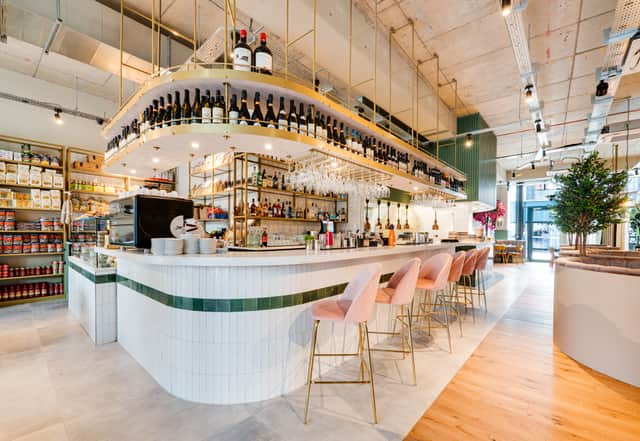 Salvi's in Deansgate Square
A popular Northern Quarter restaurant is expanding by opening a new branch in Deansgate Square.
Salvi's has launched an eclectic Italian food hub in the square featuring restaurant, bar, deli and terrace along with an exhibition space.
Promising authentic Neapolitan cuisine, a Sorrento-style bar and hundreds of deli products, it is the third outlet to take the Salvi's name in the city, with an existing Mozzarella Bar in the Corn Exchange.
The new branch also features a VIP private dining room, the Amalfi room, and will be offering pasta-making classes later this year.
Salvi's in Deansgate Square
What's on the menu?
Highlights include Pasta Nonna Teresa, with pistachio pesto and pancetta, and octopus and spicy sausage Pasta Polipo 'Nduja , along with brand new Pasta Pesto Melanzane, combining aubergine and pesto. Also on the menu is Linguine al Aragosta, a lobster linguine in tangy tomato sauce.
There are also a range of pizzas and traditional Italian aperitifs like Limoncello and Aperol spritzes, alongside a lunch menu with paninis.
Salvi's in Deansgate Square: linguine
Managing director Maurizio, who opened his first branch in Manchester a decade ago, said: "We worked so hard to bring Salvi's Deansgate to life and we're absolutely ecstatic to finally be able to share the simply stunning venue that we have created!
"Like many other businesses, we faced a lot of challenges during the pandemic, but we are proud to say we are still standing strong and growing.
"We took the best features of each of our venues and crafted the new Salvi's brand for everyone as passionate about real Italian food as us. Manchester has been our home for years, and we're dedicated to 'serve' back the love we receive."