As the end of Ramadan is approaching, the attention of Muslims across Manchester will turn to the next big event in the Islamic calendar - Eid al-Fitr.
The month-long fast is scheduled to end on Sunday, May 1.
But what is Eid al-Fitr, when is it and are there any events in Manchester? Here is everything you need to know.
What is Eid al-Fitr?
Eid - which is Arabic for 'festival' or 'feast' - marks the end of a fast or a fasting period in the religion of Islam.
It is celebrated twice a year - the first celebration is Eid al-Fitr which lasts three days, and the second is Eid al-Adha which will last four days.
Eid al-Fitr translates to 'the feast of breaking the fast' and it marks the end of Ramadan, bringing a joyous end to a month of fasting by the Muslim community.
When does Eid al-Fitr take place?
Eid al-Fitr is celebrated during the first three days of Shawwal, which is the tenth month of the Islamic calendar and begins with the first sighting of a new moon.
Muslims in Muslim countries such as India and Pakistan usually celebrate Eid al-Fitr over the entire three-day period, whereas Muslims in the UK will need to take a day off work or school to celebrate.
Since Islam use a lunar calendar, the date that Eid al-Fitr falls on changes on an annual basis, with Eid normally being 11 days earlier each year.
In 2022, Eid al-Fitr will take place on either Sunday, 1 May or Monday, 2 May.
How is Eid al-Fitr normally celebrated?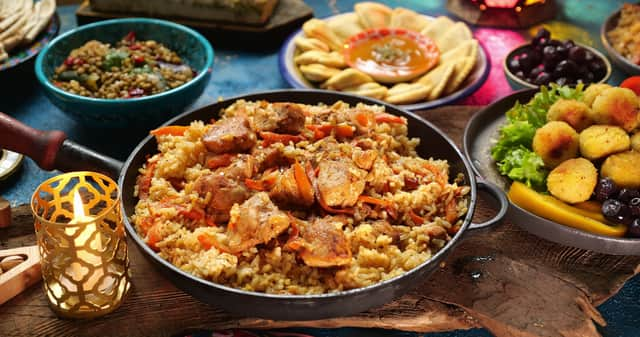 During the weeks leading up to Eid, Muslims tend to head to the shops and purchase new clothes and other gifts.
It is customary for Muslims to decorate their homes and dress up in their best attire on the day of Eid al-Fitr to mark the occasion.
Congregational prayers take place throughout Eid, offered at mosques and other outdoor spaces to facilitate the larger crowds.
Friends and family would begin to gather together throughout the day to exchange money and gifts, as well as enjoy a rich feast to mark the end of Ramadan.
Typical foods served at feasts during Eid al-Fitr include:
Savoury foods, such as samosas
Sweet snacks, such as sheer kurma
A chicken tikka curry or a Bengali roast chicken
and many many more!
What events are taking place in Manchester for Eid al-Fitr?
The UK is home to over 3.4 million Muslims and therefore many events take place throughout the country to celebrate significant dates and holidays in the Islamic calendar.
With hundreds of Eid al-Fitr events across England, Wales and Scotland set to take place throughout the start of May, are there any events taking place in Manchester?
Here are some Eid al-Fitr events and celebrations taking place in and around Manchester:
Eid in the Park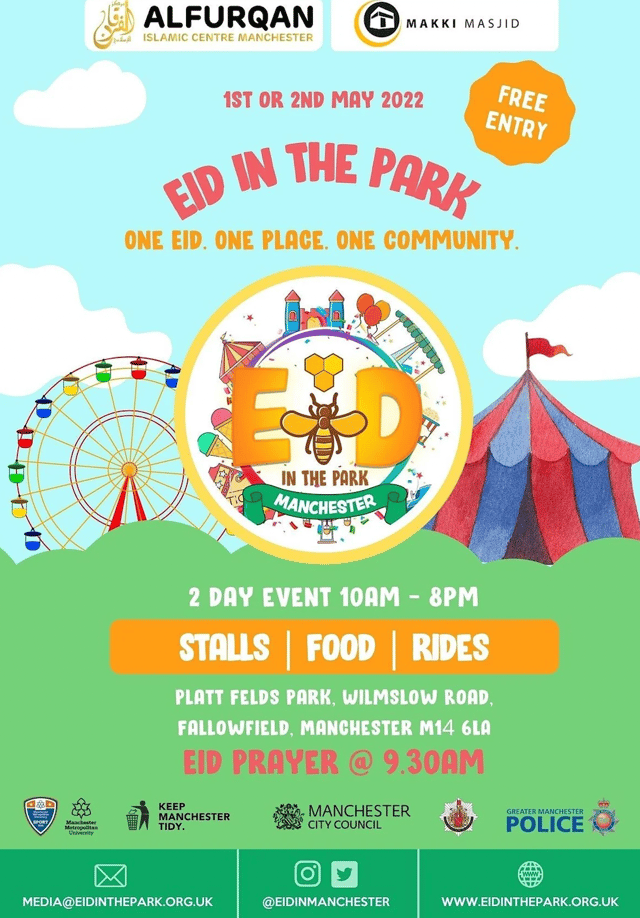 Monday, 2 May - 10 am to 8 pm
In what is set out to be a huge celebration of Eid-al-Fitr in Manchester, Eid in the Park is a momentous event that brings families and friends together.
Supported by local mosques in the city, join in with 10,000 other Muslims during the 9:30 am Eid prayer, and then enjoy a host of different foods, stalls and rides.
Platt Felds Park, Wilmslow Road, Fallowfield, Manchester, M14 6LA
Birch Community Centre Eid Celebration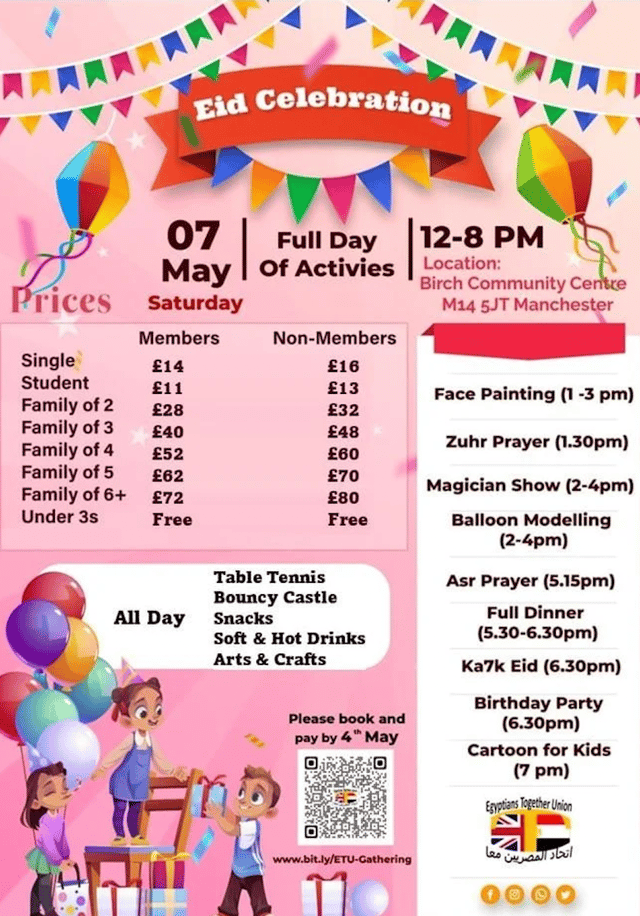 Saturday, 7 May - 12 pm to 8 pm
Price: £16 per ticket (Non-members) £14 per ticket (Members) Under 3s are FREE
This event in Manchester has something for everyone to celebrate Eid al-Fitr this year.
Boasting an entertainment list that includes table tennis, a bouncy castle, a magician show, face painting and much more.
There will be lots of snacks, soft and hot drinks, as well as a full dinner that is expected to commence at 5:30 pm.
Prayers will take place throughout the day.
Birch Community Centre, Brighton Grove, Fallowfield, Manchester
The UK Eid Comedy Jam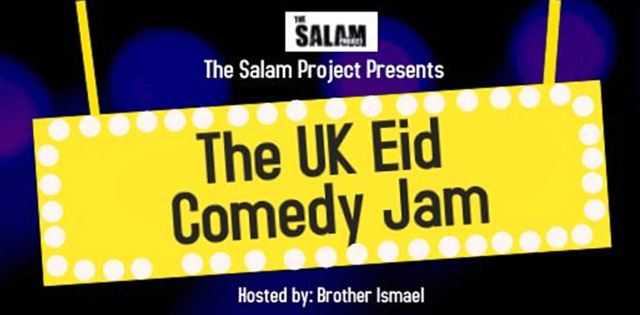 Saturday, 7 May - 12:30 pm to 4:30 pm
Price: £7.06 per ticket or £20 per family (up to five people)
Why not enjoy a laugh and a giggle with friends and family whilst celebrating Eid-al-Fitr in Manchester this year and enjoy The UK Eid Comedy Jam.
With a line-up of eight different Muslim comedians, such as:
Prince Abdi
Salman Malik
Ahmed Bush
Fathiya Comedy
Mo Omar
Nazam Hameed
Ibrahim Sesay
Emman Idama
You can book tickets through its Eventbrite page, or by contacting the organisers directly at 07899 884989.
Pakistani Community Centre, 481 Stockport Road, Manchester, M12 4NN
Eid Family Fun Day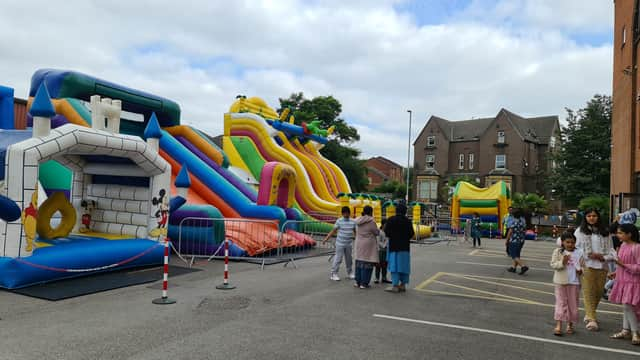 Saturday, 7 May - 11:00am to 5:00pm
Khizra Mosque in Cheetham Hill is celebrating the festival with a day of fun activities for all the family.
There will be BBQs, foods from around the world, go-karts, bouncy castles, face painting, henna and mehndi, games and much more.
Khizra Masjid, 425 Cheetham Hill Rd, Cheetham Hill, Manchester M8 0PF
MACFEST 2022: Celebrating Eid in Dubai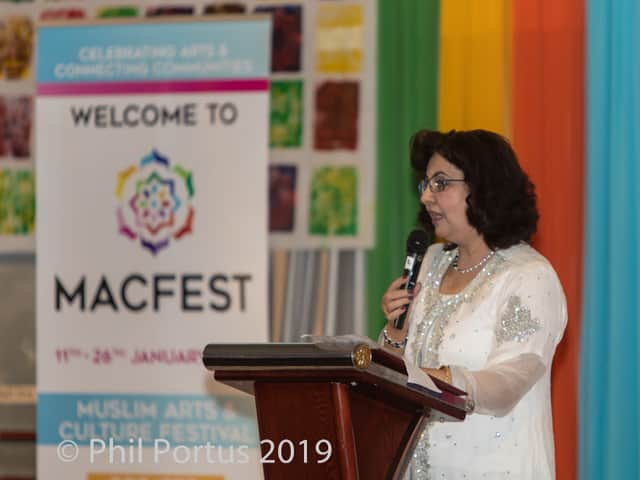 Sunday, 1 May: 2:00pm to 3:30pm.
Macfest, the massive festival which celebrates art and culture around the Muslim world, is taking people on a virtual trip to the United Arab Emirates (UAE) to celebrate Eid.
The online event will link to Dubai where Sharifa Tamsin and her husband Rashid will explain how they celebrate and prepare for Eid in the Middle Eastern country.
Participants will learn about Emirati culture and heritage, cuisine, dress, decorations and shopping.