Volkswagen T-Roc review: updates unlock new qualities in family SUV
Midlife refresh brings interior improvements and smart new technology for VW's sharply styled SUV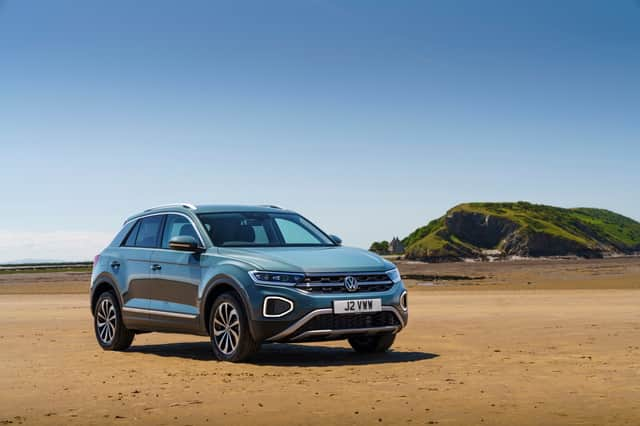 When the Volkswagen T-Roc arrived in 2017 it was the German marque's fourth SUV. Now it sits slap bang in the middle of a nine-model SUV line-up, with more to come
That range growth just shows how the market has swung in favour of SUVs and away from regular hatchback models like the Golf on which the T-Roc is based. So too, does the fact VW has sold more than a million T-Roc in the last five years.
In 2022, the T-Roc was refreshed to make sure it stays relevant in the ever-shifting world of compact SUVs, which is vital given the wealth of competition. More budget-minded buyers have the likes of the Peugeot 2008, Renault Captur and Vauxhall Mokka to consider, while higher-spec versions of the T-Roc go head to head with the Mini Countryman, Audi Q2, BMW X1 and Volvo XC40. There's also the likes of the Ford Puma, Honda HR-V and Toyota C-HR poised to steal buyers' attention.
Entry level versions of the T-Roc start at around £26,000 and come with a 110bhp 1.0-litre petrol engine and front wheel drive. Go crazy and you can spec this small-scale SUV to £40k+ with up to 296bhp and all-wheel drive but most buyers are likely to settle for the front-wheel-drive, 1.5-litre variant we tested.
With 148bhp and 184lb ft, it feels like a happy middle ground for the T-Roc with enough grunt for everyday use. It won't win any races (that's the job of the T-Roc R) but it's responsive and powerful enough and pleasingly smooth and quiet in day-to-day operation. It also features smart cylinder deactivation which helps it achieve admiral economy of 47mpg. If that's of less importance, the 187bhp, all-wheel drive version sacrifices 10mpg for some extra punch and an auto gearbox in place of our car's six-speed manual.
While the extra power will make the T-Roc quicker in a straight line, it won't make it any more exciting on the road. While something like a Puma or Juke is more lively and engaging, the T-Roc feels steady and composed, although bad surfaces expose a slightly lumpy ride that's less apparent on smoother surfaces.
Part of the 2022 upgrade was the addition of new technology, so all T-Rocs now feature auto-dipping LED headlights, adaptive cruise control, lane assist and digital instruments. The mid-tier Style ups the configurable instruments from eight to 10.25 inches and features the eight-inch Discover infotainment system. This includes connected services, navigation with live traffic tracking and wireless smartphone mirroring but the underlying operating system lags behind the best systems in rival cars.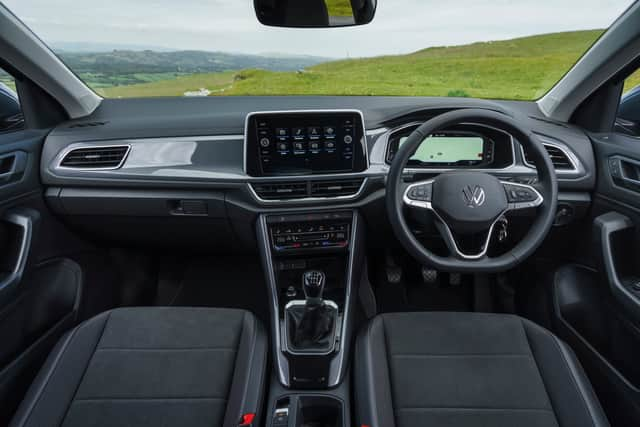 The upgrade also brought a much-needed improvement in material quality, with a soft-touch padding to the dashboard, faux leather finish to the door tops and new ArtVelours seat fabric. It also, for reasons best known only to VW, ditched the simple dials and buttons for controlling the heater and installed a dreadful touch sensitive arrangement.
Sitting between the Taigon and Tiguan in VW's range, the T-Roc offers reasonable space for four in its newly upgraded cabin. The sculpted rear bench and large transmission tunnel mean you won't want to carry five people any distance but the T-Roc's space and comfort is on a par with rivals and the low-riding Golf. Boot space, at 445 litres, beats the Golf and is pretty good compared to its peers.
Like many of those rivals, the T-Roc doesn't hold many surprises but that's not necessarily a bad thing. Last year's update brought welcome material and technological updates but beneath the surface it remains a comfortable, competent compact SUV with all the usual VW hallmarks.
Volkswagen T-Roc Style 1.5 TSI 150
Price: £30,300 (£31,570 as tested); Engine: 1.5-litre, four-cylinder, turbo, petrol; Power: 148bhp; Torque: 184lb ft; Transmission: Six-speed manual; Top speed: 129mph; 0-62mph: 8.4 seconds; Economy: 47.1mpg; CO2 emissions: 135g/km