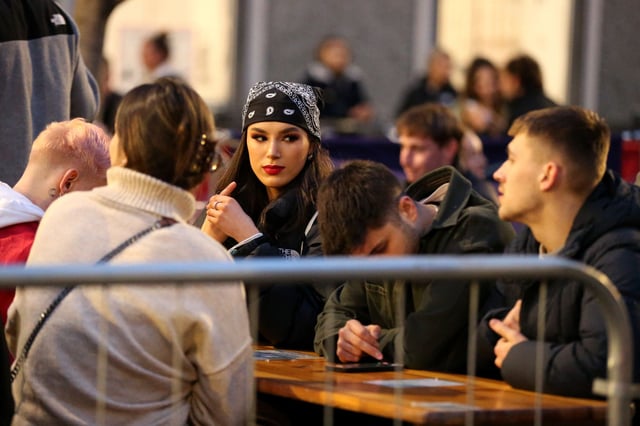 A group of friends outside a pub in Manchester after Covid restrictions were lifted in April Credit: Charlotte Tattersall/Getty Images
The effects of the pandemic could mean long-term changes to the way people socialise and interact, a leading Manchester psychologist has said.
With restrictions on hospitality eased, and Manchester's universities preparing to reintroduce more face-to-face teaching next semester, many people are embracing social interaction again. However, Prof Sir Cary Cooper says that the Covid effect may continue to have an impact on our relationships with friends and colleagues, especially among younger people.
Prof Cooper, who teaches at the University of Manchester and co-founded workplace consultancy RobisonCooper in the city centre, said the pandemic had given people time to reflect on their 'core' friendships and who really matters to them - and that might not include a wide group of acquaintances who they once associated with.
Professor Sir Cary Cooper Credit: Cary Cooper
He said: "I think relationships have shrunk and our social networks have shrunk. It's partly linked to reflection and people having the time to ask themselves, 'Who I really care about now and where do I want to invest my time and energy?'
"Also in crisis situations, like the pandemic, we seek people whose value systems coincide with ours. All those situations affect our social networking and who we link with.
"It makes you think about (friends') values. Do you want to associate with people who won't take the vaccine, say? It makes you think about who really cares about you and all these situations affect our social networking."
How does this affect younger people in particular?
One study suggested that anxiety in young people after a previous lockdown was lifted last year remained high, at almost double pre-pandemic levels. And research from an Australian study showed evidence that many of the 2,000 people polled were shrinking their social networks as they moved their friendships online.
However, Prof Cooper says young people tend to be 'social animals', and that as Manchester's universities return to more in-person interaction from September, there may be an element of 'pent up social interaction' waiting to come out with the return of socialising and campus activities.
"The pandemic has badly affected students," he said. "Being a student equals going to the pub - they have missed out on that social life and there has been an element of disconnect with being taught online. I think they will want to go for it (next semester).
"There will be a mix of students who are more willing to be risky and some who are risk averse and who will have to find a way around it.
"People are social animals who need to get together but they may be more cautious until people feel more secure."
Two men enjoy a drink at a pub in Manchester in October 2020 Credit: Christopher Furlong/Getty Images
Camilla, a 29-year-old mature student from Manchester, says she feels a mix of excitement and apprehension about next semester. She said: "It's maybe easier for me going back to (in-person teaching) as I've been a student before and know roughly what to expect, but I'm sure some of the freshers will be a bit nervous. But it will be nice to be able to have real conversations again, it can be awkward on video calls and not as easy to make proper friends."
How are back to work interactions being affected?
Prof Cooper's Manchester-based consultancy also advises employers on mental health in the workplace. He reckons that safe communal spaces, where workers can interact, remain important for team bonding and workplace learning.
However, with the rise in hybrid working - splitting work between the office and home - he says there needs to be more focus on hiring managers with people and communication skills, to successfully lead remote-working teams.
A recent study by the Confederation of British Industry showed fewer than one in 20 business leaders were considering returning staff to work entirely from the office, with most opting for hybrid models.
Prof Cooper said: "We often promote people to manager roles on technical skills, not people skills, and that is going to change. We need a different breed: probably more women in management because they tend to have more EQ (emotional intelligence) and are good at getting people into teams.
"We always call them 'soft skills' but they are the hard skills we need now in the hybrid workforce."