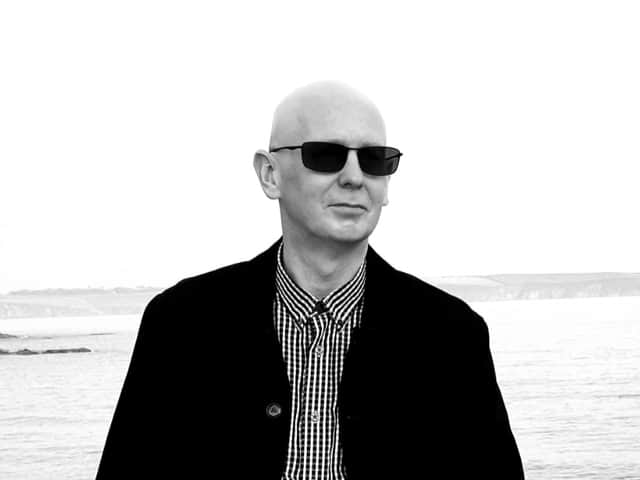 A Greater Manchester man has shared the story of being diagnosed with eczema and the considerable impact it has had on his life.
Stephen Whitehead from Bolton, was diagnosed with atopic dermatitis (the most common form of the skin condition), allergic rhinitis, asthma and alopecia after a two-year battle to get what was wrong with him correctly identified.
He suffered from eczema as a toddler but it went away in his teenage years, leaving him shocked when it flared up again in his early 40s.
What is atopic dermatitis?
Atopic dermatitis is the most widely-occurring form of eczema, which causes the skin to become itchy, dry and cracked.
Eczema is often caused by allergies to things such as food, and can develop alongside conditions such as asthma.
It can be triggered by a whole range of things, including soaps, detergents, stress and the weather.
Stephen left 'shocked' by condition's reappearance as an adult
Stephen had eczema as a youngster but it then went away for more than two decades, so he was stunned when it became a problem again as an adult.
He also found it extremely difficult to get what was happening to his skin correctly identified so treatment could begin.
He said: "It was a shock when it came back, more than anything.
"I didn't realise it was eczema and I couldn't remember what it was like when I had it because I was so young.
"I was going for a while to various doctors and clinicians and getting misdiagnosed. At first they thought it was urticaria so I was treated for that for a period of time.
"It was probably about a two-year journey to getting diagnosed with atopic dermatitis. When I was finally diagnosed it all made sense.
"It had been lying dormant and then something had triggered its re-emergence."
A huge impact on everyday life
At the time his eczema flared up again Stephen was living with a long-term partner and working, and he quickly found that atopic dermatitis took a considerable toll just on everyday activities.
Stephen, who is now 45, said: "It was very difficult. If it was bad you would be keeping the other person awake at night because you were constantly trying to get comfortable and keep cool.
"Going out is difficult because flare-ups can be triggered by environmental factors.
"Having the wrong types of food and drink can make it worse so going out for a meal or to a party is hard.
"You've got no idea what condition your skin will be in. Sometimes you can only really decide if you want to do something at the 11th hour.
"Holidays can be difficult because you have to take lots of lotions and medicines with you. The idea of long-haul travel, of sitting in an aeroplane for hours, makes my skin crawl now.
"I used to be a frequent and avid user of my local gym but I can't do that any more. Being in that warm, humid environment is no good for my skin.
"Exercising at certain times of the year, when it's really hot, can be difficult. I love to run and cycle but when you starting sweating there can be days of misery afterwards because your skin takes such a long time to settle down.
"It's very limiting. At its very worst I was invited to a friend's wedding and the experience was horrendous. I had such a bad reaction on the day, I was hospitalised in Thailand and they had to sedate me and I was on a drip being intravenously fed a lot of anti-allergen medication.
"When I came back from that trip things started moving along with getting a proper diagnosis."
Facing other conditions alongside eczema
Stephen's most difficult health battle since being diagnosed as an adult came when he stopped using an immuno-suppressant drug which had meant he spent four months of the Covid-19 pandemic in near-total isolation shielding, working from home and being unable to see anybody.
Within a fortnight of coming off the medicine he had lost all his hair, and has now been diagnosed with alopecia.
Coping with this on top of his skin condition has been a real challenge for his mental health.
Stephen said: "It continues to be very difficult. It was a real shock at first.
"I've only recently built up the courage to update my social media picture and share it with people who aren't close to me.
"I've been hiding behind hats and not going out very much.
"Only my close circle of friends and family knew, and people at work knew about it too. You could wear a hat in work, but I chose not to.
"On occasions the eczema flares up and gets your face and you can imagine how difficult that can be, being seen in public with red, dry, angry blotches on your face. It can be hard to muster up the courage to go outside and see people in the real world."
What is the new report on eczema patients calling for?
Stephen has shared his story as Allergy UK and Sanofi have jointly published a new report on the experiences of eczema patients.
The report says waiting times across the country for atopic dermatitis vary considerably and chronicles the negative mental health impacts and disruption to work and everyday life the condition has.
It wants NICE to set out clear guidance for both adult and adolescent eczema patients, saying the lack of these guidelines can be an important factor when diagnosis is delayed.
It also calls for improved access to mental health support for people living with atopic dermatitis.
What does Stephen think of the report?
In many ways the report's findings tally with Stephen's experiences of being diagnosed with atopic dermatitis and then trying to get on with daily life with it.
He said that a lot of the assistance and strategies for coping with his condition he has tried has come through speaking to other people in the same boat in online groups.
He said: "There's not a lot of support for people's mental health.
"You get a lot of support after your diagnosis with your physical health, you get your creams and lotions and steroids and other drugs. I'm very grateful to receive all that. We're very lucky to have the NHS and the doctors and nurses work extremely hard.
"However, there aren't things in place currently to look at it as an all-in-one condition, looking at what's going on inside that person.
"I've done a lot of research on social media groups, which have been extremely helpful. You are speaking to people going through exactly the same thing. You do a lot of trial and error, trying to find out how to better improve your quality of life.