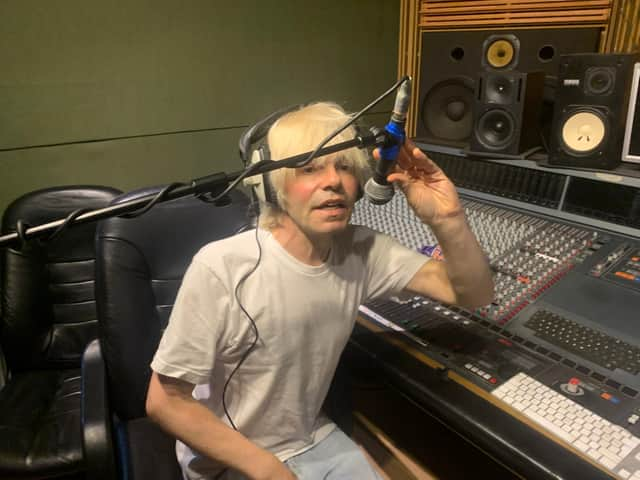 Passengers taking a Metrolink tram this week may have heard a familiar-sounding voice doing the announcements.
That's because the dulcet tones ringing through the speakers of the public transport network are none other than those of well-known singer Tim Burgess.
It is all part of the lead-in to a major event this week which it is hoped will draw large numbers of music fans to Manchester.
Here's what you need to know.
Why is Tim Burgess doing the announcements on Metrolink trams?
Passengers on the trams will have been able to hear Tim doing the announcements since 29 November.
The legendary Charlatans frontman is no stranger to being on the airwaves as he is a lead singer, DJ, solo artist and host of much-loved Twitter album listening parties.
He has lent his voice to Metrolink as Greater Manchester prepares to welcome thousands of music fans to his Vinyl Adventures Record Fair on Sunday 5 December.
A packed week for music fans
There is a lot going on for music fans in Manchester around the vinyl fair this week.
There will be a live gig close to a city centre Metrolink stop on the day of the record fair itself, with more details to follow.
In the lead-up to the event the Salford-born singer will also be revealing the secret locations of 500 lanyards offering free weekend tram travel which have been hidden across Greater Manchester.
The Vinyl Adventures Record Fair is being held at multiple venues and shops in Greater Manchester, and as well as giving people the opportunity to get their hands on some new tunes it's a celebration of music and independent record stores.
Shops taking part in the event - which will include gigs, podcasts and talks - include Piccadilly Records, Mars Tapes, Vinyl Resting Place, Clampdown Records, Eastern Bloc Records Vinyl Revival and Wax and Beans in Bury.
Artists such as Pete Doherty, We Are Scientists, Badly Drawn Boy and the Lovely Eggs will be hosting their own stalls, while Clint Boon will be selling his vintage organ and synth collection.
Manchester Piccadilly station will also be hosting three musical performances on Sunday, with Apollo Junction taking to the mezzanine at 11.30am, followed by a very special guest at 12.45pm and Cold Water Swimmers at 1.30pm.
What has Tim Burgess said?
Tim revealed that getting to do the announcements on the Metrolink in the run-up to the record fair is actually the realisation of a childhood ambition.
He said: "I always fancied being a station announcer when I was a kid so a big thanks to Metrolink for making that dream come true.
"We have a brilliant weekend lined up, with a Charlatans gig on the Saturday and Vinyl Adventures on the Sunday is going to be amazing with live sets, DJs, interviews, podcasts and more records than you can shake a stick at.
"And if you're lucky enough to find a lanyard you can travel for free thanks to our friends at Metrolink."
What have the transport authorities said?
Danny Vaughan, head of Metrolink at Transport for Greater Manchester, said: "This year Tim Burgess's Vinyl Adventure Record Fair is back, better than ever and we are delighted to support him.
"Whether you're a vinyl hobbyist or just looking, it's going to be a great experience for everyone."