The line-up for Tramlines Festival 2023 has been revealed, with plenty of big names from Greater Manchester amongst the acts. One of the Sheffield festival's three headliners is Courteeners.
The band were in the news recently following the successful rise of their debut album St Jude to the top of the UK album charts last month. The album was re-released to mark its 15th anniversary.
Courteeners will headline the festival, which takes place in Sheffield's Hillsborough Park, on Saturday July 22. Other headliners are Richard Ashcroft on July 21 and Paul Heaton & Jacqui Abbott on July 23.
Courteeners will not be the only big name from Greater Manchester making their way to Sheffield. On the same day of the festival, Blossoms are also due to perform.
Consolidating their position at the top of the indie music game with their third album 'Ribbon Around The Bomb', the band from Stockport will come on before Courteeners. This will make for a Saturday evening packed with Manc talent.
How to get to Tramlines from Manchester
Of course, Sheffield isn't too far away from Manchester. Via train, the Steel City can be reached in under an hour from Manchester Piccadilly station.
Hillsborough Park is then a 15 minute car journey away. If you're feeling up to it, the park is around an hour's walk away.
From within Sheffield, both the Hillsborough Park and Leppings Lane tram stops are within walking distance of the festival grounds. It is important to note however the Hillsborough Park stop will be closed after the show.
Festival organisers are encouraging music fans to use public transport where they can. However, if driving is your only option, the festival has options for where you can park.
There are two entrances to the festival. These are located on Penistone Road and Middleton Road.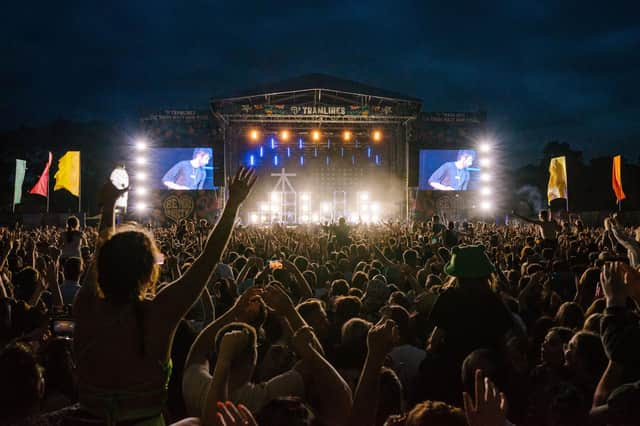 How to get tickets to Tramlines Festival 2023
The final batch of both day and weekend tickets will be put on sale through the official Tramlines Festival website at 12pm on Friday February 3. You can either buy tickets in full or pay for your ticket through a payment plan.