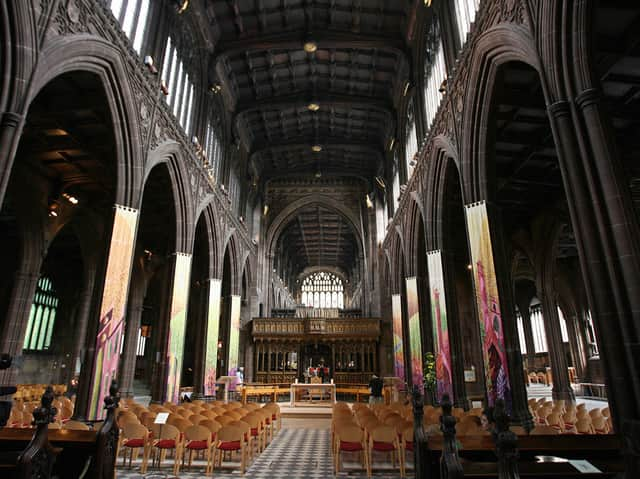 The National Youth Musical Theatre (NYMT) is performing The Hunchback of Notre Dame at Manchester Cathedral this week.
It's a real chance for theatre fans to get their first look at the stars of tomorrow, with red-carpet A-listers such as Idris Elba, Sheridan Smith and Matt Lucas among the names that have passed through the NYMT's ranks.
Around 50 actors, 25 musicians and 20 choir singers, all aged between 11 and 23, are taking to the stage at the place of worship.
With a number of deaf actors, including in the lead role of Quasimodo, and British Sign Language (BSL) being used extensively, it is also hoped that the production will mark a step forward in creating a musical theatre which is open to all talent.
The show is a version of the classic Disney animation of The Hunchback of Notre Dame, which is based on Victor Hugo's iconic novel about the bellringer Quasimodo in Notre Dame Cathedral in Paris.
It is written by Alan Menken, who has written a string of scores for Disney films, with lyrics by Stephen Schwarz who is probably best known as the creator of Wicked.
All the famous songs people will remember from the film are there along with a few extras written for the stage production.
Songs which feature in sequences like the credits in the film have also been reworked so they play a role in the drama on stage.
An appropriate venue for the show
Director Alex Sutton says the NYMT is thrilled to be in Manchester this week.
He says the cathedral could not be a more appropriate venue to be performing in, given how pivotal Notre Dame is to the original book.
And the place of worship itself is equally delighted to be teaming up with the NYMT.
Mr Sutton said: "This is the first time the NYMT has performed in the cathedral and it's amazing.
"The cathedral is being very generous with its time and moving things around for us.
"It's a really beautiful space and we haven't had to do much except make sure everyone can see.
"It really is an appropriate space. We wanted to look at non-traditional spaces.
"It's written a bit like a medieval morality play and there's a bit like liturgical drama. Morality plays were performed outside and the liturgical dramas involved bits of liturgy in churches being elaborated on by short plays.
"It feels really apt to be here doing that."
Anthony O'Connor, director of fund-raising at Manchester Cathedral, said: "Manchester Cathedral is delighted to be able to host The Hunchback of Notre Dame.
"As we emerge from the Covid-19 pandemic this production will be a great opportunity for individuals, couples and families to gather in this medieval space to take in this wonderful production."
Inclusivity a 'step forward' for theatre
One of the most noticeable aspects of the production is that Quasimodo is a deaf character and is performed by two actors, one of whom has hearing loss themselves.
Several actors in the cast are also deaf or the children of deaf adults and so is the choreographer Mark Smith.
Sign language plays a big part in the musical, with the whole show being interpreted from the side of the stage but BSL also being seen in the heart of the action.
Mr Sutton spoke about how he jumped at the chance to do more inclusive casting and his hopes that things will get better in terms of having more diversity on the musical stage.
He said: "Theatre is going through its representation so I knew that I had to at least be engaging with deaf actors.
"The way it's written Quasimodo is two characters. There's the world-facing character which everyone thinks is ugly and then there's his interior one with his imaginary friends.
"He's split into two so we have the single character played by two people.
"I'm very aware of tokenism so knew we had to incorporate other deaf actors all the way through the show. It's not a case of having one deaf actor and saying well done.
"Sign language and BSL is going to permeate the entire show. Every show will start being BSL interpreted at the side of the stage, but then we are going to play with that to create a truly integrated accessible version of it.
"It's about having a core of inclusivity. I'm not saying we've got everything entirely right, but this a potential step forward."
The other key character in the story is Esmerelda, who gets the song Someday in Act 2 to outline the horrifying predicament of powerlessness she finds herself in and to dream of a day when the Romany people are not persecuted.
As live theatre begins again after shutting down due to Covid-19, and as the world continues to grapple with reckonings around race and injustice, this theme makes the production an ideal one to perform in 2021.
Mr Sutton said: "For me that hope is exactly where theatre finds itself now.
"As we start to come out of the pandemic the theatre world is looking to 'reset' better, it is hopeful for a future in which all parts of it are inclusive, a theatre that engages with anti-racism, pride and with disability, that everyone working in it is employed fairly, regardless of disability, race, gender and sexuality and safe from bullying, persecution and harassment. "
The production brings together almost 100 of the finest singers and musicians in the country involved in musical theatre.
The cast has come together from across the United Kingdom to put on the show.
They are also taking part in another first as this is the premiere production of the musical on British soil.
When are the performances and how can I see the show?
There are performances on Thursday, Friday and Saturday (12 August to 14 August).
There are evening shows starting at 7.30pm on Thursday and Friday and at 6pm on Saturday.
There are also 1pm matinees on Friday and Saturday.
Click here to find out more, including how to buy tickets.