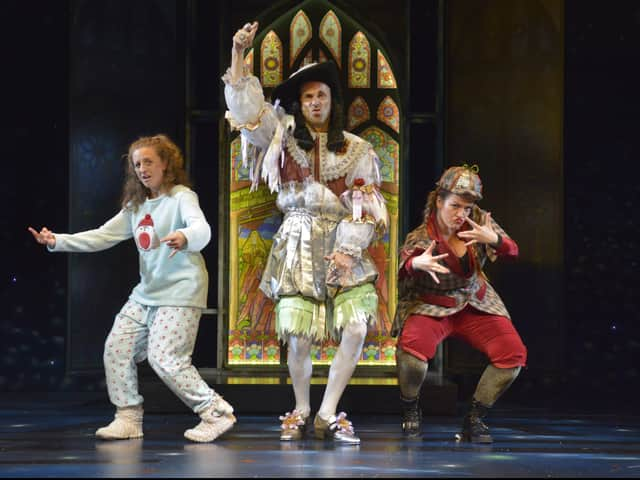 A great British Christmas tradition will once again prove it cannot be defeated by Covid-19 this festive season as a pantomime with a difference comes to Manchester.
Car Park Panto is bringing its drive-in show to the AJ Bell Stadium in Salford in December after the enormous success of the inaugural 2020 run.
What is the Car Park Panto show?
Car Park Panto has teamed up with Birmingham Stage Company to bring the Horrible Histories' stage show Horrible Christmas to venues across the UK during the festive season.
With the closing of theatres across the country in 2020, Birmingham Stage Company and Coalition Presents worked together to save Christmas for over 17,000 families by putting on the world's first drive-in panto.
Having the audience in their cars meant a Covid-secure set-up where panto lovers of all ages could jump up and down in their own seats, cheer and make as much noise as they like by beeping their horns.
And now, following last year's sold-out tour and rave reviews, the concept is back for 2021.
When is it coming to Manchester and what can audience members expect?
Car Park Panto is putting on five live shows in total at the stadium which is the home of the Salford Red Devils rugby league club and the Sale Sharks rugby union team.
There are performances on Wednesday 29 December at 2pm and 5pm.
Then there are three more shows on Thursday 30 December at 11am, 2pm & 5pm.
While Horrible Christmas is not strictly speaking a panto, it is hoped that it will at least get audiences in the festive spirit while maintaining completely Covid-secure surroundings.
The show revolves around the threat to Christmas posed by a jolly man in a red outfit, which leaves one young boy needing to save the festivities.
The resulting adventures takes audiences through a history of the season, with the show featuring Victorian villains, medieval monks, Puritan parties and Tudor treats.
A centuries-spanning team of Charles Dickens, Oliver Cromwell, King Henry VIII and St Nicholas joins forces to save the day.
What do the organisers say?
Neal Foster, actor and manager at Birmingham Stage Company, said: "We were amazed and thrilled how totally successful the Car Park Party productions proved to be during the last 18 months – and we're delighted to be back on tour again with our Horrible Histories production of Horrible Christmas!
"It turns live theatre into a truly unique and festive event!"
Car Park Panto shows are £49.50 per car, with this fee covering a single vehicle no matter how many people are in it, plus a booking fee.