Music and science are coming together at a Manchester music school with students performing a special concert based on a study exploring the impact of tunes and songs on Parkinson's disease.
The special event is based on the preliminary findings of a study which has been exploring how music can help people suffering from Parkinson's manage their movement and moods.
What is the Playlist for Parkinson's concert?
Playlist for Parkinson's LIVE will take place at the RNCM on Tuesday 14 June.
A string quartet and a pop music ensemble will be performing the musical results of a research project into how music can help people with Parkinson's disease, which affects the brain and causes unintended or uncontrollable movements such as shaking, stiffness and balance and coordination issues.
The concert will include a varied playlist ranging from George Ezra's Shotgun and Neil Young's Sweet Caroline to the Ride of the Valkyries from Richard Wagner's Ring Cycle.
As well as the music played by RNCM students some of the people involved in the research will talk about the project and the work will be introduced to the audience.
What is the research project?
The research has been led by Dr Michelle Phillips of the RNCM, Dr Dawn Rose from Lucerne University of Applied Sciences and Arts in Switzerland, Dr Ellen Poliakoff from The University of Manchester and Dr Will Young of the University of Exeter.
People with Parkinson's have discussed with the researchers how they use music, what it means to them and how it can be beneficial.
The researchers want to explore how music can help people with the condition, which gradually becomes more severe as it progresses, to manage their changes in mood and the uncontrollable movements which are a major symptom of it.
The project is being funded from the Arnold Bentley New Initiatives Fund by the board of the Society for Education, Music and Psychology Research (SEMPRE) in London.
What has been said about the research?
Dr Michelle Phillips, deputy head of undergraduate programmes at the RNCM, said: "This is not only a unique and impactful way to share our research findings, it's a fantastic opportunity to nurture the next generation of student musicians and researchers, who are collaborators in the project alongside the people with Parkinson's and the researchers, and who are the future of exploring how music can have an impact on our lives.
"This is a new way to share research - not just in a journal article that only other researchers are likely to read, but in concert format, alongside all collaborators who are part of this project: people with Parkinson's, students, researchers, and programming and events experts."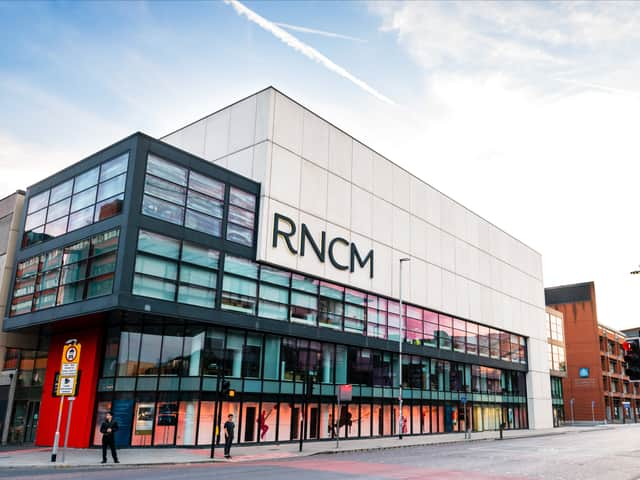 Dr Dawn Rose, senior researcher at Lucerne University of Applied Sciences and Arts in Switzerland, said: "Music can have a positive impact on people with Parkinson's in two ways. Firstly, music with a strong beat can help cue movements.
"For example, some people with Parkinson's may shuffle and need to lengthen their stride to reduce the chances of falling. Finding a song with a good beat at the right tempo for them can help by matching their steps to the beat.
"Secondly, music can help improve mood for people with Parkinson's in several ways; helping with motivation to get moving, by connecting us with others (for example through dancing), or as part of our identities, an aspect of self that is often shaken by diagnosis – but music helps access positive memories and provides an autobiographical template (i.e. the soundtrack of our lives) that may help prevent social and personalised stigma associated with the condition."
How can I attend the concert?
Playlist for Parkinson's LIVE takes place in the RNCM Concert Hall at the Oxford Road conservatoire.
The talks begin at 5.30pm on Tuesday 14 June, and there will be refreshments at 6pm. The music will start at 6.30pm and will last for around an hour.
Admission is free and no tickets are needed. Further information is available here.