The highlight of Christmas Day for many people is gathering round the table with your loved ones and enjoying a home-cooked turkey dinner with all the trimmings.
For others, the idea of spending the most festive day of the year in the kitchen worrying about drying out the turkey and whether there will be enough stuffing for everyone is not so appealing.
If the latter applies to you, you'll be pleased to know that there are plenty of restaurants open on Christmas Day 2022 to help relieve the burden of cooking this year – and it's not all turkey either.
Get ahead of the Christmas planning and check out these Manchester restaurants serving Christmas dinner on 25 December - they are now taking bookings.
Brown's
Enjoy a traditional Christmas dinner with a traditional three-course meal of all the favourites, including roast turkey and Christmas pudding options.
If you want something a little different, other main course option include pan-roasted venison and Scottish loch-reared trout.
This one costs £90 per person and £40 for children. More information can be found on their website.
Peter Street Kitchen
Free Trade Hall, Deansgate
This restaurant is known for its eclectic mix of Japanese and Mexican cuisine, but the 5-course Christmas Day taster menu is described as "festive classics with a twist".
It includes marinated crispy duck, beef wellington, cinnamon crème brûlée with plum wine jelly and champagne jelly palate cleansers.
The meal costs £125 per person plus a 12.5% service charge. Minimum booking is two people. More information can be found on the website.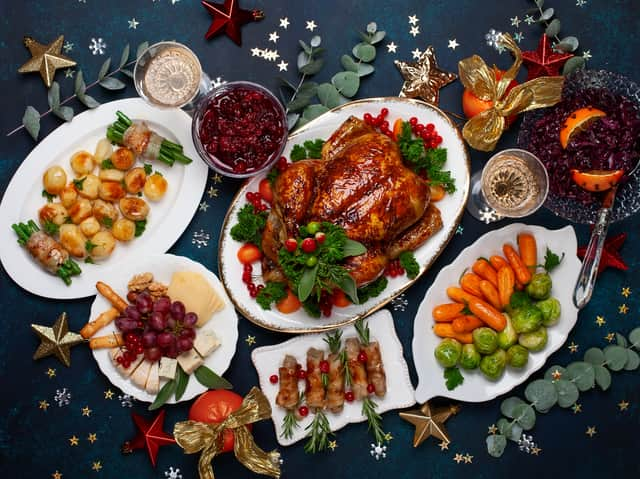 Don Giovanni
Have an Italian Christmas dinner with this three-course Italian feast. Turkey is still on the menu, but with a mediterranean twist. Start of the meal with a glass of prosecco
Other options include homemade ravioli lobster in a lobster bisque, 28-day aged British rib eye steak and roasted butternut squash risotto. You can also enjoy an Italian tiramisu or lemon meringue tart for dessert.
This Christmas dinner costs £72.50 per person and it's half price for under 10s. More information can be found on the restaurant's website.
Toby Carvery
At the cheaper end of the price scale there's Toby Carvery, a chain specialising in – you guessed it – carvery roast dinners. There are locations in Bolton and Royton open on Christmas Day.
A Christmas Day dinner here costs £52.99 per person for three courses. More information and bookings can be made on their website.
Zouk
If traditional is not your thing and you want to change it up this year, Zouk are offering a Christmas Day banquet of Indian and Pakistani cuisine.
The 6-course meal comes with a starter platter and choice of curry or roast platters for main, as well as desert and appetisers. Dishes include butter chicken, lamb rogan josh, and roast chicken raan.
The meal costs £45 per person, with a minimum of two people. Children can eat for half that price or the children's menu will be available all day.