Pancake Day 2023: The best pancakes in Manchester for Shrove Tuesday according to TripAdvisor reviews
With Shrove Tuesday upon us, we take a look at the best places to eat pancakes in Manchester according to reviews on Tripadvisor.
Watch more of our videos on Shots! 
and live on Freeview channel 276
Visit Shots! now
Tuesday (February 21) sees millions of  people around the UK indulge in  Pancake Day, celebrating the popular  food  topped with the likes of syrup, lemon and sugar, and jam. For Mancunians hoping to join in on the celebrations, there are many options around the city for pancakes, not just McDonald's and Tim Horton's.
Pancakes, or Johnnycakes, griddlecakes, flapjack or hotcakes as they are also known, date back over 30,000 years and exist in pretty much every culture on earth. In England, Shrove Tuesday has been celebrated on the day before Ash Wednesday since around 1,100 A.D., on which pancakes have been consumed before Lent - and while we might not use the name anymore, we still like to enjoy pancakes on this day.
Whether you prefer English pancakes, or are a fan of the fluffy, American pancakes, there are multiple cafes and restaurants to visit in Manchester. And if you don't feel like sitting in, McDonald's and Tim Horton's got your back with drive-through restaurants around the city.
We had a look at Tripadvisor to see what the best places to get pancakes in Manchester are, according to reviews. Here are the five best places to get pancakes in Manchester for National Pancake Day 2023.
The 5 best pancakes in Manchester according to Tripadvisor reviews
Edison Bar
Where: 261 Monton Road, Manchester M30 9LF England
Rating: 5/5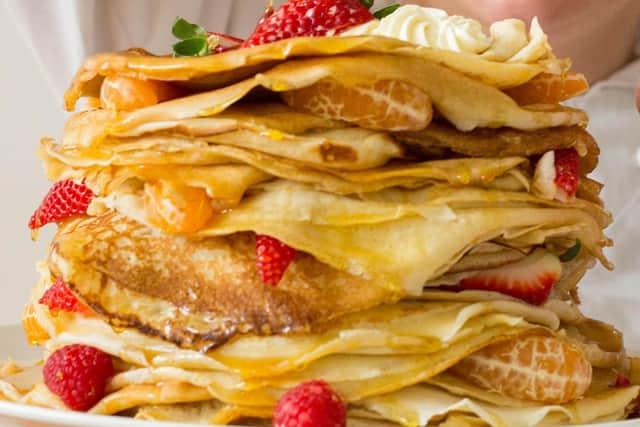 Here is what some customers had to say about Edison Bar:
"The staff are really friendly and prompt and the food (ESPECIALLY the pancakes) were soooo good! Everything looked and smelled great! We're definitely coming back!"
"Great spot for brunch or lunch. Friendly service and tasty food. Good atmosphere. Would recommend the pancakes."
"The food was delicious, I had pancakes - would recommend. They even gave our dog a sausage which was a nice touch. Will definitely be back."
The Remedy Kitchen
Where: Unit 19, Manchester Royal Arcade, Manchester M2 7EA England
Rating: 5/5
Here is what some customers had to say about The Remedy Kitchen:
"Wow wow wow is all I can say. Pancakes - outstanding! Morning remedy - equally outstanding!"
"Absolutely delicious vegan brunch and green smoothie, my partner choosing pancakes with figs - again delicious and good portions. Staff were great, very nicely decorated, quiet and tranquil."
"Myself and my fully gluten eating partner both ordered the pancakes which were absolutely divine! They could have come with a bit more topping, however when we asked for a bit extra the two lovely girls Charlotte and Jacira were more than happy to accommodate this."
Moose Coffee
Where: 20 York Street, Manchester M2 3BB England
Rating: 4/5
Here is what some customers had to say about Moose Coffee:
"We booked and thought that we might have been a bit overzealous, however the venue quickly filled up, with us glad that we had booked beforehand. We had the pancakes and waffles and were not disappointed. Will definitely be back again. All the maple syrup."
"This exceeded ALL expectations we had before we went…. Oh my. To say these were the best pancakes I have ever had would be an understatement. I had pancakes which were filled with bacon and sausage, topped with their unique fried eggs and some syrup… it was delicious and so filling."
"OMG finally got in here and it didn't disappoint. Booking is a must. The pancakes are gorgeous. The staff were very friendly and nothing was too much trouble."
19 Cafe Bar
Where: Chatsworth House 19 Lever Street, Manchester M1 1BY England
Rating: 4.5/5
Here is what some customers had to say about 19 Cafe Bar:
"Epic pancakes, breakfasts and granola that even the fussy son ate. Staff were all super friendly. Good price and handy location."
"The pancakes in particular are HEAVEN IN YOUR MOUTH - you HAVE to try them. The portions were also so big that we went a good 8 hours without another meal!! Great value for money in my opinion."
"The pancakes in this place were incredible. Very good selection on their menu between savoury and sweet breakfast options, and the staff were all lovely and created a good atmosphere."
Alabama's All American Eatery
Where: 8/10 Tariff Street, Manchester M1 2FF England
Rating: 4.5/5
Here is what some customers had to say about Alabama's All American Eatery:
"Myself and my boyfriend stayed in Manchester in april for a couples holiday and accidentally found this hidden gem! The portions are huge and everything is nice! We ate here twice and it was nice each time. The pancakes are to die for!!"
"Pancakes are on point every time we visit, the team are extremely friendly and service is very efficient. I loved the specials that was on for pancake days. Let's hope they make the lotus biscoff a permanent fixture to the menu. It was absolutely delicious."
"I had the chicken and pancakes and I have never been so happy while suffering with a hangover. The pancakes were amazing, crispy outside and so fluffy inside."