Operation Ouch: New kids exhibition at Manchester's Science and Industry Museum breaking down body taboos
We put our "poo hats" on tried out the new exhibition at Manchester's Museum of Science and Industry.
Watch more of our videos on Shots! 
and live on Freeview channel 276
Visit Shots! now
A new exhibition has opened at Manchester's Museum of Science and Industry that teaches kids the science behind our bodily functions – and it does not shy away from the gross stuff.
Based on the long-running CBBC show Operation Ouch, the exhibition aims to break down taboos by teaching young people how to talk about their bodies and health.
ManchesterWorld was given a sneak preview of the 'Operation Ouch! Food, Poo and You' exhibition ahead of its opening. Two of the show's presenters, real-life doctors Dr Ronx and Dr Chris, were also there to test out all the games and activities the exhibition has to offer.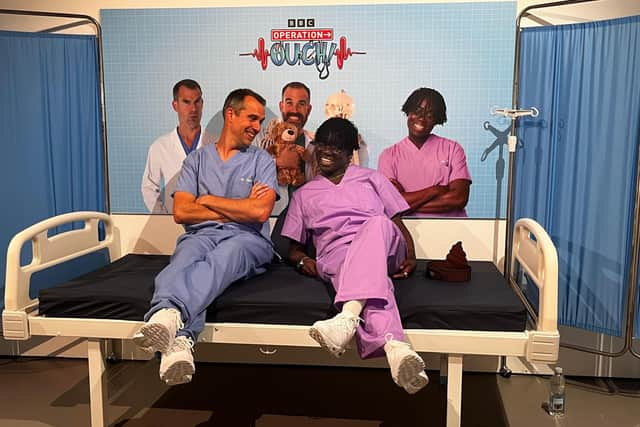 Dr Ronx Ikharia, who is an emergency medicine doctor when they are not presenting, explained how liberating it can be when you have the freedom to talk about your body and why it is important that children feel able to do that. They said: "You can say anal sphincter, and you can say poo, and you can say toilet, and anus – all of the things that parents sometimes find difficult to talk about.
"People think that you need to have an interest in science and biology to know the facts, but it's really important that kids are familiar with their bodies, familiar with the basics and talk about it when things are going wrong."
Doctor Chris van Tulleken, who is an infectious diseases doctor outside Operation Ouch, said: "It's reducing the stigma and shame that we all, us grown ups, find hard to talk about. It will be nice for the grown ups to have a bit of licence. They are going to have some fun, too.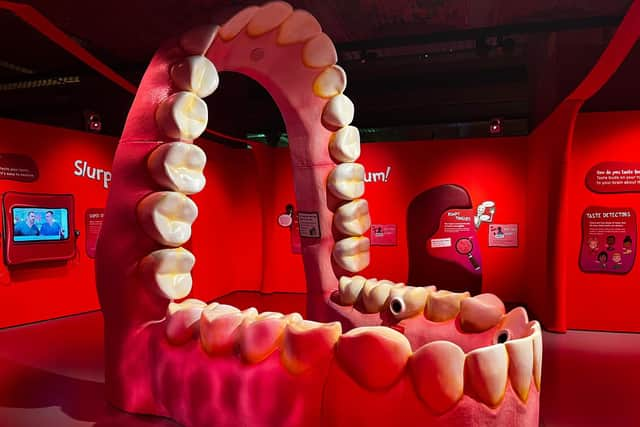 "Operation Ouch is quite gross and we did that deliberately because it gives kids a handle on managing emotions that are hard to sit with. Grossness is the most fun experience – you can play around with it, you can push it a little bit further and come back with it.
"If you can handle grossness, you can handle anything. It's about learning how to handle sadness, anger and it makes you a better patient."
What to expect?
The exhibition focuses on the digestive system, starting with the mouth and ending with what happens when you go to the toilet. Along the way, there are lots of interactive activities that illustrate and mimic the various stages of digestion.
Some of the interesting installations include the Larry the Vomiting Robot, which was used to help scientists understand how norovirus particles spread when someone is sick, and an audio installation about farts and burps. Elsewhere, you can also learn about nutrition by throwing bean bags at a wall and you can learn about bacteria by playing a light-up game that also tests your reflexes.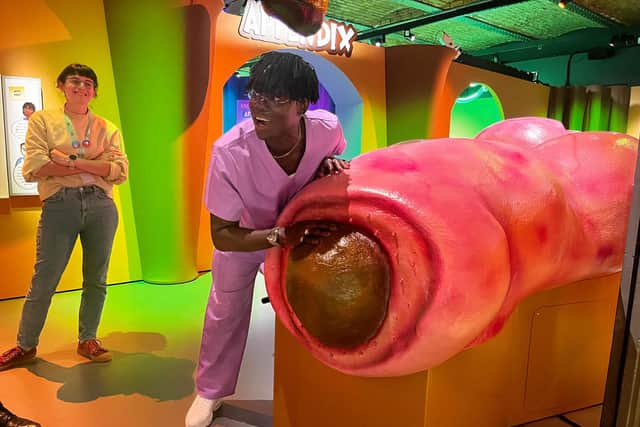 One of the most important aspects of the exhibition, however, is that it introduces children to a variety of people with different digestive-related medical problems with the aim of normalising these issues. For example, we learn about Harry, a boy who has pseudo obstruction and has to use a feeding tube. There is a poster describing his condition and how it affects him, together with an example of the bag he uses on display.
The highlight of the exhibition is the grand finale, which is all about poo.You have to use various cranks to move a poo through the intestines to the anus, which even lights up in celebration of the journey's completion. From there, it's time to grab a "poo hat" and see what it feels like to be flushed down the toilet – which is much more fun than it sounds.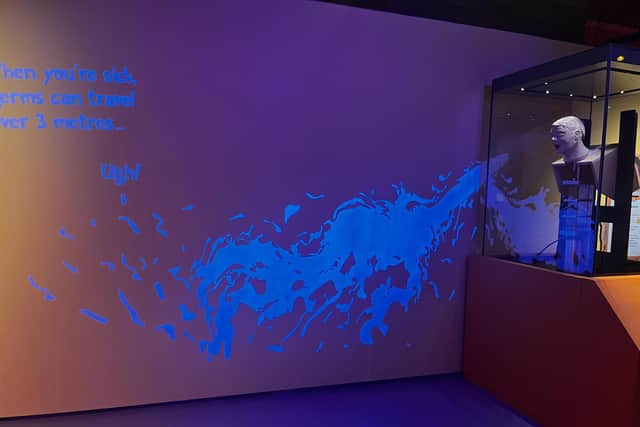 When is it open and how to get tickets?
The exhibition opens on July 22 and it will be here until June 9, 2024. Tickets can be booked online in advance and cost £10 for adults and £9 for children. Children under three go free and there are also family discounts available.
The museum's website also includes information about relaxed sessions for children who need a sensory-friendly environment, and there are also Experitots sessions for preschool age children.