Women will be marching the streets of Manchester city centre on Saturday 4 March for the annual Walk for Women. Hundreds of people are expected to participate in the procession, which is held in honour of International Women's Day.
Organised by Manchester City Council, the event is a chance for people to come together in solidarity and support of women's rights. The theme of this year's march is 'Embrace Equity,' part of a global campaign to promote inclusivity.
The 1.1km march will start at Manchester Cathedral and make its way down Deansgate, eventually turning left down Peter Street and ending outside Central Library on St Peter's Square. Participants are asked to meet at 12pm for a 12:30pm start.
Coun Becky Chambers, Lead Elected Member for Women, said: "We're excited to be back on the streets of Manchester standing up for women's rights. This will be our sixth year of holding the Walk for Women and we'd love to see as many people as possible come together to rise, roar, and represent women."
Coun Sam Lynch, Lead Elected Member for Women, added: "International Women's Day is an important date, marking the achievements of women throughout history. It also provides us with a unique opportunity to celebrate the brave women who have fought for us and who continue fighting against inequality.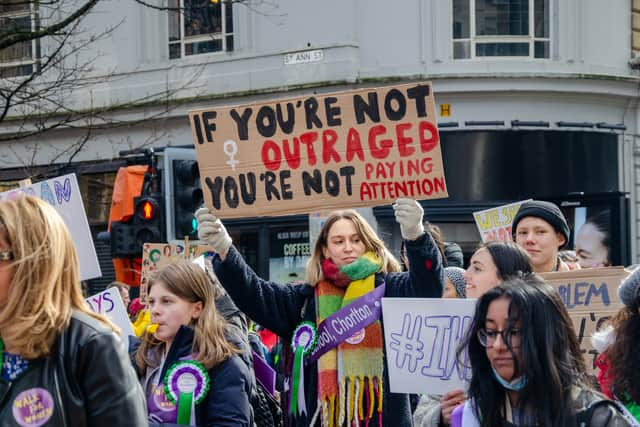 How to take part
Anyone can take part in the march, either individually or part of a group. If you are entering as part of a group or organisation and would like to register for an official place, then you can do so via the council website.
There will be lots of chanting and participants are permitted to bring along noisy but safe instruments to play along the way.
If you are unable to make the march but would still like to take part in the city's International Women's Day celebrations, then a number of community groups and organisations will have display stalls in the Central Library after the march for you to take a look at. Other events will be taking place throughout Greater Manchester, so keep an eye out in your local communities for more information.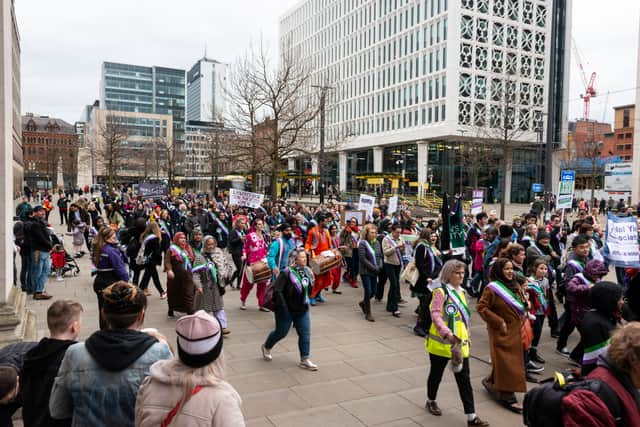 Road closures
Some roads in the city centre will be temporarily closed for the march on Saturday 4 March. The affected roads and times are:
11am to 1:30pm  – Victoria Street (Chapel Street to Deansgate)
11.30am to 1pm – Deansgate (Victoria Street to Great Bridgewater Street), Peter Street (Deansgate to Lower Mosley Street), Oxford Street (Lower Mosley Street to Portland Street), Mount Street (Windmill Street to Albert Square)
The following parking suspensions will also be in place from 8pm on Friday 3 March until 1pm on Saturday 4 March on the following roads:
Mount Street (Windmill Street to Alberts Square)
Peter Street (Lower Mosley Street to Deansgate)
Oxford Street (Lower Mosley to Portland)
Deansgate (Victoria Street to Liverpool Road)
Cateaton Street (all)
Museum Street
There are no planned disruptions to Metrolink services, however there will likely be some delays around St Peter's Square between 12:45 and 1:45pm on the day.