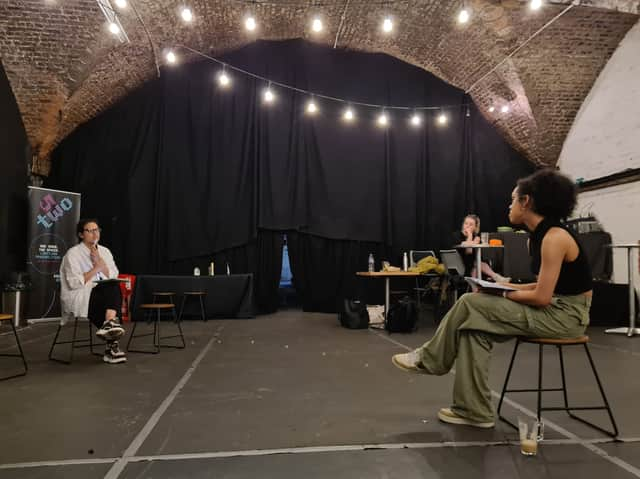 Rehearsals for Switch_Mcr's new double bill of short plays
A Manchester theatre company which prides itself on doing things differently is unveiling a double bill of short plays after an open call-out to North West writers.
Switch_Mcr, which is based at 53two in the city centre, is putting on Senses of Responsibility and Blue Moss.
The company was founded in 2018 by a group of Royal Exchange Young Company members who wanted to create a drama organisation that would be able to start realising some of the changes they wanted to see in the world of culture.
As well as commissioning works and encouraging new talent the group puts on a festival celebrating women and non-binary artists from the global majority.
What is the double bill Switch_Mcr is putting on?
Switch_Mcr's double bill of Senses of Responsibility and Blue Moss will be staged at 53two between 27 June and 9 July.
Written by Lekhani Chirwa, Senses of Responsibility is about a young carer called Symonie who is grappling with her future and struggling to come to terms with her mum's genetic condition and the dilemma of deciding whether or not to get tested for the condition herself.
Blue Moss, penned by Joseph Conway, takes place in a vast, unending forest surrounded by the blue moss of the title where three friends learn to cope with each other and their pasts in a work which looks at dreams, memories and claustrophobia.
Though on the surface of it the two works appear very different Switch_Mcr's artistic director Gabriel Clark says in fact the two works complement each other on a bill extremely well.
And the creation of these two new works of theatre is a good example of how Switch_Mcr wants to shake up the world of drama and give opportunities to talent that would otherwise struggle to break through.
Rehearsals under way for Switch_Mcr's double bill of new plays
Gabriel said: "We did this big call-out and we had close to 100 submissions. We made our way through about 90 plays and whittled it down slowly until we got to these two.
"I want to show what we can do as a company and be as different as possible, and I'vegot my wish here.
"One is basically a one-woman play and the other is about three people after the end of the world. They're so different but so exciting and nicely linked in their themes of humanity, community and what it means to have that.
"Lekhani works at 53two and moved to Manchester from Cumbria during the pandemic. She applied for our first festival and came with a bit of a one-person show which she performed an extract from, and then off the back of that responded to our call-out.
"Joseph fell in love with the city after becoming a student at Manchester University. There's a very gritty, Mancunian feel to his work and this one is no exception."
Tickets for the double bill are available here.
What is Switch_Mcr?
Switch_Mcr is a company run by a dozen-strong team of young theatre industry professionals.
They are the resident Next Generation Artists at 53two and as well as putting on plays run their festival Save Me A Seat dedicated to showcasing female and non-binary performers from the global majority.
It also runs monthly Switch_Lab sessions at The University of Manchester supporting young drama talent, community projects, one-to-one script surgeries and outreach projects.
Gabriel says the point of Switch_Mcr is to be the change the people who run it want to see within culture.
A rehearsal picture ahead of Switch_Mcr's new double bill
He said: "We're committed to only putting on work that's accessible, so not going to places without wheelchairs access, British Sign Language or captioning.
"We also want to be accessible to people who don't think theatre is necessarily for them.
"We call our festival Save Me A Seat because a lot of the artists we are championing don't have a seat at the table, and we are saving them one.
"When we did our festival the theatre was populated by people who had never been to the theatre before. The lead actor in one of the double bill plays had never performed on a stage until our festival and now she's leading this show where she doesn't leave the stage for the whole time.
"We hope these plays are representative of some of the change that's going to come."
Gabriel says Switch_Mcr is also named that way as it is hoped the current company will be a pioneering model and other similar Switch drama groups will be founded in towns and cities further afield.