The world famous Bavarian festival of Oktoberfest is coming back to Platts Field in Manchester, and it's set to be a party of classic proportions.
Taking place across several days, Manchester Oktoberfest brings everything about the iconic event right to your doorstep.
First held in 2014, Manchester Oktoberfest has welcomed hundreds and thousands of guests.
It's now time to don your lederhosen for the 2022 edition, so here's all you need to know about how to get tickets for the biggest German party in Manchester.
When is Manchester Oktoberfest 2022?
This year, Manchester Oktoberfest will take place from October 13 to 16 with the huge tent being set up in Platts Field Park.
What time is Manchester Oktoberfest open?
Each day of the festival will have one or more session and the opening and closing times for each day are listed below:
Thursday October 13- 4pm to 11pm
Friday October 14- 4pm to 11pm
Saturday October 15 (afternoon)- 11am to 4.30pm
Saturday October 15 (evening)- 5.30pm-11pm
Sunday October 16- 12.30pm to 7.30pm
How to get tickets to Manchester Oktoberfest 2022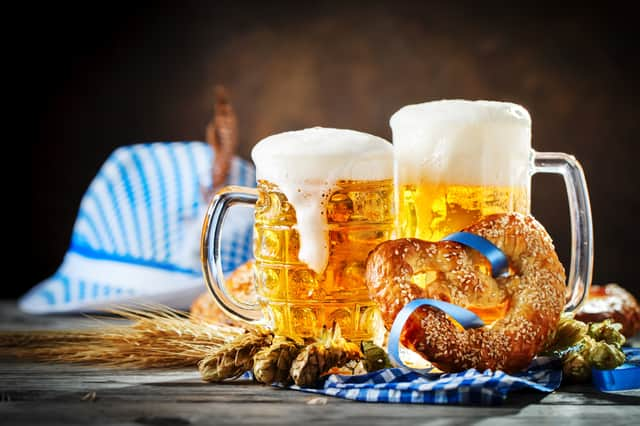 Tickets for the German party are on sale now through the official website of Manchester Oktoberfest.
Information on each ticket category is as follows and all tickets can be purchased at the Manchester Oktoberfest website.
Student - £7.50
Seat at the event
The first beer (1.5 pint of Bavarian Festbeer)
Available Thursday 13 October and Sunday 16 October
General Admission - £5-£15
Seat at the event
Seating is unreserved (back part of the tent)
Seating will be on a first come first served basis
Bavarian Ticket - £21-£29
Seat in the middle part of the tent
1 Mass (1.5 Pint) of Bavarian FestBeer
Bratwurst in bread
Sweet snack from Bahlsen (German cookie)
Oktoberfest Package - £45-£50
Seat front part of the tent and table service
2 x 1 Mass (1.5 pint) of Bavarian FestBeer and an Underberg shot
Welcome Brezel Snack and a German Bratwurst with Bavarian potato salad
VIP Package - £60-£65
Seat in front of the band with table service
1 glass of German sparkling wine, 
2 x 1 Mass (1.5 pint) Bavarian FestBeer, 1 Underberg shot
Welcome Bavarian snack plate, German veal schnitzel with Bavarian potato salad
Corporate tickets - £100
Priority entrance and a reserved seat in front of the stage (your group will be seated together at your own designated tables)
Priority entrance and a reserved SSeat in front of the stage 1 glasses of Sparkling Wine, 4 Steins (2 Pint) of German Festbeer and 1 Underberg (German digestive) Welcome Brezel-plate Main course of German luxury veal Schnitzel w /salad
Full table service from our team performances including live band VIP cloakroom facilities
Prices are per person