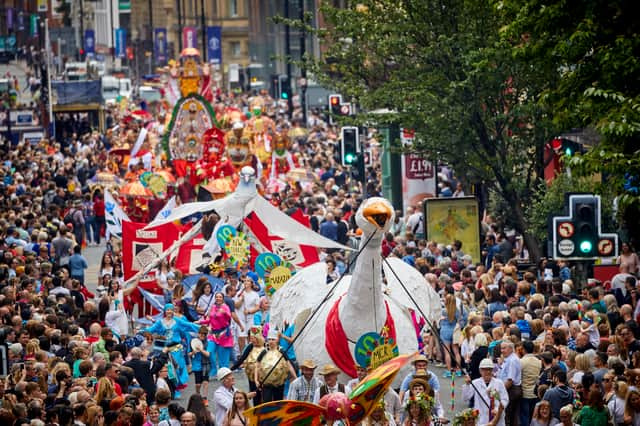 Manchester Day returns in 2022. Credit: Mark Waugh
Manchester Day 2022 is taking place on Sunday (19 June) and organisers are pulling out all the stops for the first running of the popular event in three years.
There will be a spectacular parade making its way through the city centre and activities taking place throughout the day at locations including Piccadilly Gardens and Exchange Square.
However, there will also be a number of road closures in place throughout the day to allow the celebration of all things Mancunian to take place.
If you're a Manchester motorist or looking to get around on the roads this weekend, here's what you need to know.
A boat made from recycled CDs and cutlery
Which roads are being closed for Manchester Day?
A number of roads in the city centre will be closed on Sunday to allow the colourful parade with its array of huge floats celebrating Manchester's culture, people and history to weave through the middle of the city.
The road closures that will be in place are:
Liverpool Road (from Potato Wharf to Deansgate) - 7am–7pm.
Deansgate (Whitworth Street West to Victoria Street) - 11am–4pm.
St Mary's Gate (Deansgate to Cross Street) - 11am-4pm.
Cross Street (St Mary's Gate to Princess Street) - 11am-4pm.
John Dalton Street (Princess Street to Deansgate) - 11am-4pm.
Quay Street / Peter Street (Byrom Street to Watson Street) - 12.30pm-2.30pm.
The road closure notice gives full details of what is being shut and when and can be viewed on Manchester City Council's website here.
What about access to premises?
Access to and from Lloyd Street, Bootle Street and Jackson's Row will be available via Mount Street between 11am and 4pm,
Lord Mayor Donna Ludford and Coun Pat Karney
There will be limited access to and from St Ann's Street, Queen Street, South King Street, Bow Street, Ridgefield and St James Place between 11am and 4pm.
Anyone needing access to Tonman Street, Camp Street, Byrom Street, Longman Street, St John Street, Artillery Street, Quay Street, Hardman Street, Bridge Street, Southgate and Great Bridgewater Street will not be able to go via Deansgate,
And there will be access to Southern Street, Bridgewater Street, Stone Street, Duke Street, Rice Street and Lower Byrom Street, but not via Liverpool Road.
What other travel advice has been given?
Parking suspensions will be in operation along all route roads and residents will be able to find out more by visiting the Manchester Day website here.
Traffic diversion signage will be in place in all the areas affected by road closures on Sunday.
Anyone thinking of coming into the city centre to see the parade is also being recommended to use public transport.
On the Metrolink passengers can touch in and out and families can also purchase a family travelcard for the trams which will give them unlimited off-peak travel throughout theMetrolink zones.
What has been said about Manchester Day?
Coun Pat Karney, chair of Manchester Day, said: "With Manchester Day just around the corner, we want to make sure everyone in and around the city knows what roads are closed on the day to avoid disappointment.
"I'd advise people to plan their journey in advance and use public transport if they're planning on coming into the city centre to join in the Manchester Day fun."