For the first time ever, Manchester is hosting a Christmas parade through the city centre – complete with fantastical characters, live music and giant puppets.
The event on Sunday (11 December) promises to be on a par with the hugely successful Manchester Day Parade, which has grown into one of the city's must-see events over the last 10 years. It will bring together creative minds from some of the region's top carnival and outdoor arts experts, Walk the Plank, Global Grooves and Handmade Parade, and involve over 100 people. Manchester Christmas parade is part of a six-week programme of festive events being held in the city centre
The parade route
The parade sets off at 1pm and will take a circular route that is expected to take about an hour, starting on Deansgate at the junction with Blackfriars Street. It will then travel south along Deansgate, before turning left onto St Ann's Street, then left onto Cross Street. It will go past Boots and the Royal Exchange Theatre before turning left onto Market Street, going past Marks and Spencer and heading along St Mary's Gate to Deansgate .
There will be an accessible viewing point outside Boots on Cross Street, with spaces available on a first-come, first-served basis.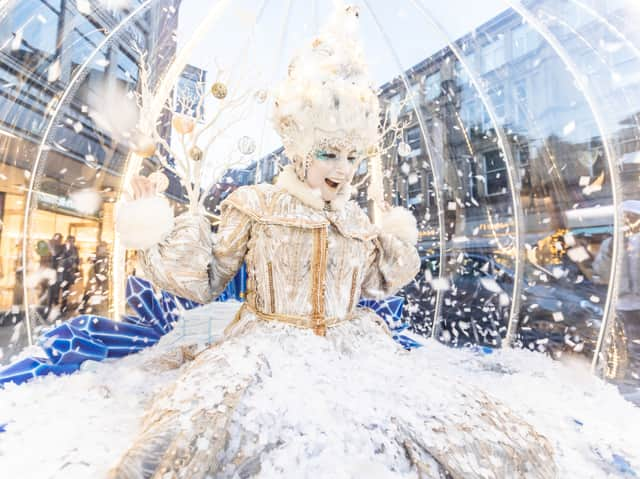 Road closures
Traffic in the city centre over the last few weeks has been heavier than usual, therefore additional road closures are being put in place to help ease the flow of traffic and accommodate the parade: we've listed the changes for Saturday and Sunday in full here.
The following roads will be closed for the parade on Sunday:
10am to 4pm: Victoria Street
11am to 2.30pm: St Mary Gate (Cross Street to Deansgate)
Deansgate (Victoria Street to John Dalton)
St Ann's Street (St Mary's Street to Cross Street)
Cross Street (Albert Square to Market Street)
Access to Marks and Spencers' car park will be managed as much as possible via Victoria Bridge Street, but there will be two periods of approximately 20 minutes when the council will have to pause this.
On Sunday, it's the Women's Manchester derby at the Etihad. As both events run at similar times, the inner ring road will be busy - and TfGm advises you to plan ahead.
Metrolink trams and on-street parking
Trams will be suspended on the Second City Crossing route (St. Peter's to Exchange Square) between 12.30pm and 2pm on Sunday; see TfGM's website for fuller timetable details.
On-street parking will be suspended from 9pm on Saturday 10 December until 2pm on Sunday 11 December on the following streets:
Market Street and St Mary Gate (Cross Street to Deansgate)
Deansgate (Victoria Street to John Dalton)
St Ann's Street (St Mary's Street to Cross Street)
Cross Street (Albert Square to Market Street)
Cateaton Street
St Mary's Street
Victoria Street