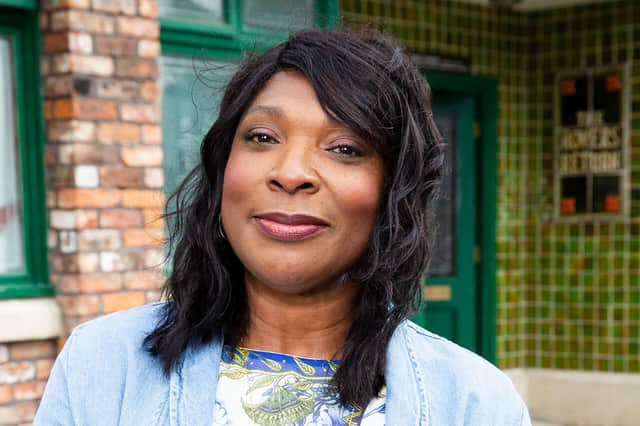 Soap star Lorna Laidlaw has revealed why she is rarely recognised while out and about in Manchester.
The way Lorna talks and looks off-screen means she is hardly ever clocked by the public. Her bright blonde curly hair has been hidden beneath a series of prop wigs.
Lorna, who plays Aggie Bailey on the famous cobbles, laughed: "Those wigs have saved me many times! If I go to the supermarket without one, and wearing a mask, no-one recognises me.
"It shows that Aggie's hair is realistic!"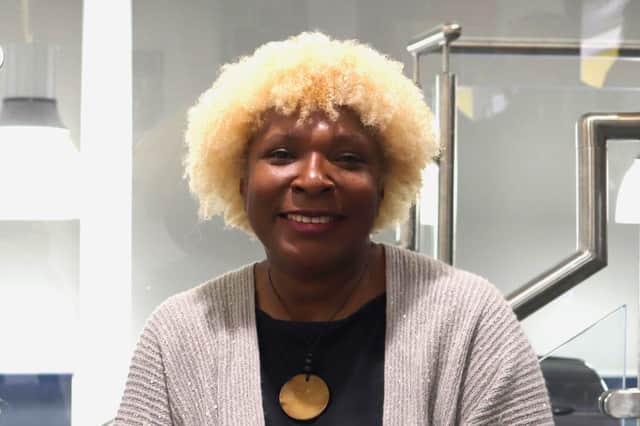 Lorna grew up in Birmingham and when she auditioned for Corrie in 2019 to be part of the northern soap's first black family, she used her native accent which TV viewers have yet to hear. Her previous soap role was in Doctors, but her character, receptionist Mrs Tembe, was from Botswana.
Lorna said: "I wanted to give it a go in the audition, as we are lacking in Brummies on screen.
"I thought it could work, as people travel and they don't have to all come from Manchester.
"But no, they asked if I could do a Mancunian accent instead. I was terrified at the start. The beauty of playing Mrs Tembe is that there weren't any Botswanans in the cast to compare her to, but in Corrie I'm surrounded by Mancunians!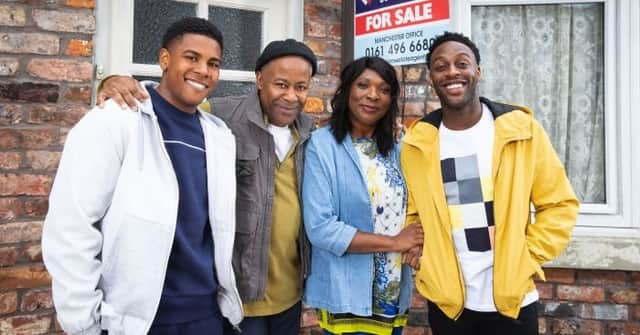 "At least it helped me to pick up the accent. I think I was terrible to being with and I was ashamed. But I think I got better.
"I really hope that one day I can play a Brummie on screen."
Lorna's background pre-Corrie
Lorna, 58, grew up in Aston and Ladywood in Birmingham as one of six children of Jamaican parents who came to the UK in the late 1950s. She's an ambassador for the schools project behind the Birmingham photographic exhibition From City of Empire to City of Diversity, and has revealed how she has put her own treasured family photos in Aggie's lounge.
Like Aggie, Lorna has two sons and lives in Selly Oak. Viewers caught a glimpse of her home when Aggie appeared on video calls during lockdown.
"I quite enjoyed filming on Zoom," said Lorna. "I could nip into my kitchen and make myself a cup of tea if there was a delay setting things up.
"In the storyline Aggie was looking after an elderly relative and also shielding her family while she worked in the hospital. But actually I wasn't on set because I was shielding my mom Hyacinth. Thankfully she skipped through lockdown and is fine."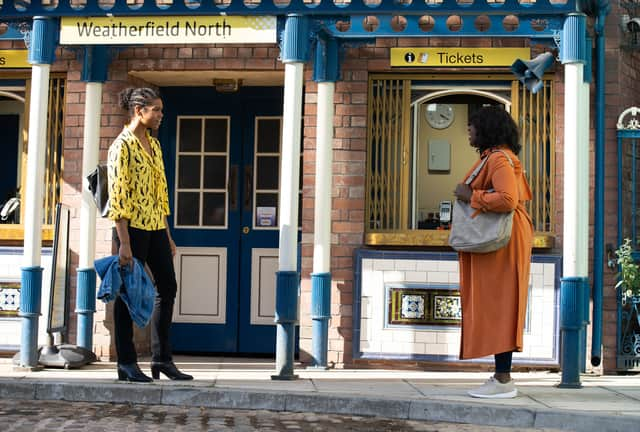 What's happening with Lorna on Coronation Street?
Now Lorna is back on the cobbles and in the middle of a major storyline involving the care of her granddaughter Glory. The baby's mother, Grace, left her alone while she went out drinking and admitted she couldn't cope. So Aggie and her husband Ed agreed to pay her £20,000 if she gave up custody.
Hinting that we haven't seen the last of manipulative Grace, Lorna said: "She is an awful beast but a great character."