Smash hit musical Hamilton is coming to Manchester as part of the show's first UK tour. The Broadway sensation has been wowing audiences since it premiered in 2015, and has gone on to win Olivier, Tony and Grammy awards, as well as a Pulitzer Prize for drama.
The 15-week run at Manchester's Palace Theatre will start on Saturday 11 November, 2023, through to Saturday 24 February, 2024, before heading to Edinburgh for the next leg of the tour.
Lin Manuel Miranda's multi-awarding winning show about the life of American founding father Alexander Hamilton has been selling out theatres in London since it opened there in 2017. It is not expected to finish its run there until 2 March, 2024. In the US, it continues to break box office records on Broadway, as well as shows all over North America, Australia and Germany. There are also plans for seasons in New Zealand and an international tour.
The production is being brought to Manchester by producers Jeffrey Seller and Cameron Mackintosh.
Jeffrey Seller said: "Since the day the show opened at the Victoria Palace Theatre, London has embraced Hamilton with an enthusiasm we could never have imagined. We are excited to embark on a UK tour and share this special musical with audiences in Manchester and Edinburgh first."
Cameron Mackintosh said: "Lin-Manuel Miranda's Hamilton is indisputably the most brilliant, ground-breaking, contemporary musical of modern times. I feel extraordinarily fortunate that Lin and my friend Jeffrey Seller, the show's original producer, have entrusted me with their wonderful musical in the UK and Ireland.
"The London production opened in 2017 at the Victoria Palace, a theatre completely rebuilt to house Hamilton, where it continues to play and has proved to be as big a success as the Broadway original. So, I am thrilled that it is time to put together a second British national touring company to bring this great show to our leading cities."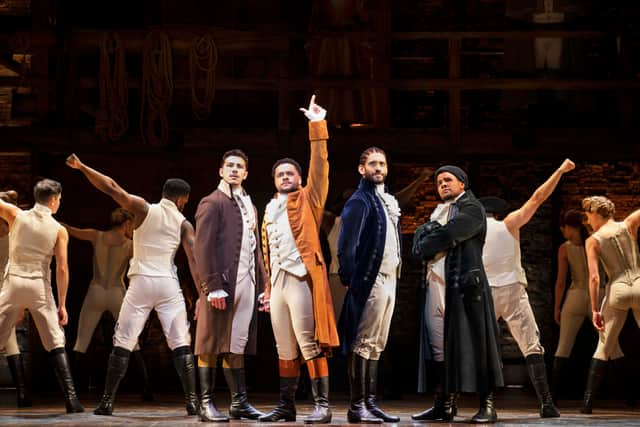 Where to get Hamilton tickets
If you want to be in the "Room Where it Happens", tickets for both Manchester and Edinburgh will go on general sale at 10am on Monday 13 March, 2023. ATG TheatreCard members will be able to book theirs slightly earlier on Friday 10 March, 2023, also at 10am.
What is Hamilton?
Hamilton is a cultural reimagining of one of the most pivotal moments in US history. It tells the story of Alexander Hamilton, a statesman who, after fighting in the American Revolutionary War, went on to help draft the Constitution and become the first secretary of the treasury.
But it's not the history that has made the musical so popular. Part of Hamilton's success is the show's use of contemporary music styles, such as hiphop, RnB, jazz and soul, and colour-blind casting choices. The show was conceived by Broadway veteran Lin Manuel Miranda, who UK audiences will recognise from the Mary Poppins reboot and the BBC's TV adaptation of Phillip Pullman's His Dark Materials series.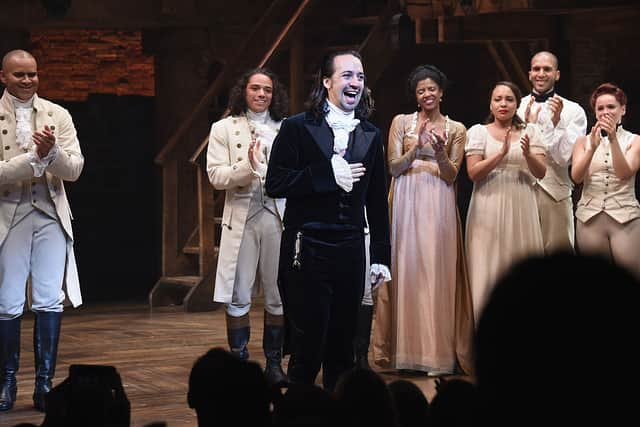 Hamilton's original cast – who you can watch in a filmed version of the show on Disney+ – includes Lin Manuel Miranda in the title role, plus a whole host of rising Hollywood stars, such as Leslie Odom Jr., who most recently starred in the Knives Out sequel Glass Onion, and Daveed Diggs, who played the lead in Netflix's Snowpiercer series and will voice Sebastian in the upcoming live action Little Mermaid.