Geminid meteor shower Manchester 2022: When is it, what is it and what is the Met Office weather forecast?
The Geminids meteor shower will peak tonight, here is how you can watch one of the year's final astronomical events in Manchester.
Watch more of our videos on Shots! 
and live on Freeview channel 276
Visit Shots! now
As 2022 comes to an end, Manchester is treated to one of the last meteor showers of the year. The night sky will once again light up as the Geminid meteor shower enters the Earth's atmosphere at speeds of up to 70 kilometres per hour.
The Geminid meteor shower has been known to produce over 150 meteors per hour at its peak. It is also one of the most consistent showers, producing bright, moderately fast and unusually multi-coloured meteors.
Along with the Quadrantis, the Geminids are one of only two major meteor showers visible from Earth not originating from a comet. Instead, it originates from the asteroid 3,200 Phaethon.
Only fairly recently known when compared to the Perseids and Leonids, they were first observed in 1862. They are thought to be intensifying every year, so this year they would be 160 times more intense than when first observed.
This year, the Geminid meteor shower will be visible between December 4 and December 20, but will peak on December 13-14. Unfortunately, this year's shower will coincide with a waning gibbous moon rising at 9.30pm on December 13, which will drown out the dimmer meteors.
How can I watch the Geminids meteor shower 2022 in Manchester?
Astronomy is a waiting game, but for the best chance to spot the meteor shower in Manchester it is recommended to find a dark, elevated location away from artificial light. The darker your surroundings, the higher the chance of you spotting the meteors.
The meteors can be seen in all parts of the sky, but will look like they originate from the Gemini constellation. So a wide open space where you can see a lot of sky is the best option to catch as much of the astronomical event as possible.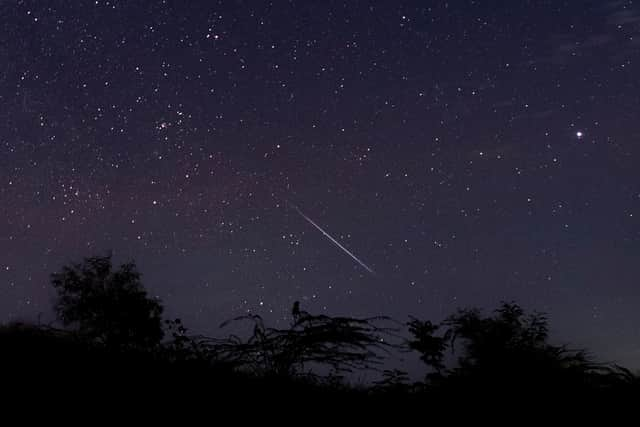 The Geminids meteor shower is visible throughout the night and is the only major shower that shows good activity before midnight. They are visible with the naked eye so there is no need for binoculars.
Met Office weather forecast:
According to the Met Office, the Manchester skyline will be clear from around 10pm on December 13. The clear skies will however allow the temperature to drop severely overnight, making it freezing.
As the temperature drops to -7 °C, there will be freezing fog, sharp frost and some ice patches. So bring a nice chair and some extra warm clothes and enjoy one of the final meteor showers of 2022.