Flying Scotsman 2023 centenary tour: where to see the world famous train across the north west
The Flying Scotsman will be making its way through the north west of England as part of its centenary tour
Watch more of our videos on Shots! 
and live on Freeview channel 276
Visit Shots! now
The Flying Scotsman is one of the most famous locomotives in the world having made its way around the railways of the UK for what has now been a century. To mark the special occasion, the train is making a special centenary tour around the country.
Although the train will not be stopping off anywhere in Greater Manchester, it will be making its way through the north west of the country- including nearby Lancashire. The historic train will arrive at Chester from London in the summer.
This will be part of the Cheshireman tour excursion. This will be a journey from London to Chester on June 10, unfortunately tickets have sold out for the trip but there is still the chance to catch a glimpse of the famous train if you are around the Chester station or surrounding area.
If you are willing to travel slightly further afield, the Flying Scotsman will spend over three weeks in Yorkshire. More specifically, it will be at the Keighley and Worth Valley Railway from May 1 to May 24.
The Flying Scotsman 2023 centenary tour day trips
March 1-25 - Flying Scotsman at East Lancashire Railway
April 1-23 – Flying Scotsman on display at the National Railway Museum, York
April 30 - Flying Scotsman excursion at Royal Duchy, from Bristol Temple Meads, Yatton and Taunton to Devon and Cornwall.
May 1- 24 – Flying Scotsman to spend a month at the Keighley and Worth Valley Railway on heritage workings
June 7 - Flying Scotsman excursion at Cardiff Express through the Thames Valley and along the river Severn
June 10 - Flying Scotsman excursion in Cheshireman, from London to Chester and back again.
June 17 - Flying Scotsman excursion to Portsmouth Flyer, from London to Portsmouth and back.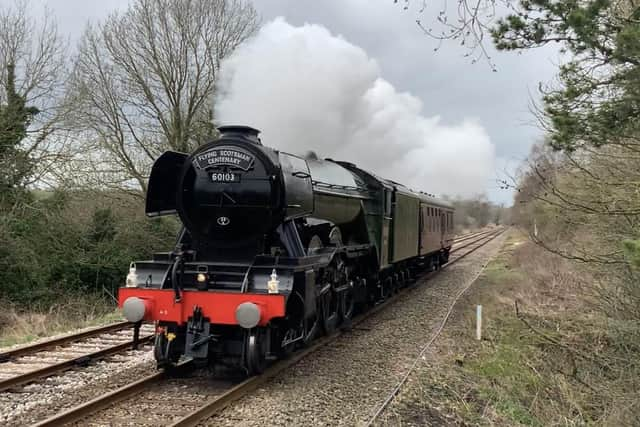 June 21 - Flying Scotsman excursion to Salisbury Express, from London to Salisbury and back.
June 30 – July 4 – return excursion along the East Coast Main Line between London, York and Edinburgh
June 24 - Flying Scotsman excursion to Great Yarmouth, from London to Yarmouth and back again.
July 9, August 6 and September 10 – The Waverley excursion along the Settle to Carlisle line via York, Leeds, Keighley and Skipton
August 24 - September 3 - Flying Scotsman at Bluebell Railway in East Sussex.
September 10 - Flying Scotsman excursion to Waverley, travelling on the Settle & Carlisle Railway.
October 14 – The Hadrian excursion along the Settle to Carlisle line via York and Leeds
December 16 – Flying Scotsman to spend two weeks in light steam at Locomotion in Darlington