Corridor of Light pictures: first look at spectacular illuminated Manchester festival
Starting this evening (Thursday), a swathe of Manchester city centre is being transformed into a wonderland of lights, arts and ideas for three nights.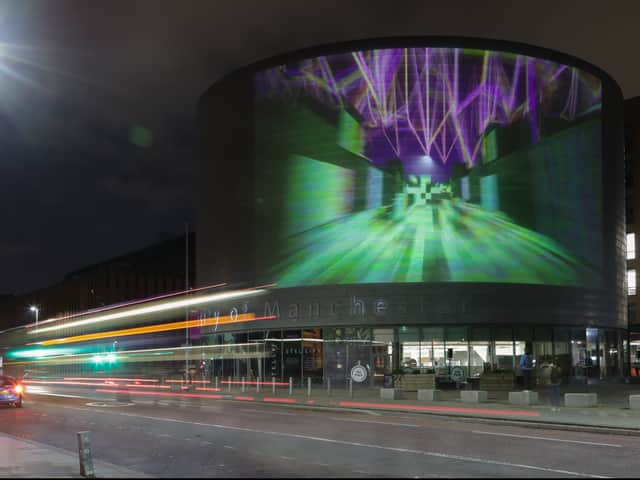 The Corridor of Light is transforming the Oxford Road area for three nights. Photo: Jason Lock
These stunning images give Manchester residents and visitors their first look at the spectacular Corridor of Light festival which is about to get under way.
A stretch of the Oxford Road Corridor, taking in some of the city's best-known institutions and facilities, is being transformed into a vibrant wonderland of visual art, installations and other cultural activities.
The event gets under way at 6pm tonight (Thursday 21 October) and continues until Sunday, with all the artwork free to view.

Most Popular
We've taken a look at the first images of the event and what people can look forward to seeing.
What is the Corridor of Light?
The Corridor of Light festival is an event over three evenings featuring art installations, spectacular works involving light and music which is taking place in Manchester city centre.
The Corridor of Light festival runs over three evenings in Manchester. Photo: Jason Lock
It celebrates an area of the city known for its innovation and creativity, featuring Manchester's universities, the Royal Northern College of Music (RNCM), top medical, sports and leisure facilities and cultural venues.
It all starts at 6pm today (Thursday) with an opening moment at Manchester Central Library.
The Corridor of Light in Manchester. Photo: Jason Lock
Lines from Recovery Poems, which will travel around the neighbourhood during the three nights of the festival, will be illuminated in three-metre-high capital letters.
LGBTQ+ low voice choir The Sunday Boys will perform in the library's Reading Room, reflecting on the losses of lockdown, while two stanzas of a poem written in 65 languages by communities working with Manchester Poetry Library at Manchester Metropolitan University (MMU) will be read out.
What else is happening?
The programme is packed with highlights, and the majority of installations will be available for people to view on all three nights.
A major new commission from award-winning artist, writer and artistic director of Forced Entertainment Tim Etchells has transformed the Booth Street East bridge.
The Corridor of Light festival features stunning visual art and installations. Photo: Jason Lock
Coding meets clubbing at Algorave, with both recordings and live performances from co-founder Alex McLean and new media artist Antonio Roberts taking place during the festival.
Manchester's newest neighbourhood, Circle Square, will be bathed in thousands of spots of light emanating from Studio Vertigo's giant, heart-shaped mirror ball installation, Our Beating Heart.
The festival features bright and vibrant visual art and installations. Photo: Jason Lock
Acclaimed poets Hafsah Aneela Bashir, Reshma Ruia and Andrew McMillan have written new works for Corridor of Light, inspired by Oxford Road and what the area means to them.
On Friday and Saturday a dramatic Fire Garden is being created at HOME.
And award-winning artist collective Squidsoup is presenting Where There Is Lightat the Holy Name Church, an immersive sound and light installation co-commissioned by ArtReach for Journeys Festival International 2021 which takes as its subject matter the stories and struggles of asylum seekers and refugees.