Bury 10k run: full list of road closures and parking suspensions including when roads reopen after event
The 10k run comes to Bury at the start of October
Watch more of our videos on Shots!
and live on Freeview channel 276
Visit Shots! now
The Bury 10k is coming to Greater Manchester at the start of October, with plenty of people expected to participate. The Run For All event, in partnership with Bury Council, takes place on Sunday October 1. 
The Bury Running Festival includes the Bury 10K and Arena Group Bury Mini and Junior runs. The 10K will start at 9.30am, Mini 11.45am and Junior 11.55am. All events will start and finish on The Rock, outside The Rock Shopping Centre. 
As with events like this, road closures will be used to make the run safe and enjoyable for all. The event will require the closure of roads and road junctions as well as the suspension of a number of Traffic Regulation Orders between 8.30am on Sunday October 1 2023 and 12.30pm on Sunday October 1 2023. 
Parking will also be affected by the 10k event. A number of parking suspensions from 7am on Saturday September 30 to 3pm on Sunday October 1 2023 will be in place. 
Full list of road closures for Bury 10k 
Below are all of the confirmed road closures for the Bury 10k on Sunday October 1. The street is listed along with the time it will close and the time it will reopen. 
Bolton Street The Rock to Harvard Road 8:30am- 12.30pm 
Brandlesholme Road Stafford Street to Woodhill Road 8.30- 11.30am 
Bury Road Scobell Street to Market Street 8.30am-10.45am 
Castlecroft Road Chamberhall Street to Bolton Street 8.30am- 12.30pm 
Crosstons Road Bolton Street to Tottington Road (Inc. Slip Roads) 8.30am- 10.30am 
Dunster Road Castlecroft Road Harvard Road 08.30am- 10.00am 
Harvard Road Dunster Road to Peel Way (Inc. Slip Road) 8.30am- 10.00am 
Harvard Road Magdalene Road to Dunster Road 8.30am - 11.45am
Haymarket Street The Rock to Moss Street 11.30am- 12.30pm
Laurel Street Market Street to South Royd Street 8.30am- 10.45am 
Magdalene Road Castlecroft Road to Harvard Road 8.30am - 11.45am
Manchester Road Silver Street to St Mary's Place 11.30am- 12.30pm 
Market Street Bury Road to Chapel Street 8.30am- 10.45am 
Moss Street Haymarket Street to Silver Street 11.30am- 12:30pm 
Scobell Street Bury Road to Booth Street 8.30am- 10.30am 
Silver Street Bolton Street to Broad Street 8.30am- 12.30pm 
Silver Street Broad Street to Manchester Road 11.30am- 12.30pm
The Rock Bolton Street to The Rock Pedestrianised Area 8.30am- 12.30pm
Tottington Road Crosstons Road to Scobell Street 8.30am- 10.30am 
Woodhill Road Brandlesholme Road to Canterbury Drive 8.30am- 11.30am
Parking suspensions for Bury 10k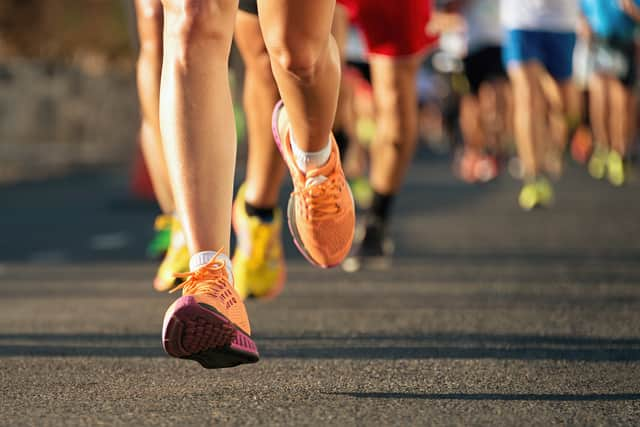 A number of parking suspensions will be in place for the Bury 10k. These are listed below: 
Parsons Lane Car Park (All Parking Bays) Saturday September 30 7am to Sunday October 1 3pm
Bolton Street (Both Sides) – Castle Leisure Centre to The Rock Saturday September 30 6pm to Sunday October 1 1pm
The Rock (Both Sides) Market Place (Both Sides) Saturday September 30 6pm to Sunday October 1 1pm
Market Place (Both Sides) Saturday September 30 6pm to Sunday October 1 1pm

For more information about the 10K, including how to register, visit the Race For All website.

Tristan Batley-Kyle, Operations Director at Run For All said: "We can't wait to welcome all of our participants taking part in this year's Bury Running Festival and Mini and Junior runs. A firm favourite in the region's fundraising and sporting calendar, the Bury Running Festival is always a highlight in the towns event calendar. Whether participants are running for a charity close to their heart or for their own personal challenge, we hope everyone taking part in this year's event has a memorable and enjoyable race day experience."