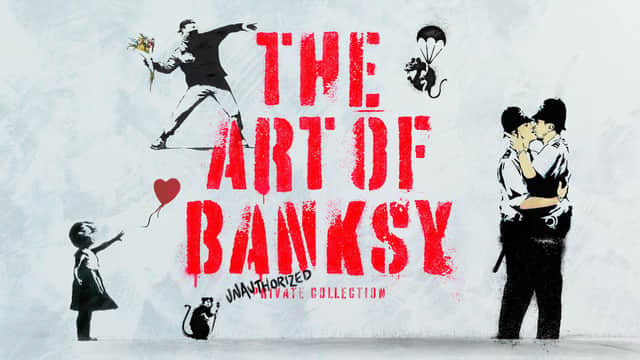 Art of Banksy is coming to MediaCity in Salford
An exhibition celebrating some of cult artist Banksy's best-loved works is coming to MediaCityUK.
The Art of Banksy recently enjoyed a successful run in London where it attracted big crowds on its 12-month stint.
Having travelled to Melbourne, Chicago, San Francisco, Sydney, Washington DC, Boston, Tel Aviv, Auckland, Toronto, Miami and Gothenburg too, Salford will be the next city to host the critically acclaimed but mysterious street artist.
The exhibition will feature 145 authenticated original works - the world's largest collection of Banksy's work - in a purpose-built, 1200sqm unit, similar to the hugely popular Van Gogh Alive show which was a hit last year.
Here's all you need to know about the show.
Banksy's Girl With Balloon in three variations
When does the Art of Banksy come to Manchester?
The show will run at MediaCity from Friday 21 October 2022 to Sunday 8 January 2023.
The exhibition is being presented in association with Manchester arts venue, HOME.
How do I get Banksy tickets and how much are they?
A Banksy original you can see at the Art of Banksy
What Banksy artworks are in the new show?
Some of the artist's most famous works will be included alongside some rarely-seen pieces which are on loan from private collectors.
Visitors can see the iconic artworks that brought Bansky to international acclaim, including Girl With Balloon (2002) in three different colour variations, Flower Thrower (2003), Rude Copper (2002), and Brace Yourself (2010) – a work which made headlines when Banksy gifted the painting to the band formerly known as 'Exit Through the Gift Shop' in exchange for the rights to their name.
A recent poll ranked Girl with Balloon as the United Kingdom's favourite piece of artwork.
145 original Banksy works will be shown in the Art of Banksy in Salford
Who is Banksy?
Good question - the artist prides himself on his anonymity and some of his street art pops up unexpectedly on the side of buildings with little fanfare.
However, Time Magazine has previously included Banksy in its list of the world's 100 most influential people alongside Barack Obama, Stella McCartney and Steve Jobs.
And he knows how to make a statement - such as the secret installation of a shredder at an auction house which grabbed his Girl With Balloon artwork, just moments after it was sold for nearly $1.4 million 2018, transforming the work into shredded painting, Love in the Bin.