Scouting For Girls new album and headline tour heading this way
Chart-topping pop superstars Scouting For Girls have announced a new album and headline autumn tour – including local dates.
GET ALBUM: Seventh studio album The Place We Used To Meet will be released on October 13 – to pre-order and pre-save CLICK HERE.
Pre-order the album HERE before 5pm on Tuesday, April 18 to receive a code to access an exclusive pre-sale for tour tickets.
BUY TICKETS: The pre-sale will open at 10 am on Wednesday, April 19 and will remain live until tickets go on general sale from 10 am on Friday, April 21 via HERE.
Their 22 date autumn tour – full details below – will see them play Edinburgh, Aberdeen, Glasgow, Liverpool, Manchester, York, Newcastle, Reading, Bristol, Brighton, Nottingham, Cambridge, Exeter, Leicester, Leeds, Sheffield, Birmingham, Northampton, Norwich, Guildford, Bournemouth and London.
Scouting For Girls' unforgettable indie-pop anthems such as She's So Lovely, This Ain't A Love Song and Heartbeat set them on a path to phenomenal success which included four top 10 singles, four top 10 albums, two million sales and more than a billion streams - plus four BRIT Awards and an Ivor Novello.After so many highlights, the trio questioned where to go next as they planned their seventh studio album.
The solution? To return to their roots back when they were three unknown musicians in Ruislip, west London, and reconnect with the reasons that they started a band in the first place.
As a result, Scouting For Girls are back to their best with their new album The Place We Used To Meet, written and recorded in the same way that they recorded their debut single, She's So Lovely, in 2007.
It's an album full of the instantly memorable, life-affirming, singalong indie-pop with which they made their name, with songs that resonate with stories of longing and loss. The band still consists of its original line-up of Roy Stride, Greg Churchouse and Peter Ellard.Roy said: "As the name suggests, it's an album about going back to our roots and starting again. Falling back in love with music. Loving every aspect of the process: the recording, the writing, playing live and, most importantly, just hanging out as friends.
"There was no great plan, no overthinking beyond just writing and recording the best songs that we could. Heartbreaking, anthemic, fun and pop, indie and serious, anything went as long as we loved it. It's the best collection of songs we've ever had, and I've loved every minute of making it."
While Scouting For Girls are in their best place in years, circumstances leading up to this new album proved to be especially challenging.
After losing 18 months of touring - their favourite part of being in a band - they were eager to hit the road after Covid restrictions were lifted. Their return was the biggest party imaginable… until it wasn't.
As the months passed, Roy's life unravelled and he realised he had to make a change and on New Year's Eve of 2021 he sank his final drink before dedicating the start of 2022 to recovery.During this process he questioned whether he would still want to play live and make music. But gradually he discovered that it completely revitalised his love for being in a band.
The trio spent more time together, the shows became a celebratory experience of reconnecting with their fans, and new songs emerged at a rapid pace. His inspiration also continued with fresh co-writes for other artists, such as Jax Jones and Calum Scott's current top 20 hit, Whistle.
Back in the studio, they worked with a variety trusted collaborators, with Roy producing many of the new songs alongside Jon Mags (Calum Scott, Kodaline) and Alex Oldroyd (Kaiser Chiefs, Seafret), while the band also wrote and produced a track alongside their new touring guitarist Nick Tsang (Ed Sheeran, Jess Glynne, Busted).
The first half of the record features the best songs they've written in a decade or more, while the second half flows together like a continuous suite of music.The Place We Used To Meet is now available to pre-order HERE. In addition to digital/streaming, the band's official store offers signed CDs and vinyl, a deluxe CD with a bonus disc. Amazon stock a signed CD and standard black vinyl, while HMV and select indie stores offer an exclusive orange vinyl format.Fans who pre-order the album HERE before 5pm on Tuesday, April 18, will receive a code to access an exclusive pre-sale for tour tickets.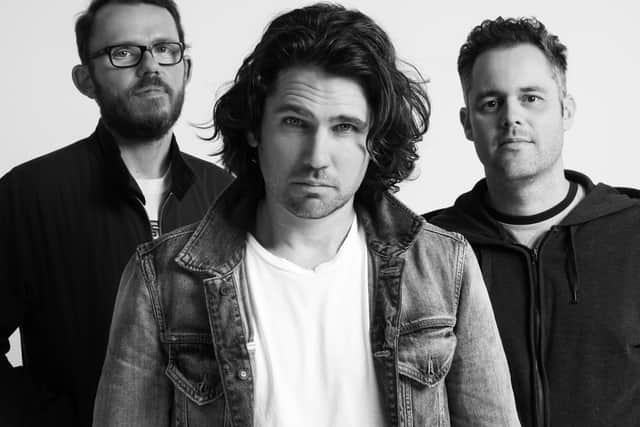 The pre-sale will open at 10 am on Wednesday, April 19 and will remain live until tickets go on general sale from 10am on Friday, April 21 via HERE.Scouting For Girls' The Place We Used To Meet headline tour dates are listed below.
They will also play two runs of shows as very special guests to Olly Murs: next week's arena tour and a second run of outdoor and arena dates later in the summer.
They also have a busy festival schedule which includes Isle of Wight, Camp Bestival and the Neighbourhood Weekender. Please see HERE for a full list of dates.AUTUMN 2023 TOUR DATES
3rd - Edinburgh, La Belle Angele
4th - Aberdeen, Lemon Tree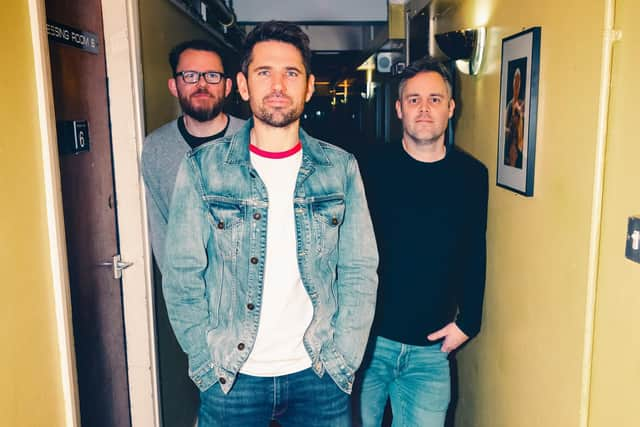 5th - Glasgow, SWG3 Galvanisers
7th - Liverpool, O2 Academy
8th - Manchester, Academy
11th - Newcastle, Northumbria University
14th - Bristol, O2 Academy
17th - Nottingham, Rock City
18th - Cambridge, Corn Exchange
20th - Exeter, University - Great Hall
21st - Leicester, O2 Academy
24th - Sheffield, O2 Academy
25th - Birmingham, O2 Academy
27th - Northampton, Roadmenders
1st - Bournemouth, O2 Academy
Follow Scouting For Girls: