More than 120,000 tickets for 79 shows will see them perform over four months in 34 theatres and arenas in towns and cities across the UK.
Diversity, winner of the public-voted Bafta TV award for Must-See Moment, for their Black Lives Matter-inspired routine performed on Britain's Got Talent, are selling out shows and have added dates due to phenomenal demand.
The tour, already underway and running to June 19 – see full details below – will see them in April play Nottingham Royal Concert Hall, Hull Bonus Arena, York Barbican, London Palladium, Birmingham Alexandra Theatre, Northampton Derngate, Blackpool Opera House, Edinburgh Usher Hall, Halifax Victoria Theatre and Liverpool Philharmonic Hall.
In May they visit Sheffield City Hall, Carlisle Sands Centre, Manchester Opera House, Harrogate Convention Centre, Guildford G Live, Cardiff Motorpoint Arena, Plymouth Pavilions, Gateshead Sage, Glasgow King's Theatre, Stoke-On-Trent Regent Theatre, Bournemouth International Centre, Brighton Centre and Oxford New Theatre.
Final dates in June will will see them perform at Belfast Waterfront, Dublin 3Arena, Bristol Hippodrome, Swansea Arena, Ipswich Regent, Stockton Globe, Ipswich Regent, Birmingham Alexandra Theatre, Stockton Globe and Southend Cliffs Pavilion.
Diversity took the nation by storm when they won the third series of Britain's Got Talent in 2009 and have so far sold out nine UK and Irish tours, more than 600,000 tickets, with countless television and live performances.
Over the past 12 years thanks to the overwhelming support of their fans and the British public they have continued to wow audiences and inspire people around the world.
Ashley and Jordan Banjo are passionate about their storytelling on stage and recently put pen to paper to release their first children's book Fly High Crew – out now, via Scholastic, it is a brilliantly fun story that champions inclusivity, the importance of teamwork, realising your dreams and is centralised by Ashley and Jordan's sibling relationship and dynamic.
Apart from their incredible live shows, Diversity are undoubtedly certified TV superstars.
Ashley Banjo returned as a judge on Dancing on Ice earlier this year. He is also host and creative in the BAFTA nominated The Real Full Monty and International Emmy Award, Broadcast Award, and Royal Television Society award winning The Real Full Monty: Ladies Night, with both shows raising awareness of Prostate and Breast Cancer respectively.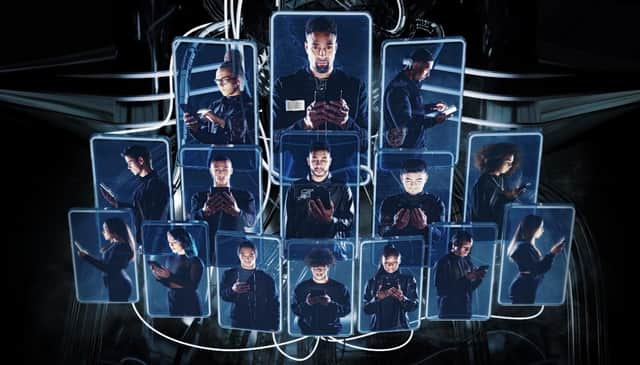 Ashley was also behind two hit series of Flirty Dancing on Channel 4 and appeared as a guest judge in place of Simon Cowell on ITV's Britain's Got Talent last year. Ashley also hosted brand new Saturday night show for ITV, The Void over the summer.
Fellow Diversity member Jordan Banjo hosted two series of BBC 1's primetime and BAFTA nominated show The Greatest Dancer. Jordan along with Perri Kiely are also part of breakfast radio royalty, presenting Kiss Breakfast every weekday.
Collectively Diversity recently won Virgin Media's Must-See Moment of 2020 at the British Academy Television Awards for their incredible Britain's Got Talent routine inspired by the events of last year, watch again here.
Diversity's illustrious career shows how they continue to innovate, grow, and achieve. This new tour evolution proves just how far they've come with their biggest UK and Ireland run to date.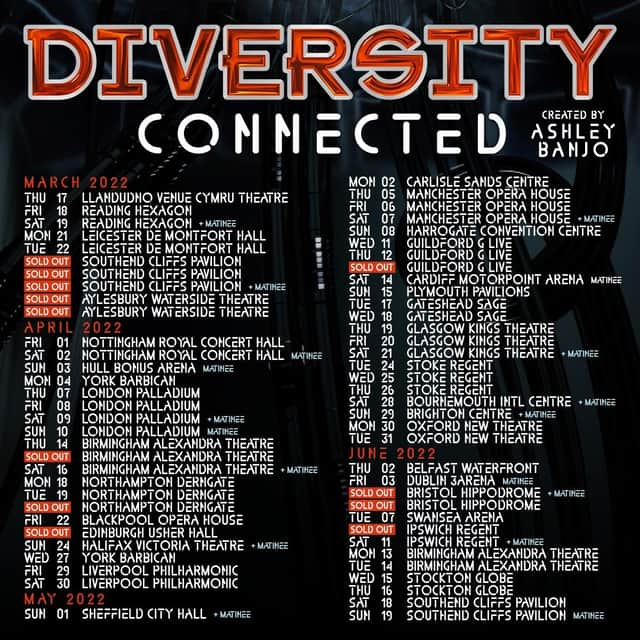 DIVERSITY CONNECTED UK TOUR 2022
Fri 01 Apr 2022 Nottingham Royal Concert Hall
Sat 02 Apr 2022 Nottingham Royal Concert Hall MATINEE
Sun 03 Apr 2022 Hull Bonus Arena MATINEE
Mon 04 Apr 2022 York Barbican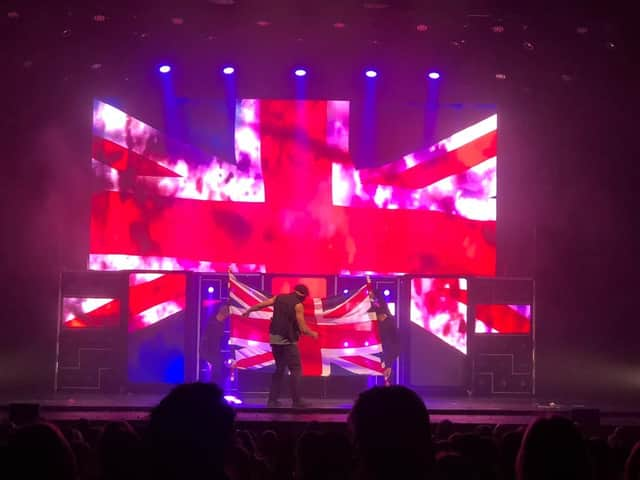 Thu 07 Apr 2022 London Palladium
Fri 08 Apr 2022 London Palladium
Sat 09 Apr 2022 London Palladium MATINEE
Sat 09 Apr 2022 London Palladium
Sun 10 Apr 2022 London Palladium MATINEE
Thu 14 Apr 2022 Birmingham Alexandra Theatre
Fri 15 Apr 2022 Birmingham Alexandra Theatre – SOLD OUT
Sat 16 Apr 2022 Birmingham Alexandra Theatre MATINEE
Sat 16 Apr 2022 Birmingham Alexandra Theatre
Mon 18 Apr 2022 Northampton Derngate
Tue 19 Apr 2022 Northampton Derngate
Wed 20 Apr 2022 Northampton Derngate – SOLD OUT
Fri 22 Apr 2022 Blackpool Opera House
Sat 23 Apr 2022 Edinburgh Usher Hall
Sun 24 Apr 2022 Halifax Victoria Theatre MATINEE
Sun 24 Apr 2022 Halifax Victoria Theatre
Wed 27 Apr 2022 York Barbican
Fri 29 Apr 2022 Liverpool Philharmonic Hall
Sat 30 Apr 2022 Liverpool Philharmonic Hall
Sun 01 May 2022 Sheffield City Hall MATINEE
Sun 01 May 2022 Sheffield City Hall
Mon 02 May 2022 Carlisle Sands Centre
Thu 05 May 2022 Manchester Opera House
Fri 06 May 2022 Manchester Opera House
Sat 07 May 2022 Manchester Opera House MATINEE
Sat 07 May 2022 Manchester Opera House
Sun 08 May 2022 Harrogate Convention Centre
Wed 11 May 2022 Guildford G Live
Thu 12 May 2022 Guildford G Live
Fri 13 May 2022 Guildford G Live – SOLD OUT
Sat 14 May 2022 Cardiff Motorpoint Arena MATINEE
Sun 15 May 2022 Plymouth Pavilions
Tue 17 May 2022 Gateshead Sage
Wed 18 May 2022 Gateshead Sage
Thu 19 May 2022 Glasgow King's Theatre
Fri 20 May 2022 Glasgow King's Theatre
Sat 21 May 2022 Glasgow King's Theatre MATINEE
Sat 21 May 2022 Glasgow King's Theatre
Tue 24 May 2022 Stoke-On-Trent Regent Theatre
Wed 25 May 2022 Stoke-On-Trent Regent Theatre
Thu 26 May 2022 Stoke-On-Trent Regent Theatre
Sat 28 May 2022 Bournemouth International Centre MATINEE
Sat 28 May 2022 Bournemouth International Centre
Sun 29 May 2022 Brighton Centre MATINEE
Sun 29 May 2022 Brighton Centre
Mon 30 May 2022 Oxford New Theatr
Tue 31 May 2022 Oxford New Theatre
Thu 02 Jun 2022 Belfast Waterfront
Fri 03 Jun 2022 Dublin 3Arena
Sun 05 Jun 2022 Bristol Hippodrome MATINEE
Sun 05 Jun 2022 Bristol Hippodrome – SOLD OUT
Mon 06 Jun 2022 Bristol Hippodrome – SOLD OUT
Tue 07 June 2022 Swansea Arena
Fri 10 Jun 2022 Ipswich Regent
Wed 15 Jun 2022 Stockton Glob
Sat 11 Jun 2022 Ipswich Regent MATINEE
Sat 11 Jun 2022 Ipswich Regent
Mon 13 Jun 2022 Birmingham Alexandra Theatre
Tue 14 Jun 2022 Birmingham Alexandra Theatre
Thu 16 Jun 2022 Stockton Globe
Sat 18 Jun 2022 Southend Cliffs Pavilion MATINEE
Sat 18 Jun 2022 Southend Cliffs Pavilion
Sun 19 Jun 2022 Southend Cliffs Pavilion