50 Cent in Manchester: last minute tickets, possible set list and items banned from AO Arena
The iconic rapper is coming to Manchester for two gig dates this month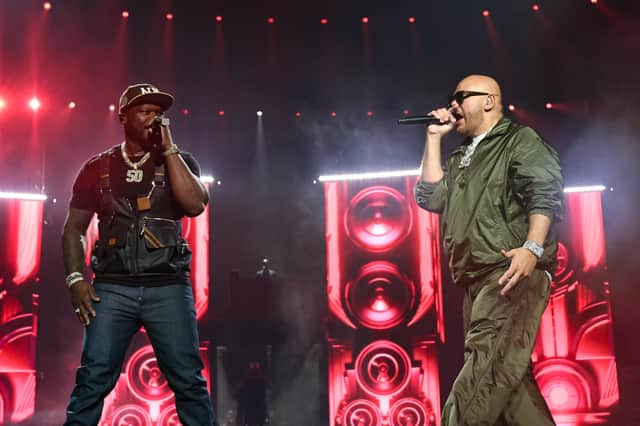 American rapper and actor 50 Cent is out on the road with his 'The Final Lap' tour. After touring around Europe, the New York born performer, whose real name is Curtis James Jackson III, is coming to the UK- with two Manchester dates pencilled in at the AO Arena.
Recognised as one of the most talented and prolific music artists of his time, 50 Cent rose to fame with his record-shattering debut album, Get Rich or Die Tryin'. Since then, he has sold more than 30 million albums worldwide and has been awarded the most prestigious accolades. Jackson has leveraged his star power to achieve unparalleled success as an entrepreneur, actor, director, and executive producer.
50 Cent kicked off with a North American tour back in the summer, before coming to Europe at the end of September with shows in cities including Paris and Amsterdam. The UK leg of the tour Manchester fans are in for a treat, as they get two chances to see the man himself. 50 cent is performing at the AO Arena on November 10 and November 15, and tickets remain available for both.
Last minute tickets to 50 cent in Manchester
Tickets for 50 Cent on both nights in Manchester remain on sale through Ticketmaster. Many of the remaining tickets are available through re-sale, with prices starting at around £76.
Possible 50 Cent set list for Manchester AO Arena gigs
'The Final Lap' tour is well underway and we can therefore have a guess at what the set list in Manchester will be. Below is 50 Cent's set list for his gig in Paris on November 3.
I'm On Some Shit(50 Cent feat. Tony Yayo & Lloyd Banks cover)
What Up Gangsta
I Get Money
Hate It or Love It(The Game cover)
If I Can't
Magic Stick(Lil' Kim cover)
Hustler's Ambition
How We Do(The Game cover)
P.I.M.P.
Candy Shop
Disco Inferno
Window Shopper
Best Friend
21 Questions
Just a Lil Bit
Big Rich Town
Ayo Technology
Down on Me(Jeremih cover)
Birthday Sex(Jeremih cover)
Baby by Me
Many Men (Wish Death)
I'm The Man
In da Club
Hate Bein' Sober(Chief Keef cover)
Patiently Waiting
Cuffin Season(Fabolous cover)
Major Distribution
50 Shot Ya(DJ Kay Slay cover)
Wanksta
Stunt 101(G‐Unit song)
Poor Lil' Rich
Back Down
Southside(50 Cent feat. Tony Yayo & Lloyd Banks cover)
I'll Whip ya Head Boy
Items prohibited at AO Arena
Glass, cans, aluminium bottles or thermoses of any kind including liquid products which can be consumed.
Flammable liquids in any container
Laser pens/pointers
Video cameras, recording devices and professional cameras
Laptop computers, tablet devices, Go Pros or tablets with filming and recording capabilities
Large/golf/metal tipped umbrellas
Knives or weapons of any kind
Illegal drugs or substances
Alcoholic beverages
Signs, banners or flags on poles, staffs or selfie sticks
Animals (except ADUK registered service dogs)
Air horns, whistles, cowbells or other noise-making distractions
Projectiles (frisbees, beach balls, footballs etc)
Aerosol cans (hairspray, deodorant etc )
Fireworks, confetti, glitter bombs or flares
Balloons
Use of wheeled footwear, skateboards
Food and drinks
Helmets and full face masks
Large studs and chains