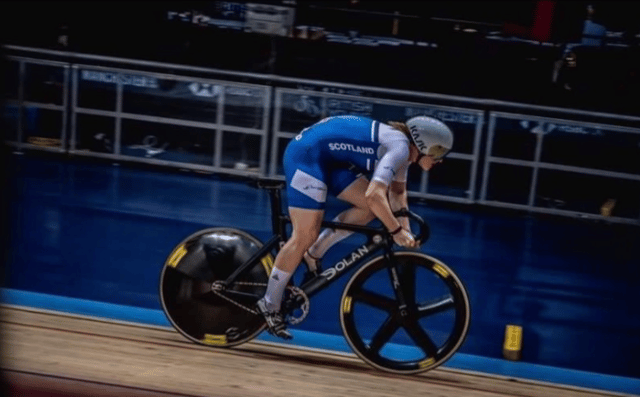 Elite track cycling may not be the most common end goal for young athletics hopefuls, but when Lauren Bell received an email at school inviting her to 'discover her power', it was an opportunity too good to overlook.
The 23-year-old Scot, who now trains in Manchester, was invited to take part in the UK Sport programme, aimed at finding young athletes aged 15-24 with the potential to make it to the top level in either track cycling, sprint canoeing or skeleton.
After excelling at a testing day, Lauren was invited to a series of camps, eventually being selected to join the British Cycling programme.
Asked why she chose to pursue a career on two wheels instead of two legs, she said: "It was quite an easy decision to focus on the cycling above my athletics, just because I was given such a once in a lifetime opportunity which I would've been silly to let pass.
"The more I began to learn about the sport and develop my skills as a bike rider, I found myself really enjoying doing sprint cycling, and then eventually it became an easy decision because track cycling became the sport I wanted to do more."
'Manchester helps my training'
Originally from the Scottish Highlands, Lauren now trains full-time in Manchester, which has helped her take her cycling to the next level.
She said: "Being down in Manchester helps my training as I have a lot of my teammates around me, which makes sessions more enjoyable but also helps with morale on really hard training days.
"I'm also very lucky that I'm surrounded by so many incredible people, from Olympians and Paralympians to all of the people behind the scenes who make British Cycling run smoothly and my life easier."
Something Lauren says that many don't realise about track cycling is just how much gym work is involved.
She said: "Sprint cyclists have to be really strong, so we spend so much time working with our S&C coach in the gym.
"Sometimes we spend more time in the gym per week than we do on the track!"
Juggling uni with training
Although her training regime follows an ever-changing schedule, Lauren mixes this intense gym work with more technical on-track practice, while trying to balance her university studies and still find time to socialise with friends.
Finding this balance isn't always easy, however. Lauren often finds herself having to compromise in order to keep on track, without missing the same things anyone in their early twenties wants to enjoy.
Lauren said: "I just make sure in my spare time that I do little bits of work often, so that if I'm busy one day or really tired from training I have some wiggle room and don't have to stress.
"It gets harder when I'm in a tiring block of training, because when I'm at home all I want to do is watch films on the sofa, but I think I've started to train myself to go and sit at my desk when I first come home, rather than the sofa.
"With personal commitments it's kind of 50-50, as if your friends are inviting you out for some drinks close to a competition you can't go as it will impact training, which can sometimes feel like you are missing out.
"But at other times in the year there is no harm in going out and seeing friends."
Despite a gruelling routine, Lauren is thankful for the opportunity to spend every day doing what she loves.
She said: "My favourite part of training is probably the fact that I'm able to do it every day as my job.
"It feels like I'm just living a dream and I feel very grateful that I can do a sport I enjoy every day just working on becoming better at it."
Future promise
While Lauren has only joined British Cycling relatively recently, she has already impressed and is continuing to develop into one of GB's most promising young athletes.
When asked what her proudest achievement was so far, she said: "Probably winning the keirin at the 2020 British Championships as it was my first national jersey!"
Looking ahead, Lauren' next goal is to represent Scotland at this year's Commonwealth Games in Birmingham, with the cycling taking place in London.
Long-term, however, she hopes to reach the pinnacle of the sport and compete on the highest stage of all.
She said: "The main goal for every athlete is to go to the Olympics and win a medal, hopefully a gold one, so that would be the ultimate goal.
"Then each year I just want to do better than the last and hopefully be selected to represent GB at every competition that I can."
Of all the events, though there's one which Lauren says she'd love to win most.
She said: "I think the keirin event! My parents hate watching it because there's often crashes due to everyone riding so close together, but I think it's the most fun.
"Anything can happen in a keirin, which makes it exciting because when you're on the start line any of the riders could win, as someone who would be favourable to win could get boxed in."
But if Lauren could give her younger self, or any young athlete, one piece of advice, she said it would be this: "Probably just to take every opportunity that comes your way, even if you're slightly unsure about it, as you never know what could come out of it!"