Ashes 2023: History of the series, what is inside the famous urn and what is written on it
Although small, the Ashes urn is one of the most famous trophies in world sport
Watch more of our videos on Shots! 
and live on Freeview channel 276
Visit Shots! now
The 2023 LV= Men's Ashes Series is here, and Australia travel to England hoping to retain the famous urn. The series gets underway at Edgbaston, Birmingham on June 16. 
The prize for the winners of the series (or Australia if they avoid defeat) is one of the physically smallest in world sport. Less than 11cm in height, the urn has been the subject of some dramatic and fierce cricketing battles over the years. 
For the next six weeks, the two sides will go hell for leather to try and write their name in the history books. Whatever happens, it's set to be a dramatic period of sport. 
When were the Ashes first played? 
England first played Australia in a cricket match in 1877, but it was four years later in 1881 when the term 'Ashes' was first used. Following England's first home defeat to Australia, the Sporting Times wrote up a mock obituary commemorating the 'death' of English cricket'. 
It was now up to England to go to Australia and reclaim dignity following this defeat and in 1882 they took part in three matches down under. As well as these games, they played a handful of warm up, social matches. 
It was at one of these games, on Christmas Eve, the Hon Ivo Bligh (England captain) was given a small terracotta urn said to represent the Ashes his team had travelled to Australia to regain. 
This urn now has pride of place in the museum at Lord's Cricket Ground in London. Its symbolic importance lives on through a replica and a Waterford Crystal version which has been awarded to the winning team since the 1990's. 
What is inside the urn?   
The Ashes which are inside the urn have been long debated. However, one of the most common suggestions is that they hold the ashes of an urn used during the 1882-83 series in Australia. 
What is written on the urn?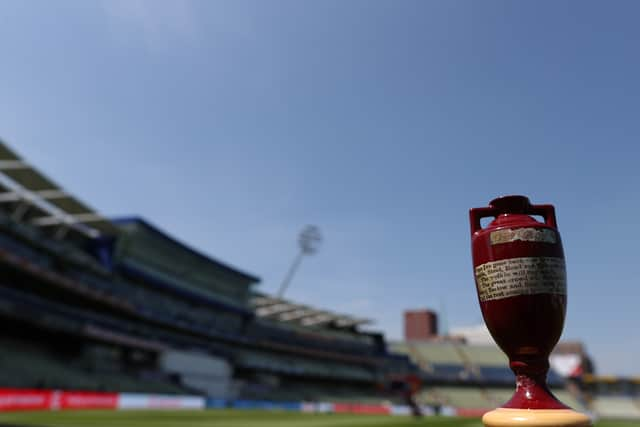 The urn has two labels on it. The top label simply says "The Ashes" while the bottom label is a six lined verse cut out from the Melbourne Punch magazine of February 1 1883.
It reads: "When Ivo goes back with the urn, the urn; Studds, Steel, Read and Tylecote return, return, The welkin will ring loud, The great crowd will feel proud, Seeing Barlow and Bates with the urn, the urn, And the rest coming home with the urn."