Manchester Utd's most important attacking player according to data on WSL
The Greater Manchester-born star is making a real mark in the WSL this season so far.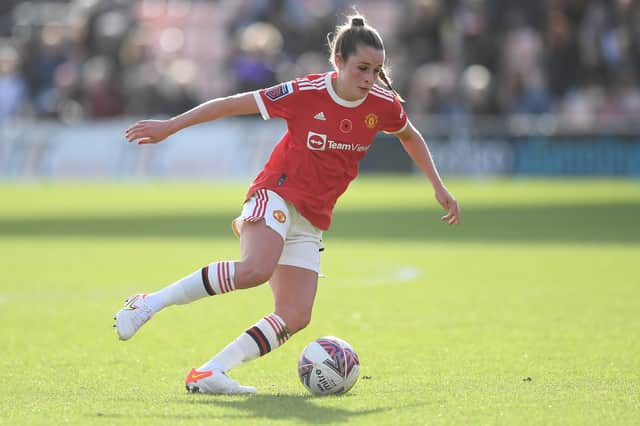 Manchester United's Ella Toone is quickly becoming one of the standout creators in the Women's Super League, new data suggests.
The forward, 22, is in her third season with the Red Devils and is well on course to beat her nine goals and five assists from last term.
And a deep dive into the statistics from FBRef suggests that she is having an even bigger impact on matches.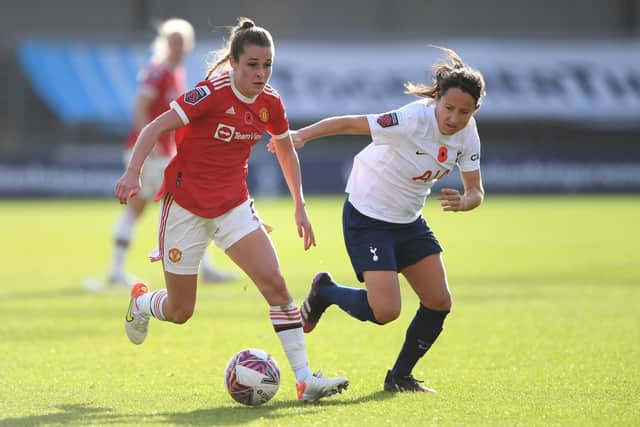 She sits top in terms of progressive passes and features in the top 10 for passes into the penalty area, shot creating actions and progressive carries.
Toone has completed a league high 39 progressive passes- which are passes that move the ball forwards at least 10 yards- this campaign, while United teammates Ona Batlle and Katie Zelem also feature in the top ten.
The Tyldesley-born-player also has a propensity to put the ball into dangerous areas of the pitch, playing the sixth most passes into the 18-yard box this campaign with 11.
Toone is heavily involved in Manchester United's scoring chances, often involved in the build up play which leads to shots for the Red Devils. She ranks seventh in the Super League for shot creating actions - the last two attacking acts before a shot - with 22.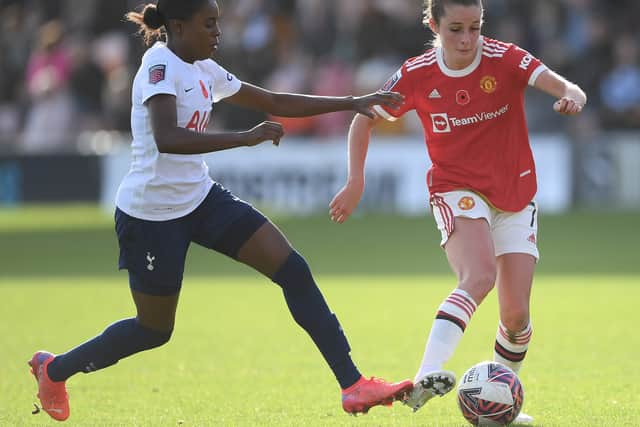 However, it isn't just Toone's creativity which makes her integral to Marc Skinner's side. The England international is also one of the most dangerous dribblers around, as shown by her ability to carry the ball forwards into a variety of positions.
In fact, Toone has the fifth most progressive carries- carries which take the ball forwards at least five yards- of any player with 37, which highlights her ability to play direct, attacking football and put defenders on the back foot.
As fifth-placed United reflect on the circumstances of their last-minute draw with Tottenham over the weekend- which saw the Red Devils give up an equaliser in the 95th minute- they will likely need Toone to be on top form in their next fixture away to Everton if they hope to bounce back.
FBref is owned and operated by Sports Reference LLC.
Progressive passes this season (stats from FBref)
1-Ella Toone (Manchester United) 39
2-Millie Bright (Chelsea) 39
4-Ona Batlle (Manchester United) 36
5-Alex Greenwood (Manchester City) 35
6-Magdalena Eriksson (Chelsea) 35
7-Sophie Ingle (Chelsea) 34
8-Sarah Mayling (Aston Villa) 32
9-Katie Zelem (Manchester United) 32
10-Maya Le Tissier (Brighton & Hove Albion) 32
Passes into the 18-yard box
1-Fran Kirby (Chelsea) 17
2-Erin Cuthbert (Chelsea) 15
3-Lauren Hemp (Manchester City) 14
5-Guro Reiten (Chelsea) 13
6-Ella Toone (Manchester United) 11
8-Vivianne Miedema (Arsenal) 10
9-Yui Hasegawa (West Ham United) 9
10-Inessa Kaagman (Brighton & Hove Albion) 8
1-Fran Kirby (Chelsea) 31
3-Caroline Weir (Manchester City) 27
4-Lauren Hemp (Manchester City) 27
5-Alex Greenwood (Manchester City) 26
6-Kit Graham (Tottenham Hotspur) 25
7-Ella Toone (Manchester United) 22
9-Erin Cuthbert (Chelsea) 19
10-Kirsty Hanson (Manchester United) 19
1-Lauren Hemp (Manchester City) 50
2-Ona Batlle (Manchester United) 42
3-Magdalena Eriksson (Chelsea) 38
4-Alex Greenwood (Manchester City) 38
5-Ella Toone (Manchester United) 37
6-Kenza Dali (Everton) 37
7-Fran Kirby (Chelsea) 32
8-Hannah Blundell (Manchester United) 31
9-Kit Graham (Tottenham Hotspur) 30
10-Ji So-Yun (Chelsea) 29