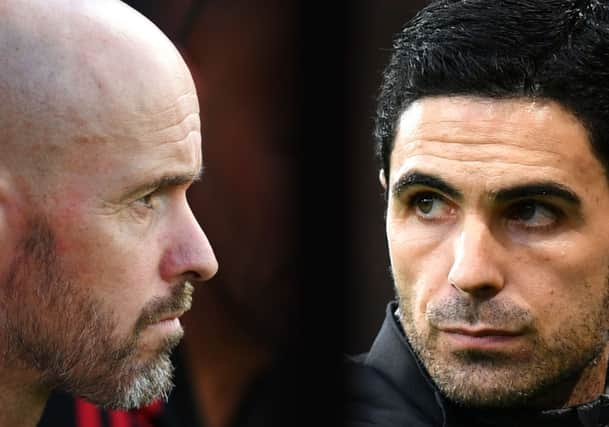 Manchester United face one of their toughest challenges of the season so far on Sunday afternoon as they host old rivals Arsenal.
The Red Devils look to have turned a corner following their disastrous start to the season, and have won their last three Premier League outings, including a 1-0 victory over Leicester City in midweek.
For their part, the Gunners are flying high, and have taken maximum points from their first five matches of the new campaign.
But how will Sunday's match pan out?
We've rounded up a number of pundit predictions below...
Paul Merson
Speaking to Sportskeeda, Merson outlined just how important the clash will be for both sides.
He said: "This is a massive test for Arsenal. They've won five Premier League games on the trot, and it's important that they don't lose this game. If they go to Old Trafford and get a draw, it's a great start to the season. If they lose, people will call them flat-track bullies - the same old Arsenal. This is a big match for them.
"I don't think Cristiano Ronaldo will get into the starting lineup for Manchester United this week. They're confident as a team, and they're hard to beat. They've got two clean sheets, and it all starts from the front. Fair play to Erik ten Hag! They're completely different from what they were against Brentford - that's what top managers do.
"It's hard to tinker with a team when you've won three on the trot, and I don't see Casemiro starting this game. It would be unfair to the player as well if Man United lose on Sunday. Don't change anything that isn't broken. I'd go with the same eleven this weekend.
"At the moment, United's back four is keeping both Harry Maguire and Luke Shaw out of the team. That's a problem for England and Gareth Southgate - he's their main defender! This is the World Cup we're talking about, and while I don't think there's any reason to panic at the moment, the fact that he hasn't played any football is going to be a worry. I'm actually quite surprised he didn't push for a transfer, to be honest.
"If Man United win this game, they're into the Premier League top four. Four wins on the trot and everybody goes, 'Wow! Look at them!' I'd be quite shocked if Arsenal won this game. They might have to play without their two best footballers - Odegaard and Zinchenko.
"If Odegaard is injured, I'd go with Emile Smith Rowe - for Fabio Vieira to start this Premier League game is a big ask. Arsenal can't afford to lose, and they don't need to win this game right now - a draw should suffice."
Merson has predicted a 1-1 draw on Sunday.
Mark Lawrenson
Speaking to Paddy Power, Lawrenson claimed that United still have levels that they are yet to reach, but also argued that the Red Devils have shown enough to suggest that they can get something out of Sunday's match.
He said: "This is Arsenal's toughest game so far.
"I was impressed with Manchester United at Southampton, not that they played particularly well but that they stuck at it. The system seemed to work for them and they scraped a 1-0.
"They're still a long way from where they should be but I think the least they'll get against Arsenal is a draw."
Lawrenson has also predicted a 1-1 draw.
Chris Sutton
Unlike his fellow pundits, Sutton has picked an outright winner, and believes United's current three-game winning streak will come to an end against the Gunners.
Speaking to BBC Sport, he said: "This feels impossible to predict. Manchester United have won their past three games and Arsenal have started superbly.
"Martin Odegaard went off injured in the 2-1 win against Aston Villa and he is a big player for them. Arsenal were far too good for Villa and if anything is lacking they were not quite ruthless enough, but Gabriel Jesus is big trouble for any defenders. He hassles and presses and has great quality.
"It will be close. I like what Erik ten Hag has done in such a short space of time at Manchester United but I am going to jump on the Arsenal bandwagon. I've said 2-1 to the Gunners but my daughter said 3-2 and she wears the trousers, so 3-2 it is."