Why Man Utd will get higher Champions League seeding than Arsenal and Newcastle regardless of final standings
Manchester United could be better off in the Champions League next season despite likely finishing behind Arsenal.
Watch more of our videos on Shots! 
and live on Freeview channel 276
Visit Shots! now
Here we explain how United could be better off than the likes of Arsenal and Newcastle despite potentially finishing below them.
How does Champions League seeding work?
When it comes to the Champions League group stage draw, there are four pots teams are drawn from.
There are draw rules that keep teams from the same leagues facing each other, of course, and teams from the same pot do not face each other in the group stage, either. Each group is made up of one team from each of the pots.
The first pot is reserved for the winners of each of the top European leagues. This list can change, but for now, it remains the top divisions in each of England, Italy, Germany, France, Portugal and Netherlands.
Following pot one, pots two through four are based solely on coefficient rankings. What that means, is that the remaining teams outside pot one are essentially put into a league table based on their UEFA coefficient points, and then split up into pots two, three and four. As you would expect, pot two is for the clubs with the most points and pot four is where the teams with the lowest points are housed.
What are coefficient points?
Coefficient points are calculated based on how clubs have performed across UEFA competitions in the last five seasons. Those competitions include the UEFA Champions League, UEFA Europa League and UEFA Europa Conference League.
Essentially, clubs are awared points for each of their results across those competitions, and these are added up to make a running total over the previous five seasons. We won't go through the full points system, but for example, a group stage win in the Champions League is worth two points, while there are extra points for reaching further rounds. The system is very similar for the Europa League, while clubs in the Conference League earn a little less per win. There are also bonus points handed out for progressing through the group stage.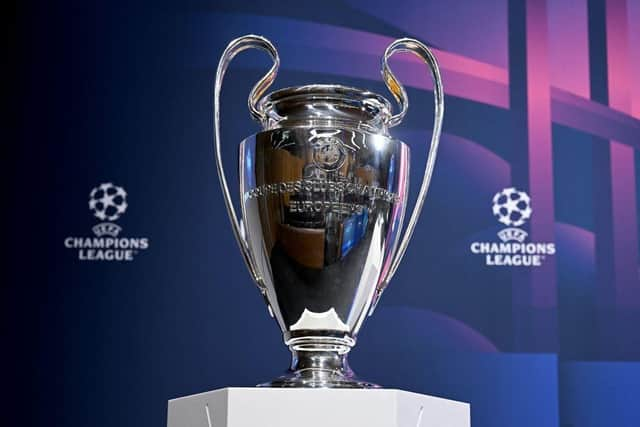 Given the totals are accumulated over five years, clubs with no experience in Europe during that time frame - like Newcastle - get a limited coefficient ranking. That means, unless they win the Premier League title, they will be seeded in pot four in the Champions League until they build up enough points to be seeded higher.
They do not, however, get a ranking of zero, and that's because the system awards clubs with 20% of their country's coefficient points in the case the club's coefficient ranking is lower. Newcastle's club ranking is zero, so they will go into the draw with 20% of England's coefficient points.
How Man Utd could be better off?
Due to the fact pots two through four are strictly based on coefficient points, if Arsenal finished second and Newcastle third, Manchester United would still be seeded in pot two, while Arsenal are likely to be seeded pot three and Newcastle pot four.
United currently have the seventh-best coefficient ranking in Europe, with Manchester City top, Chelsea third and Liverpool fourth. Interestingly, serial winners Real Madrid are fifth despite the fact they have won more Champions League titles than anyone else in history, and in the last five years.
United currently have 104 points, while Arsenal are in 23rd place with 76 points. Newcastle will have around 22/23 points based on the current association rankings, but that total could fluctuate a little given this season's competitions are not yet finished.
For Arsenal, it will depend on the list of teams that qualify where they will be placed come the group stage draw, but their points total would usually be worthy of a pot three position. Meanwhile, United are all-but certain to end up in pot two, regardless of whether they finish fourth or higher in the Premier League.