In March this year, I was fortunate enough to be on the receiving end of a much-fabled sporting experience: a pep talk from none other than Sir Alex Ferguson.
Well, sort of - the inspirational speech from the legendary ex-Manchester United manager came in the form of a pre-recorded video interview, in which Ferguson discussed a range of topics around the themes of resilience, motivation and teamwork.
The video was shared on a live link for every staff member at United and was not made publicly available, meaning I remain one of the privileged few to have heard those stirring words.
During the interview, Ferguson discussed what it meant to represent Manchester United and, rather reflecting on a thunderous Old Trafford reception, that night in Barcelona and building a footballing dynasty, he turned the conversation back to us, the average Joe.
The 13-time Premier League winner reminded each and every person in that virtual audience just how fortunate they were to work at one of the biggest sporting organisations on the planet.
"Don't forget that. It's an honour to work for Manchester United and you should never give anything less than 100%," he decreed (or words to that effect).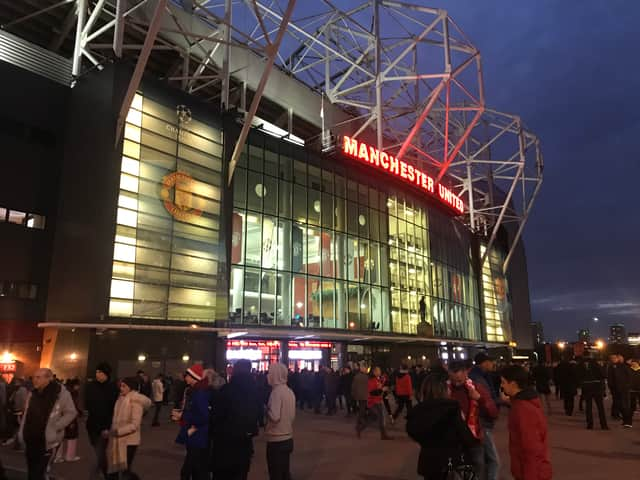 It's a fact I had been well aware of, but Ferguson's heartfelt speech was a gentle reminder that I should not take my highly coveted role for granted. I remember in a separate conversation, once being told by a senior colleague that should my job be advertised tomorrow, the club would likely receive thousands of applications.
Old Trafford from the inside
That job was a freelance club journalist for United's website and app, which mainly involved writing articles, creating photo galleries, uploading video clips and the like, and I spent over three years working there.
In that time I enjoyed some pretty stellar experiences: mixing with current and ex-players, playing a match at the Red Devils' Carrington training ground, familiarising myself with Old Trafford on a daily basis, travelling to my native Northern Ireland to report on a few youth-team friendlies, and even enjoying a guided tour of Old Trafford with the West Indies cricket team.
But it was covering the matches I loved most.
As an avid football fan, attending Premier League and European games on a regular basis really was a dream come true, and in my time at United I was also able to visit Wembley, Anfield, and the Etihad, among others.
While that thrill of covering live games certainly never diminished, it quickly all becomes about work… frantically typing to hit a deadline, updating the app timeline, preparing an injury update article just in case.
It was easy to forget just how many eyeballs were actually on the platforms, and with one push of a button you're almost the voice of the club. It's a lot of pressure, and it makes you realise just how huge an institution United really are.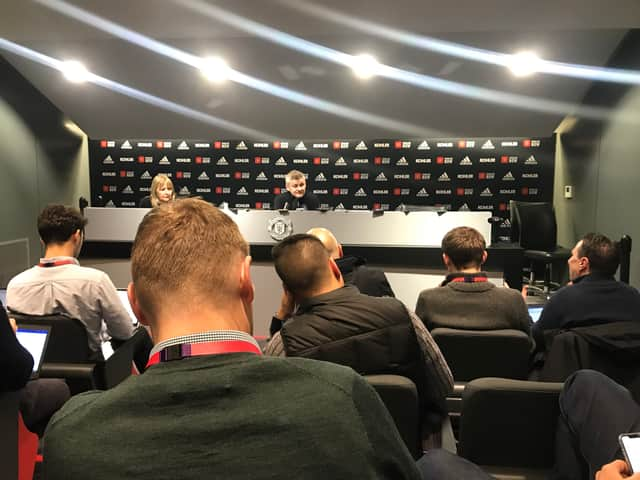 Obviously, everyone knows the Red Devils are massive - you can travel to any corner of the earth and see a Paul Pogba or Marcus Rashford jersey, but being in and amongst it gives you a completely different appreciation of just how far-reaching United are.
I always found it amazing that whatever time you walk through the Old Trafford concourse - perhaps excluding the wee hours of the morning - the stadium is littered with selfie-taking supporters and starry-eyed kids staring up at the iconic Sir Matt Busby statue.
There's a small football pitch just outside the Sir Alex Ferguson Stand which I used to frequent once a week with a few colleagues. Even that occasionally drew a small crowd - in fact, once, after a game, a few tourists even asked us to pose for some photos.
I'm not sure exactly who they thought we were, but the beer bellies, misplaced passes and odd socks should have suggested we weren't professional footballers.
Interviewing Juan Mata - from my kitchen
Covid altered all of this obviously, as it did with every facet of life, but even during a worldwide lockdown, when there was no football to be played, the number of daily hits on the United website was staggering.
The pandemic also changed my working life drastically and no longer was I based just over the road from the stadium, but in a cramped and cluttered home office, hoping no-one would pop their head round the door while I was conducting a brief interview with Juan Mata.
Working from home also meant an end to one of the best daily perks at United: the free staff canteen at the stadium. It was there I gained a sense of just how many people work at the club.
I obviously knew the media crew, but that probably accounted for 10-20% of the staff who would hastily wolf down their meals before heading back to the office. That doesn't even take into account those based at the training ground or London and Hong Kong offices.
Another indication of United's scope is seen by the club's never ending media coverage. There's no other team in the country who are responsible for as many headlines or radio phone-ins. Everyone who has a vague interest in football wants to know what's happening at United, and I mean everyone!
There's obviously a huge interest in Liverpool, Arsenal, Chelsea etc, but United trump them all, and in 2019, research from Kantar suggested the Red Devils have approximately 1.1 billion worldwide fans and followers.
Mourinho's exit - and Ole's arrival
In particular, when things were going badly you really noticed the incessant media coverage.
I remember the day Jose Mourinho was sacked and it really felt like the eyes of the world were on us. Reporters were camped outside the ground, rumours were swirling and every single media outlet was dominated by the story. What next for Mourinho? Who would replace him? What would it mean for certain players? What direction should the club take now?
It's a circus that everyone wants a ticket for, whether they're a United supporter or not.
Getting swept up in all that is part and parcel of the role, but for employees who are also fans, it's an entirely different prospect.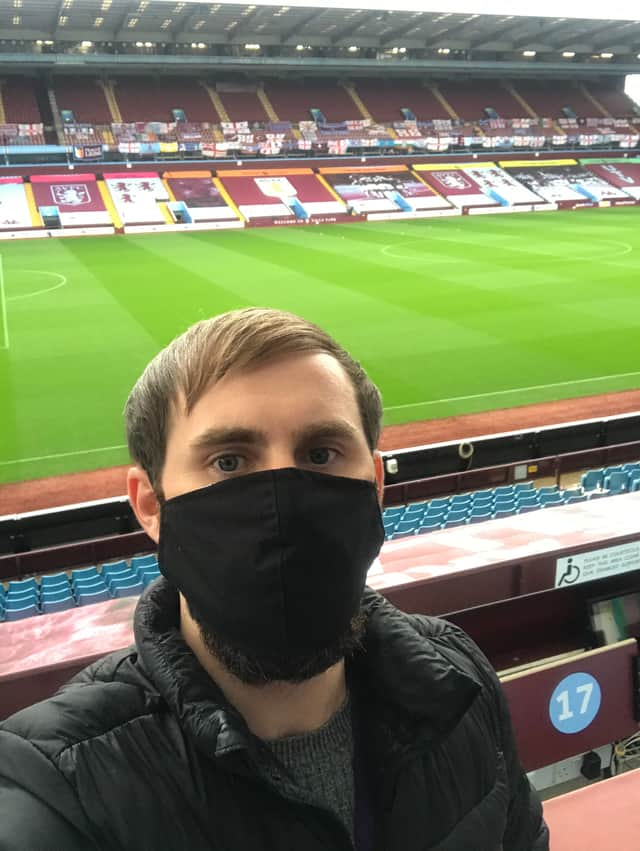 Work, for most, offers a brief respite from the angst and stress of following a football team, but imagine if your job was directly impacted by the trials and tribulations of those 90-minute bouts.
I'd say around half of those in the office were United fans and the mood suffered when the team under performed. I don't support either Manchester club so it's not an issue that affected me, but during the early parts of Ole Gunnar Solskjaer's reign - when things weren't going so well - the atmosphere was tense and colleagues could become easily irritated.
Thankfully, for them, and the team, the Norwegian now seems to be steering the side in the right direction, helped by two excellent summer signings in Jadon Sancho and Raphael Varane.
Transfers and tickets are maybe the topics you receive the most texts about by United-supporting friends and, to be honest, I'm amazed at just how little anyone really knows regarding the former. Everything is kept under wraps and the external media seem to know a lot more than the actual club departments.
Admittedly, I was quite a junior member of staff and perhaps more senior colleagues were kept in the loop, but I also remember an anecdote by a co-worker who regaled us with a tale of how he was once told in hushed tones that a certain player linked with a move in the mainstream media wouldn't be joining. A few weeks later, that same player was unveiled as the Red Devils' latest recruit.
I also recall in the summer of 2019 being told Bruno Fernandes wasn't on United's radar, only for him to sign six months later. But in general, I only tended to know things after they'd been reported in the media, and a few hours before they went live on the website. For instance, I remember preparing content for Donny van de Beek's signing last summer and thinking Twitter will go into meltdown in 20 minutes.
It's that aspect I buzzed off. Being right in the thick of it, seeing every kick, following every story; it's a dream job for any football fanatic. That's why, when an opportunity to join Manchester World arose, I couldn't turn it down.
I left United in May and, after a short-term job in football elsewhere over the summer, I recently began a new role at Manchester World covering United and City from an entirely different viewpoint.
Here, I really want to engage with fans and give supporters a voice in a new way. So please, follow me on Twitter @MichaelPlant82 and to share your thoughts and opinions. They're valued, appreciated and will help inform our writing.