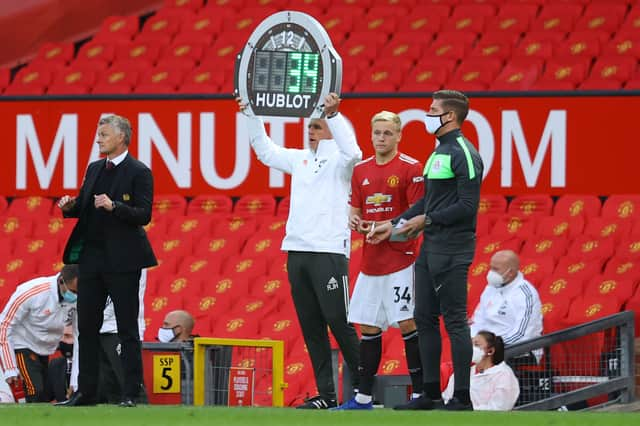 It didn't take much nous to work out exactly the message Ole Gunnar Solskjaer had for Donny van de Beek during Friday's press conference: 'cut it out if you want to play'.
The Manchester United manager was asked about Van de Beek's playing situation ahead of the Premier League clash with Everton at the weekend, and was questioned on the midfielder's reaction to not being introduced from the bench on Wednesday during the 2-1 Champions League win over Villarreal.
Van de Beek was caught on camera throwing his training bib down in frustration at Solskjaer's decision to bring on Jesse Lingard, Fred, Edinson Cavani and Nemanja Matic in his place.
The Dutch international was then seen petulantly throwing his chewing gum in the direction of the bench, shaking his head and being reassured by team-mates Eric Bailly and Dean Henderson.
It's a situation which is becoming an ever more regular problem for the United boss, who, despite his jaunty demeanour, does not take well to acts of ill discipline.
What was said?
"You know, I manage a squad full of international footballers, competitive footballers who want to make a difference, who want to play," Solskjaer explained on Friday. "They all want to be on the pitch, of course they do.
"Donny was ready to come on, as all players should be. I've been a sub more than anyone in this club probably - I must have a record appearance as a sub - and you have to be ready all the time. I've been not very happy a few times but that is the decision the manager makes.
"Alex was coming off as a left-back and Fred did that job well. So I understand the frustration, of course, every player is keen to play, that's got to be built into energy and some determination for when you get on and then show me.
"It's not just Donny, it's all of the players. I've got a squad of internationals and if we're going to be successful together we know we need positive energy. We can't have energy-sappers or sulkers.
"But Donny has never affected his team-mates negatively, just so that's said. As soon as I see players affecting the team negatively then that's a different scenario and I'll probably be a little bit firmer."
Reading between the lines
It doesn't take a rocket scientist to pick up on the obvious hints in Solskjaer's response - "I've been there, stop moaning and don't do it again."
After speaking about the need for positive energy and determination while also lambasting energy-sappers and sulkers, Solskjaer had to obviously betrack with a hastily added, "But Donny has never affected his team-mates negatively."
Yet it's the last line that's telling. "As soon as I see players affecting the team negatively then that's a different scenario and I'll probably be a little bit firmer."
Having team-mates literally console someone on the touchline is all the evidence needed that a player is having a negative impact on the squad. Even drawing on his own selfless experiences felt like a pointed comment, while justifying his substitutions evidently implies Solskjaer feels Van de Beek just wasn't the right option for that moment.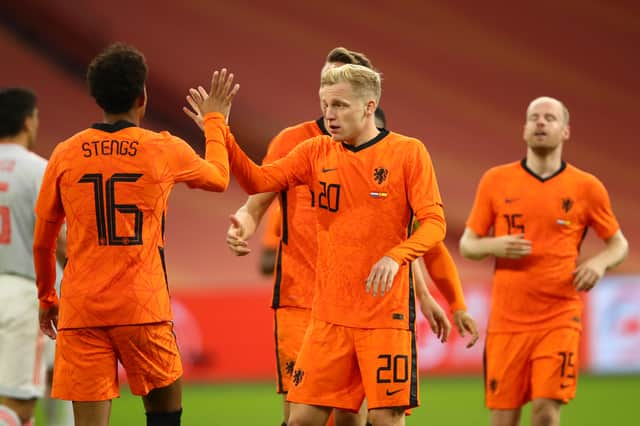 Is Van de Beek becoming a problem?
What's the solution?
The problem for Solskjaer is finding a place for Van de Beek in a No.10 role, when he already has two of the world's preeminent stars in that position at his disposal, in Bruno Fernandes and Paul Pogba.
Displacing them in the side for an out-on-form midfielder who is bereft of confidence is just not a viable option. While Van de Beek hasn't performed poorly this season in the rare occasions he's featured, there's nothing from his displays this term or last that really give Solskjaer cause to accommodate the former Ajax man in his side.
His only real hope is an injury or suspension to Fernandes or Pogba giving him a run of games in the team - even then, it's difficult to imagine a United midfield in which there's a guaranteed spot for Van de Beek.
The alternative is to let him leave on loan. It did wonders for Lingard last term and even a club with the financial might of United can benefit from another club paying the wages of a significant earner.
Either way, a clearly disgruntled player, a manager sending warning signals and a talented asset remaining unused - Van de Beek's dream move only seems to have one logical conclusion.