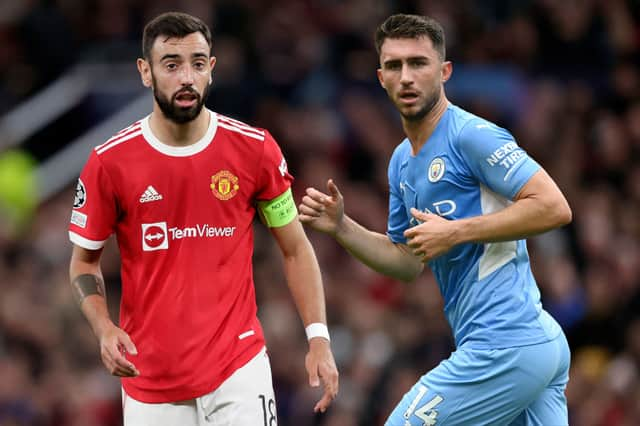 Bruno Fernandes and Aymeric Laporte have proved to be the exceptions to the rule in Manchester. Credit: Getty.
While Manchester United and Manchester City fans may approach the January transfer window with a certain amount of excitement and hope of seeing new signings, but history tells us that rarely do either club conduct much transfer business during the season.
That's strictly in regards to bringing in guaranteed first-team stars, with United and City conducting plenty of out-bound loans and agreeing fees for younger talents, although even these tend to be less frequent than in the summer.
But if United or City fans hope an Erling Haaland-type figure will be joining their club this month, they could be left disappointed, as the below numbers indicate.
Bruno Fernandes joined Manchester United in January 2010. Credit: Getty.
Fernandes an exception in every way
United certainly aren't afraid to throw money at talented players, as last summer's heavy outlay on Cristiano Ronaldo, Jadon Sancho and Raphael Varane shows, while Tom Heaton also joined on a free.
Meanwhile, in the previous summer, five first-team transfers were announced by the club, including Donny van de Beek. That continued a trend where United have made at least three significant signings in each of the last six pre-season windows.
In contrast, the Red Devils didn't make a single signing last January, with the deal for Amad joining the club announced in the summer.
Amad has struggled for game time this season due to injury. Credit: Getty.
The previous season saw United's most valuable transfer, perhaps ever, in a mid-season window, when Bruno Fernandes joined in January 2020, with Odion Ighalo also arriving on loan.
In fact, the only other permanent first-team transfer the club have made in January over the last six years is Alexis Sanchez, who enjoyed a considerably less successful spell at Old Trafford than Fernandes has so far experienced.
Man Utd summer first-team transfers in (2021-2016): 4, 5, 3, 3, 3, 4
Man Utd January first team transfers in (2021-2016): 0,1, 0, 1, 0, 0
Pep Guardiola's solitary January transfer
This is Pep Guardiola's sixth season as City manager and, like those in charge at Old Trafford, he's recognised the importance of sanctioning big-money moves.
The Catalan made Jack Grealish the first £100m signing in English football history last summer, one of 10 times the current English champions have paid a fee of over £50m for a player. Of those transfers, eight have happened under Guardiola's reign, the exceptions being the moves for Kevin De Bruyne and Raheem Sterling in 2015.
Laporte made his Man City debut in January 2018. Credit: Getty.
Since Guardiola arrived at City, the club have made 24 first-team signings and only one of those has occurred in January: Aymeric Laporte's mid-season move in 2018.
Gabriel Jesus did technically join the club in the winter window, although as this transfer was announced the previous summer we've included it in the pre-season window, while Oleskandr Zinchenko is deemed a first-team transfer despite joining at the age of 19.
Man City summer first-team transfers in (2021-2016): 3, 3, 4, 1, 5, 7
Man City January first team transfers in (2021-2016): 0, 0, 0, 1, 0, 0
Why is it so difficult to sign players in January?
There are several reasons for this, the obvious being that the summer window is open for around three times longer than the winter edition.
Given that the summer market follows the culmination of a league campaign, often players' contracts expire meaning they are free to move, and must be replaced. There's also time for reflection on the previous term - what went wrong? Which areas need strengthened? Plus, managers and chairman have around six weeks in May and June to draw up plans surrounding potential incomings and outgoings.
In addition, the truncated market in January means there's less time to replace a key asset if they depart. Subsequently, fees can be raised, and clubs tend to see greater value in doing their recruitment ahead of a new campaign.
The pre-season window is also littered with fixtures, a distraction the summer doesn't offer. It can be difficult for a manager to focus fully on selecting a team while they're distracted by potential transfers.
That said, it's remarkable how many high-profiled moves have been completed in January, including: Fernandes, Laporte, Virgil van Dijk, Fernando Torres, Luis Suarez and Pierre-Emerick Aubameyang.