Erik ten Hag gave updates on several pressing Manchester United topics during their mid-season trip to Spain last week.
The Red Devils played Cadiz and Real Betis, losing both matches, while a squad made up of youngsters and non-World Cup first-teamers enjoyed training in warmer climes. While abroad, Ten Hag was also asked about the club's transfer policies. The Dutchman revealed one position he definitely plans to recruit in, spoke about Paris Saint-Germain's interest in Marcus Rashford, and gave updates on five players whose contracts United plan to extend. Here are the best bits from Ten Hag's briefing.
Plans to sign a striker
Ten Hag revealed he does want to sign a striker, following the departure of Cristiano Ronaldo last month. However, the United boss refused to be drawn on whether Netherlands forward Coady Gakpo was a target. Asked whether he wants to bring in a new forward, Ten Hag responded: "Yes but only when we find the right player.
"We do everything that is in our power, so I do research on every opportunity that comes. We do everything we can if that opportunity will be there," he added, as per United's website.
Rashford among the world's best
PSG president Nasser al-Khelaifi publicly declared his interest in Rashford last week, following previous speculation the England international was a target for the Ligue 1 champions. Rashford has six months remaining on his current deal at Old Trafford, although the club do have the option to extend that by an additional year.
Ten Hag explained United plan to exercise that option, while adding Kylian Mbappe, in his opinion, is the only wide attacker currently operating at a higher level than Rashford.
"From the first moment I recognised huge potential," he said, as reported by BBC Sport. "When Marcus' positioning is on the back of the defending line, there is almost no better player in the world. There is [only] Mbappe in this moment."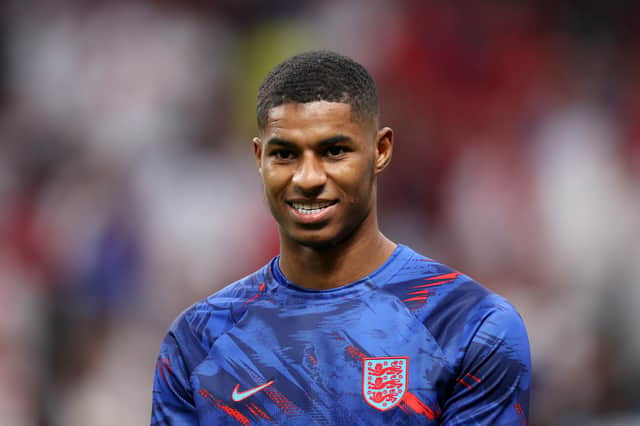 "He has to make a decision," Ten Hag said. "The only thing we can do is show him this is the best club to be in, which has to do with the culture of the club and also in the way we are working, in the way we play and the way we train and if we are offering the right environment to progress.
"It's a financial issue as well. Then it is up to him to make the decision. But for one-and-a-half years, he will be here."
Five contracts to be extended
The Manchester Evening News claims United plan to extend the contracts of David de Gea, Diogo Dalot, Luke Shaw, Fred and Rashford. The deals of all five players expire this summer, although as previously mentioned in regards to Rashford, United can add an extra year onto the contracts, essentially meaning they have 18 months left at the club.
"We are talking with them to extend their contracts but we are in control because on all the players we have options and we will exercise these options," Ten Hag said. When quizzed on De Gea, he responded: "Like I say, we have options and we will do them.
"You can see it this way [that United are vulnerable due to the contract situations] but if the decision is not that good we have other options."