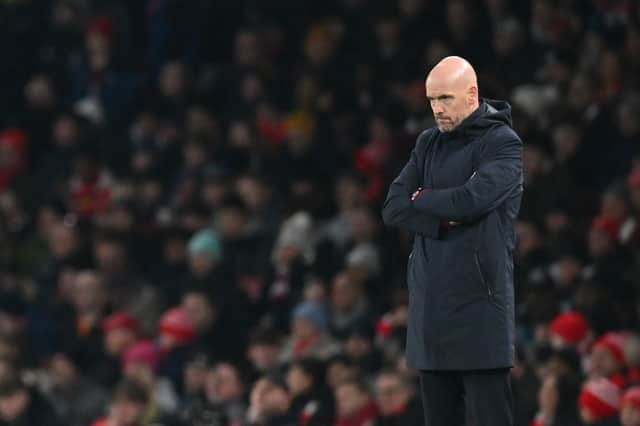 The Red Devils were second best for the majority of the game, but a 90th-minute goal from Eddie Nketiah settled proceedings, with United hanging on for the final half an hour in North London and struggling to create attacks.
Ten Hag was frustrated with the performance and said his players must 'change' if they're to compete for silverware.
"Maybe in the next couple of hours we will realise we are in a good position, realise we are in a good development, a good process, but at this moment I am annoyed," the Dutchman said after the game. "I also told the players if you want to win trophies, titles, you have to change our mentality because it's not possible you are in a top game, you're making these big mistakes where you concede goals.
"Especially the last goal, you have to feel the game at that point. A point was the maximum and then you have to take the point and you can't give such a goal away like we did on top level. Then you can't win trophies.
"I think we can change that [mentality]," he added. "We have already seen how the mentality from the players has changed over the last couple of months but we also have to notice today we have a way to go to be on top level."
It was no coincidence that United's poorest performance since the World Cup came while Casemiro was out of the side, with the Brazilian suspended for the trip to Arsenal. However, Ten Hag didn't want to use that as an excuse and felt his players could have won without the influential midfielder.
"But there were also other players not available and we can talk about them," the United boss said of Casemiro. "He is obviously a very good player for us, an important player. But I don't want to talk about players who are not available.
"Today we formed a good team, we were a good team on the pitch, we were leading and then starting to make such mistakes, it is about that. We could have won this game. When you are 1-0 up and so easy to give 1-1 away because when you are long in 1-0 up spaces will come. With our qualities we could have taken benefit from it.
"I said before, the team who wants it the most will win today," Ten Hag continued. "Of course, we had a game in the week, we had some disadvantages, but excuses are not possible at the top level.
"You have to be in the reality, the reality is we have to perform. In some occasions we didn't do that, otherwise we would win this game, or minimum draw this game."
The 3-2 loss sees United remain in fourth place in the Premier League, but they are now 11 points off Mikel Arteta's men, all but ruling out any slight chances of a title charge.